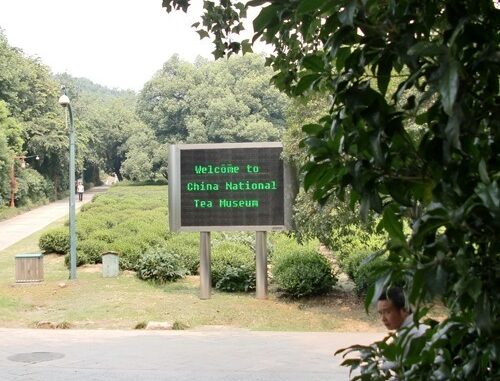 An extended visit to Hangzhou, China where my husband was working with professors at Zhejiang University provided me with the time to visit the China National Tea Museum, which opened in Hangzhou, Zhejiang Province in 1991. It is located in a beautiful setting and is unique in its presentation of the role tea has played worldwide. China is the birthplace of tea and has the world's longest history of tea culture, a bright pearl in traditional Oriental culture
We were staying close to the museum, which is in Longing (Dragon Well) Village, west of beautiful West Lake, and covers an area of 22,000 square meters (about 5.4 acres) with a 3500 square meter (about 0.9 acres) construction area. Approaching the museum on foot we walked by the tea plants on our way to the building that houses the museum, the only one in China with the tea theme.
Including the lobby, the China National Tea Museum has eight exhibition halls: Tea History Hall, Tea Collection Hall, Tea information Hall, Tea Sets Hall, Tea Customs Hall, temporary exhibition area and Tea Drinking Hall. Different halls illuminate different aspects of tea and its culture in China's long history and the impact of tea worldwide.
I was amazed to learn about the ways in which tea has impacted China and the world.  The displays in each area were compelling and fascinating.  Here are a few bits of information that especially impressed me.  There were once 4,000 teas in China.  Tea was traded with Tibetans for horses.  There were contests to judge the best teas. Tea was regarded as a beverage, a food and a medicine.
There were wonderful displays that demonstrated how the various Chinese Minority Groups were impacted by tea. These displays helped me to get a better understanding of the parts of the country I did not get to visit.
I found the story of Juenong Wu particularly interesting because it seemed somewhat parallel to the story of how the study of wine began at the University of California, Davis. This was the story of how the study of tea became a college course.
"He (Juenong Wu) graduated from secondary technical school of agriculture in Zhejiang Province and then he studied in Japan in 1918.
In 1929, he served as Director of the Zhejiang Provincial Department of construction cooperative venture management unit. In 1936, he was China's total tea company technician, and then he formed a College of Tea Department in Fudan University. In 1949, He was the Central People's Government Deputy Minister for the Ministry of agriculture, General Manager of China's tea industry. His representative books are: A Textual Research on the Origin of Tea and The Tea Industry Reform in China."
I loved The Kaleidoscope Hall, which features more than three hundred kinds of tea, including the six basic types of tea in China. Earphones prepared by the museum tell about the teas in Chinese and English. The "green screen" in this room was also fun and a great place to obtain a photograph.
Another part of the museum is its research institution, which holds conferences on tea and its culture. This work has received attention from the government as well as other sectors of society.
I have always heard that teas were healing and helped to fend off diseases but walking around the room that showed which teas are helpful for which medical conditions fascinated me. One section asks why one needs pills.
When served our four tea samples (Green, Black, Oolong, Jasmine), I could experience the result of the program that produces well-trained professionals that perform tea arts in Chinese and English and tea masters. The four tea tastings that included lessons in temperature and preparation techniques as well as their healing qualities was a lovely and memorable part of my visit.
There were two gift shops that sold a wide range of teas and tea making items and other unusual pieces. There is an interesting item that changes color when hot water is poured into it.
Any visitor to Hangzhou, China who can make time to visit the China National Tea Museum will have the chance to gain a greater understanding of tea and its place in the world as it traveled from China to England and played an important role in the United States.
Leaving the museum we had lunch at a great restaurant nearby called "Green Tea".
88#Lonjing Road, Hangzhou, Zhejiang, China
Phone: 0088-571-87964221
Photos: Barbara and Leon Keer