Artemisia presents Visiting, a world premiere play by Ed Proudfoot featured in Artemisia's 2015 Fall Festival and currently receiving its first full production, directed by Carrie Lee Patterson. The play, which focuses on the ways bipolar disorder affects a family of women, is intense and moving but not without its flaws.
Artemisia's description of the play as exploring "the impact of bipolar disorder on four generations of women" is a bit misleading; while it's true that the characters discuss the protagonist's great-grandmother having dealt with the "family curse," the family unit featured in the play is three sisters, a sister-in-law, and a daughter, rather than members of all four generations as the description implies. At the center of the story is Penny, a young woman struggling to make the best choices for herself in light of her and her mother's failing mental health.
The story skips around in time across eleven years, but frequent mentions of Penny's age make it fairly easy to place a given scene within the larger chronology of the story. The play also shifts between locations and differing degrees of reality and unreality. For the most part, though, it manages to feel organic and not stilted.
Visiting is intense. Penny's breakdowns are depicted in full detail. And watching the dynamic among the Smith women is exhausting; between frequent bouts of arguing are moments of strong sentimentality and intense intellectual discussions about such heavy topics as faith, sex, the afterlife, and, of course, mental illness and suicide.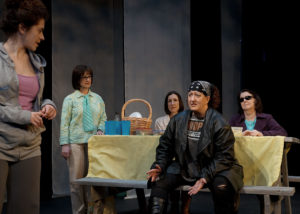 The play gets a lot of things right about mental illness—the characters experience fear that their symptoms will never get better and that they will never be able to have a normal life, exhaustion with the constant rotation and adjustment of medication and dosages, varying levels of commitment to treatment, and a full spectrum of emotion toward one another as the mentally ill and neurotypical alike must deal with the actions and attitudes of the bipolar women. Proudfoot allows his characters' relationship with their own mental illness and the mental illness of others to be complex and contradictory, just as it is in reality.
The play is also honest about motherhood and the complications mental illness adds to the decision to have children. Initially, Penny is adamant about not having children because she doesn't want to risk passing her bipolar disorder on to them. Later she changes her mind, although it's not entirely clear why. As is the case in real life, Penny has to go off all her medications when she gets pregnant (the medical industry almost never test medications on pregnant people, so doctors typically just take pregnant patients off of everything for fear of potentially harming the fetus), running the risk of significantly worsening her symptoms, yet Penny never clarifies why she is so eager to undertake that risk.
Another odd element of the script is the use of hand games, supposedly invented by Penny in her youth, which seem far too creepy and on-the-nose to have been created by a child, but which feature prominently in a touching and tender scene between Lauren and Penny toward the end of the play.
Also, it seems strange that a company dedicated to empowering women (and playwrights in particular) would produce a show supposedly about the experiences of women—written by a man. It's a trend I've noticed across the Chicago theatre scene lately; more theatres are willing to give platform to the stories of women—as long as there's a male playwright or director in the mix to make sure the women-centric stories don't get too women-centric. It must be noted as well that while Visting features an all-female cast, it also features an all-white cast. Admittedly, the script specifically describes Penny as Caucasian (a dubiously correct term for white people) and the characters are (almost) all blood-related, but there doesn't seem to be any real reason for Proudfoot to have specified Penny's whiteness.
The actors deliver strong work. In particular, Sarah Wisterman is excellent as Penny, bringing nuance, energy, and vulnerability in spades as she depicts the young woman at various stages of her life, including times of intense emotional distress. Artemisia founder and executive artistic director Julie Proudfoot is deeply compelling as suicidal mother Lauren, and Carin Silkaitis is hilarious as the queer, foulmouthed Holly.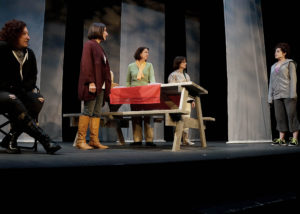 The Edge Theater, where Visiting is performed, is an odd space; too large to be a blackbox but too small to be a full-scale theatre, it's reminiscent of a high school auditorium, which hardly seems like the ideal setting for a play with such heavy and adult themes. Set design by Eric Luchen is simple and not terribly exciting, consisting of a single picnic table and some gauzy white curtains, which move up and down in a way that probably corresponds with something thematic or logistical in the text, although the effect is not interesting or impactful enough to really pay attention to. Costume design by Stefanie Johnsen is much more successful at assisting with the storytelling, doing much to establish the personality of the characters through their clothing.
Visiting is a play about mental illness that manages to avoid being melodramatic or exploitative. Its exploration of the effects of bipolar disorder on the Smith women is layered and complex, and while it does not sugarcoat any of the pain the disorder causes, it nevertheless ends on a hopeful note. Although Visiting has significant flaws, it does contain a fair amount that's worthwhile.
Ticket Information
Location: The Edge Theater, 5451 N. Broadway.
Dates: April 14 – May 7, 2017
Times: Thursdays and Fridays at 7:30 p.m., Saturdays at 2 and 7:30 p.m. and Sundays at 6 p.m.
Tickets: $25. Available at the Artemisia website or by calling 312.725.3780. Group and VIP Passes are also available.
Photos by Kat Tushim.