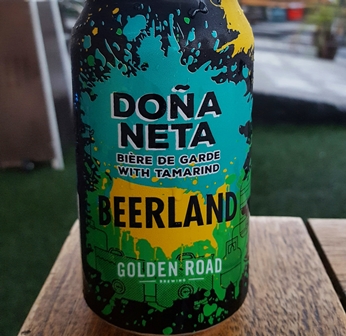 The Beerland finale screening took place on Thursday night, June 1st, where it all began, the Golden Road Brewery
in Los Angeles. Golden Road co-founder and Beerland host Meg Gill rolled out the winning beer from the Beerland series and beer enthusiasts in attendance got to see and taste this beer for the first time.
Meg announced Jessica Fiero of Colorado and her Doña Neta home brew as the winner. Jessica got to see her tamarind flavored beer produced and canned at Golden Road as she was chosen from among the five finalists that Meg brought to Los Angeles to culminate the Beerland series. Beerland was not only a chance for a home brewer to have their beer produced, it allowed viewers to get an inside look at the world of home brewing and the characters that create these unique and wonderful beers.
"I've been watching anything on any network about beer to see what is out there and when I started Golden Road with Tony (Yanow), all of the sudden I was thrust into a local LA spotlight and producers started coming here over the years and when I would watch what mainstream networks wanted or were doing in beer versus what I thought could be a cool show with the home brew focus with a travel component and beer culture, those were the three things that we wanted," Meg said. "How do you do beer justice and the culture of beer justice in a way that reaches a broad audience that isn't a complete idiots guide to beer, so beer people will enjoy it as well. As we dove into beer cultures, the personalities who have the least spotlight are the home brewers and those are kind of the craziest characters, some of them want businesses, some don't but they have amazing answers as to why they are brewing beer, that is what I found most appealing."
Viceland had an office in Venice and Meg and Golden Road connected with President of Viceland Andrew Creighton who is a huge beer fan. Once Meg and Andrew got talking it seemed to be just a matter of time before they came up with the right concept and Beerland became a reality.
"The question as to why they were home brewing was so thrilling, that is where I met those unexpected characters. I met an anarchist in New York who was brewing beer because he didn't want to pay government tax, I never met someone who was doing that. Home brewing is a total fabric of their life it is incorporated into everything they do," Meg said.
Producing a beer that is centered around a flavor such as tamarind is not the easiest beer in the world to produce and you aren't likely to find beers with such unique flavors on the shelves. But that is what home brewing is all about.
"Home brewers can do a lot more than commercial brewers can do, they have flexibility with their small scale to be able to design recipes around beers that commercial brewers can't do based on the scale needed. There is so much innovation in home brewing that even if we can't take the exact recipe, we can take a lot of the flavors and ideas that they are inspired by and incorporate them into innovation," Meg said.
Meg had a big learning curve as she started in the beer industry at such a young age but was helped along the way by an industry that while competitive, also is eager to help other people succeed.
"I was young and had very little knowledge of what it took to start a brewery and had so many great California brewers from Firestone Walker to Sierra Nevada, that were like here is how to do this," Meg said. "The first one was Dale Katechis at Oskar Blues Brewery, his magic words were 'If it ain't fun, I ain't doing it', somebody with this much energy to get shit done this is who I want to learn from. That was kind of the state of craft beer ten years ago, low market share but a ton of excitement and enthusiasm from the founders. It is hard for me to name one without naming them all."
Seeing Meg being a co-founder of Golden Road and then having Jessica win the Beerland competition are two more signs that women and beer truly go hand-in-hand.
"I was definitely a minority at the beginning of my career but it wasn't noticeable because I am somewhat of a tomboy. Craft beer has been the segment within alcohol and spirits to help bring young people as well as women into beer. I was impressed by the women that I met on the show that they were really taking on leadership positions in terms of the recipe creation and vision process," Meg said.
While Beerland gave a home brewer a chance to see their beer brought to life in a brewery, the series was so much more than that, but to put it simply it was about beer and bringing craft beer to the masses.
"If you say you don't like beer that is just not true, you just haven't found the beer that you like, the right beer for you, the key is handselling and storytelling and that was part of what inspired me to do Beerland. I would stand in a Whole Foods and educate people about craft beer in a can for the past ten years. I still have that same passion as I did ten years ago, but if I can be on camera talking to people about beer and reaching an audience of millions of people you are able to convert people to beer lovers faster. The intention is not to convert people to Golden Road, but to convert people to be beer lovers and educate them about beers, get them to go out and search for beers, that is the value of the show and Golden Road has done a great job of supporting the show. It is really more about the global exposure and awareness of beer," Meg said.
Golden Road started in Los Angeles in 2011 and at the time trying to bring the craft beer world into a city like Los Angeles presented many challenges.
"When we started and where we are now, you have to take into account how sprawling Los Angeles is, it is daunting, that is kind of the challenge and that is why people who came here with big money and failed was there wasn't a focus on a neighborhood or community impact or telling the story of beer. We took it pretty small, one beer at a time approach," Meg said. "It (Golden Road) went from startup exciting and stressful, to a total pain in the ass and being extremely stressful along with the craziest growing pains and now it is in a phase that it is a surreal moment. I appreciate it and while the growth is overwhelming, the stress daily is a little less because we know we are in a rhythm together. The show has burned off a lot of anxiety and creative energy, which has helped me appreciate and focus my mind and make me thankful for Golden Road."
Meg visited five states during the first season of Beerland including; Hawaii, Colorado, Northern California, New York and New Mexico. That means five states down and 45 to go and hopefully that means at least nine more seasons of Beerland and then Meg can start using her passport. Cheers!
For more information visit: Beerland