Since 1979, City Lit Theater Company has been Chicago's go-to company for stage adaptations of literary material, and original modern plays with a literary bent. In its current season, City Lit has tackled adaptations of P. G. Wodehouse's "Psmith Journalist," and Shirley Jackson's "The Sundial", and a world premier play, "Forty-Two Stories," by Douglas Post. Now, through July 23, 2017, City Lit ends its season with "London Assurance," a nineteenth century British comedy, and the first produced work by Irish actor, playwright, and producer, Dion Boucicault. "London Assurance" has been produced in the United States several times since the mid-1860s, and was famously disliked by American poet Edgar Allan Poe. For the modern American audience, it's a little bit "The Importance of Being Earnest," and a little bit "Downton Abbey."
The story opens the morning after a night of drunken debauchery by aristocrat Charles Courtly (Kraig Kelsey), accompanied by a mysterious accomplice Richard Dazzle (Richard Eisloeffel). The pair, with the help of the bemused valet, Cool (Edward Kuffert), avoid Charles' unhappy creditor, Solomon Isaacs (Zach Bloomfield), and father, Sir Harcourt Courtly (Kingsley Day). Sir Harcourt is happy to ignore Charles' misbehavior. He's immersed in plans for his upcoming wedding to the much younger Grace Harkaway (Kat Evans), niece of his friend, Max Harkaway (James Sparling). The typical pre-modern era British foibles of unfairly written wills and estate entailments ensure Grace will be financially ruined if she does not marry the silly, foolish, and much older Sir Harcourt. After Dazzle cons Harkaway into an invitation to the estate, and wedding plans are arranged, the action moves from Sir Harcourt's home in town to the country.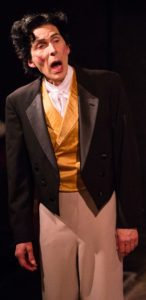 Through a series of side speeches directed to the audience by the practical Grace, the ethically-challenged lawyer Mr. Meddle (Joe Felician), sure to annoy lawyers in the audience, and Grace's nosey maid, Pert (Jean Waller), the audience gets a picture of everyone's competing agendas. "London Assurance" does not disappoint as a Victorian comedy farce in that respect. There is plenty of cross purpose to go around.
Ultimate trouble enters in the form of Grace's friend, Lady Gay Spanker (Cameron Feagin), an equestrian aristocrat, married to the seeming simpleton, Adolphus "Dolly" Spanker (David Fink). On Lady Gay's entrance, the play takes off, and shows its charm. Feagin's performance is the highlight of the show as Lady Gay deliciously shows off and schemes to help Grace, and relieve some of her own boredom with her tiresome husband.
"London Assurance" is a fairly basic mid-Victorian era British comedy with its romantic dilemmas, false identities, and misunderstandings, but it lacks that certain manic, farcical intensity of other plays in its genre. While pleasant, and amusing at times, the Second Act fails to produce the necessary extreme crisis to bring out the characters' true nature, and grab the audience attention, and affection. The false identities fall flat as Director Terry McCabe casts Charles' alter-ego, his father's idea of him, as simply an inarticulate dimwit unworthy of Grace's, or the audience's attention. Charles' simpleton persona also competes with the similar character of Dolly Spanker.
Day does a respectable job playing Sir Harcourt as the old fool, lying to himself, and others about everything that would make him attractive, or not, to Grace, and setting him up as a good villain, but Charles fails to meet him as a good hero, and ultimately, the love story lacks passion, or even reason.
The set, designed by Ray Toler, is not lavish, but is convincing as both the town house, and country estate, and provides a comfortable space to immerse oneself into Victorian life. McCabe arguably had less to work with as this early piece by Boucicault lacks the tight story, sympathetic characters, and witty turn of phrase of Wilde's "Earnest," but with only a few flaws, he pulled out a pleasant, amusing play, that picks up enough steam to reach a satisfying end.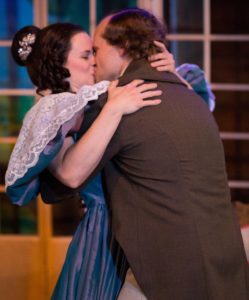 "London Assurance" plays through July 23, 2017 at City Lit in the Edgewater Presbyterian Church, 1020 W. Bryn Mawr, Chicago. For more information and tickets, see their website.
Photos by Ally Neutze