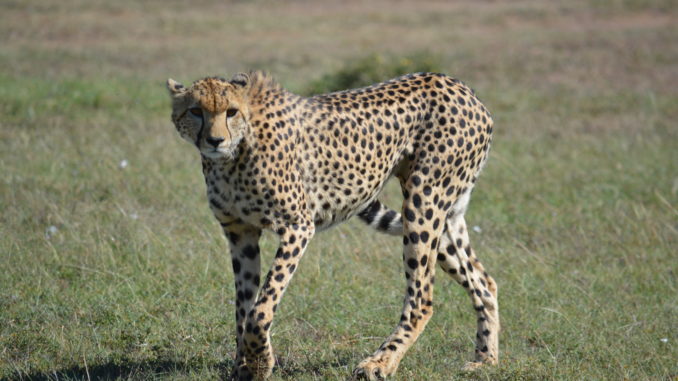 When you go on Safari in Kenya, there are several varieties of camps and lodges you may choose to stay at. Many of them have wonderful amenities for you while you are enjoying your time in the bush.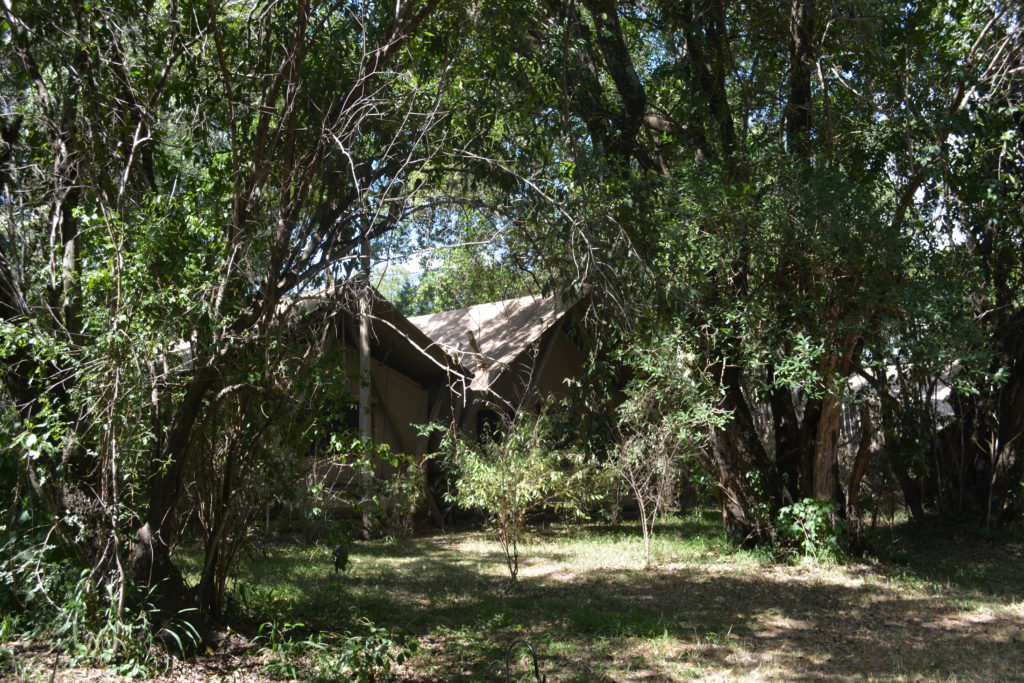 At Mara Expedition Camp in the Maasai Mara, you get the feeling you are one with the bush itself.
The smallness of the camp and staff, the way it has been put together, and the location –there's not one discordant note to make you believe that you are watching nature and not actually an intrinsic part of its majesty.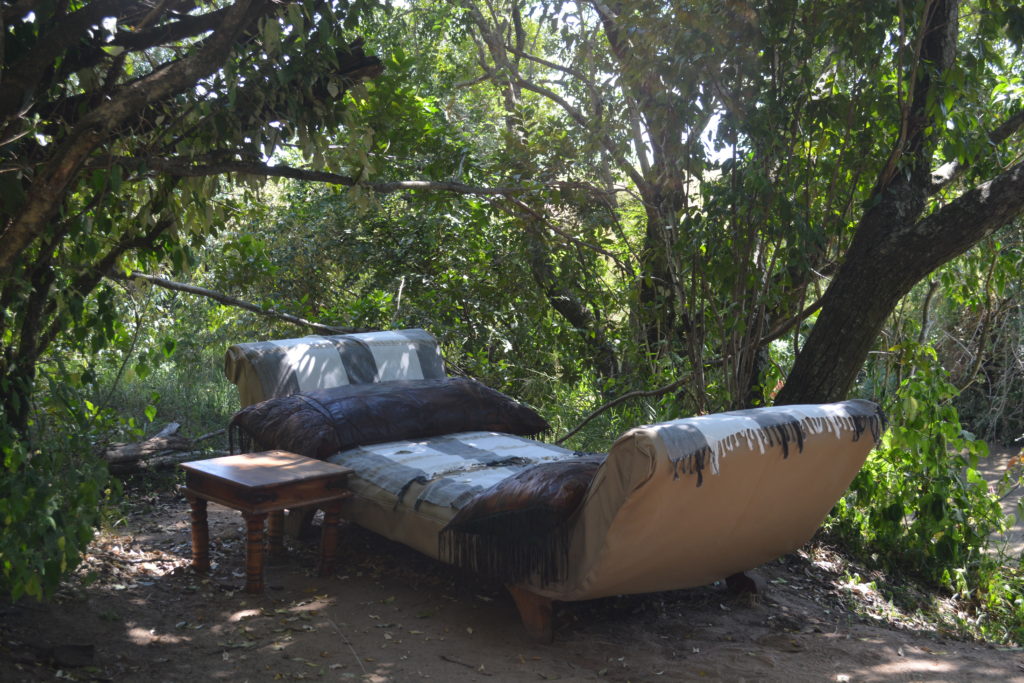 Your experience of nature is especially complete because the staff members are in such harmony with the camp life and nature, and they are so interested in the guests.
We had many fun times at the breakfast and dinner table with our hosts and sometimes with other guests. I believe this is my favorite way to roll.
The camp is set back inside a natural opening in a small thicket of trees by the river. A casual passerby would not ever notice this grouping of five luxury tents plus dining and staff quarters.
Although the tents are slightly raised off the ground, they are supported by logs from harvested trees, not cement or rocks that are not indigenous to the area. The neutral wooden fences are made from harvested wood. Nothing has been removed from this natural place.
For personal showers, there is the hot-water-bucket shower, happily provided by a staff member. Although most places we have stayed use solar heat, at several of them it was somehow not strong enough to deliver the shower temperature that you'd probably want.
But at Mara Expedition Camp, there was always nice hot water on demand. Just let the staff know a bit in advance to warm it up for you. And they will provide a large container with bucketfuls of steaming water when you are ready to bathe.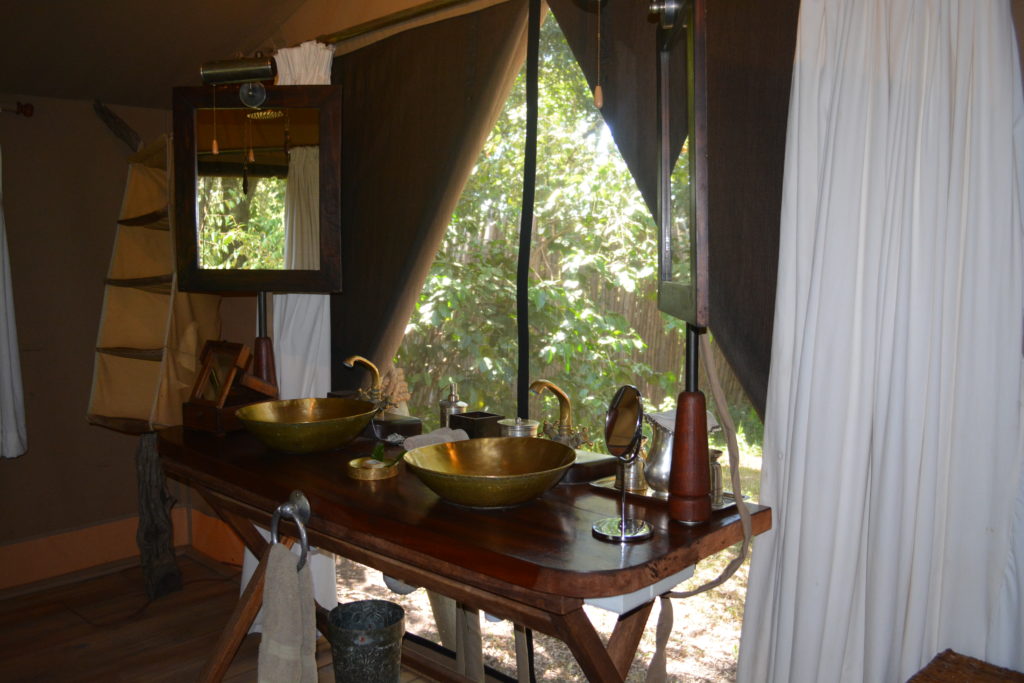 When we arrived at our tent, we were observed by Vervet monkeys from a tree on the other side of the creek.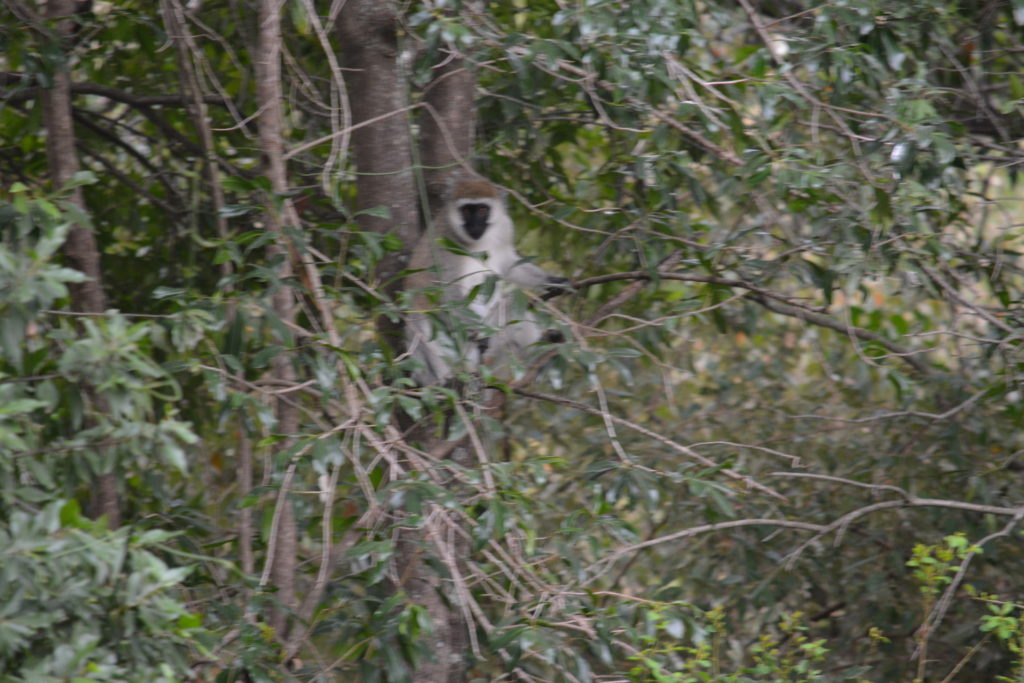 A convenient hammock is all stretched out between trees on the upper bank. I just wanted to lie and take in the glorious, unspoiled smells and sounds of our own little hunk of nature.
The nights are so black and so quiet – except for the ongoing music of hippos, baboons, lions, monkeys, bush babies, leopards and cheetahs. Any or all of these creatures may stop by near your camp or across the river. You feel enfolded in their world. You can stay in your tent on your comfortable king-sized bed and soak it all in.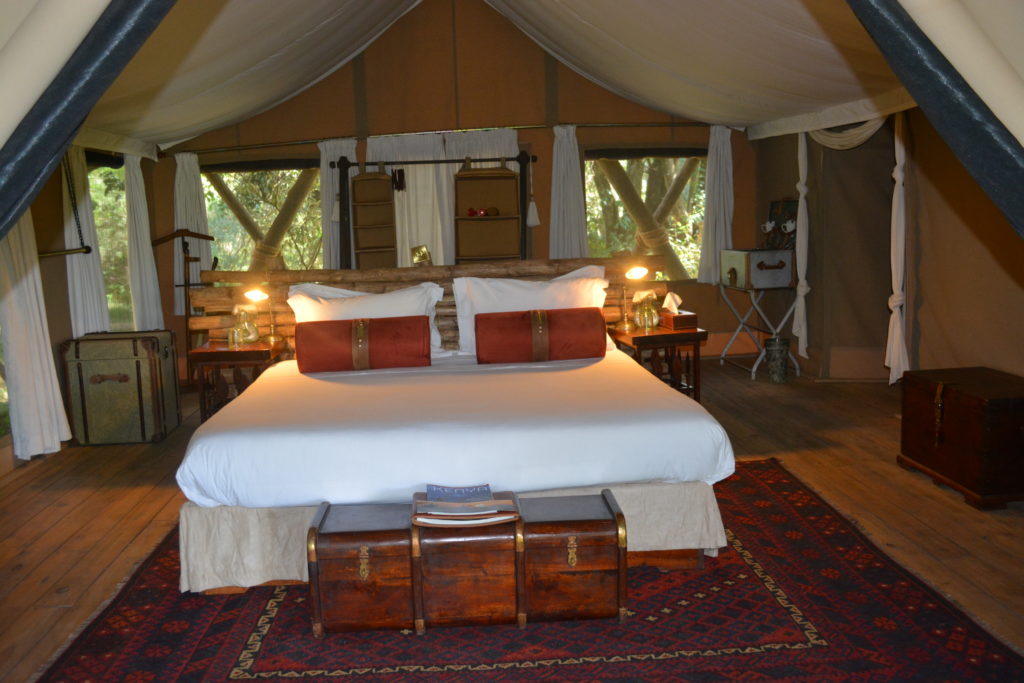 Your footprint is small. No plastic bottles, nothing indigenous. The placement of the tents along the river, the materials and natural colors with which they are put together, makes them all feel integral to their surroundings.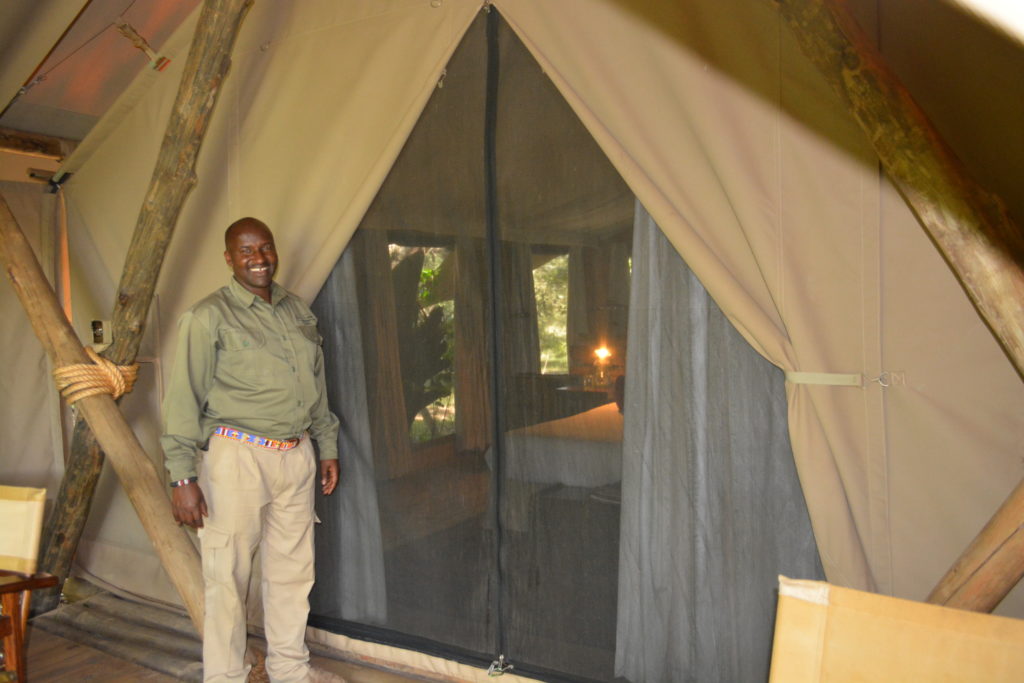 The famous stainless-steel bottles and pitchers we have enjoyed before at another Great Plains Conservation lodging (Ol Donyo Lodge). There's avoidance of plastic, for environmental reasons. Everything is simple, elegant, first-class.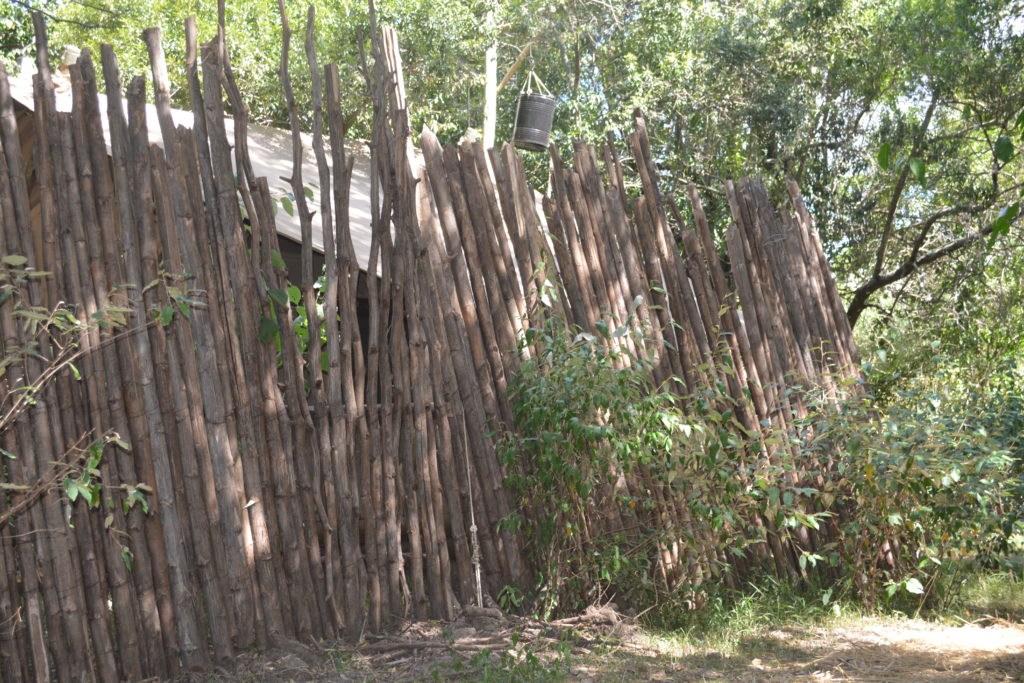 J.P. even lent us the camp's own high-powered telephoto lens camera for game drives, and he put the pictures on a thumb drive for us to take home!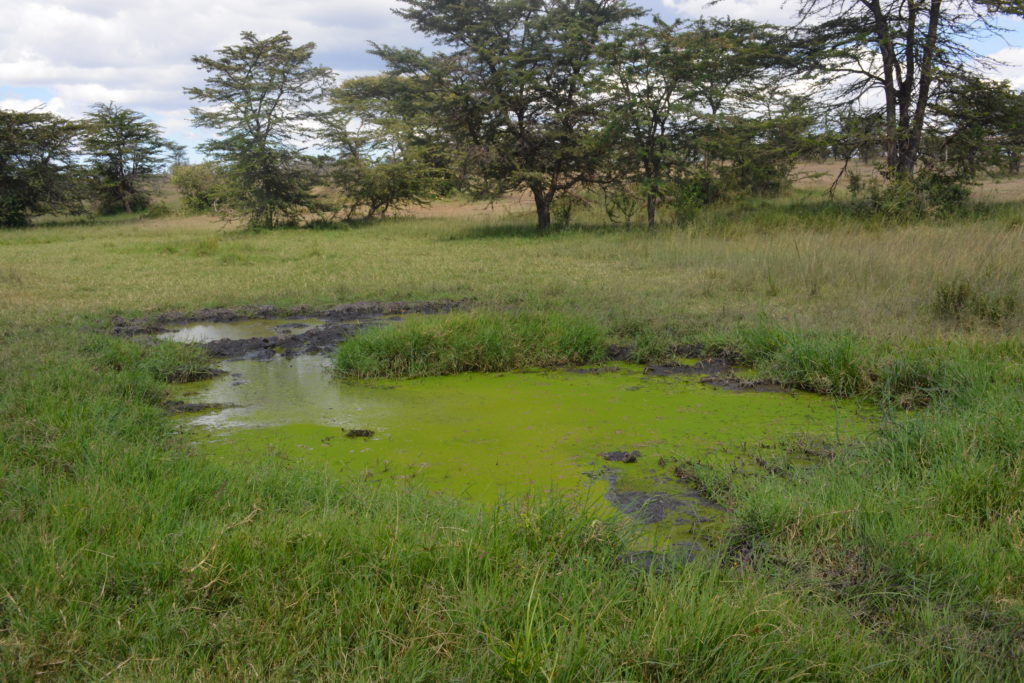 Dinner is served outside unless it rains, and then in a covered but not closed encampment. Here I must make a claim that might seem hard to believe: The cooks are encouraged to be creative. In Kenya there are always plenty of fresh fruits and veggies wherever we go.  As a vegan, I appreciate this and the fact that some of the most delicious Kenyan dishes do not use animal products. On this trip I proclaimed that I am a vegan in advance. Doing so usually meant a short talk with the chef as to exactly what I do and do not eat.
At Mara Expedition Camp I found a chef, Kelvin, who I unabashedly say is a genius. He modified menus and made up dishes for me that were fresher and better than dishes I have eaten in expensive vegan restaurants in California.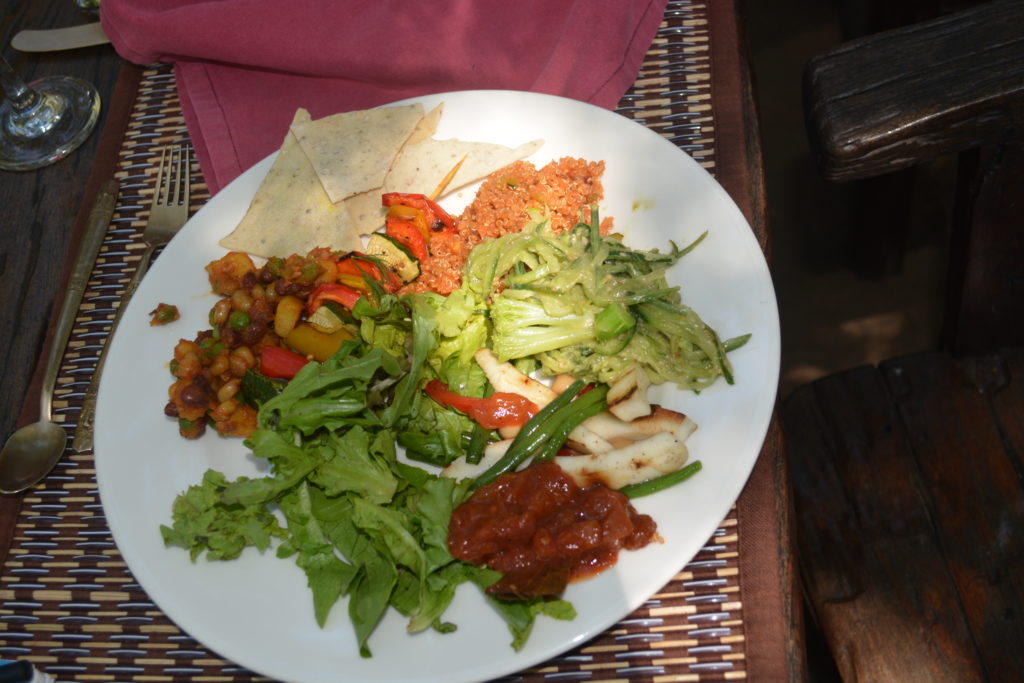 I even coaxed him to write down a few recipes, which I am eager to try. The Kenyan cooks know so much about herbs and spices. They are not afraid to come up with new approaches because they seem to know exactly how to balance the tastes. I was so happy with the meals that our manager J.P. was afraid I would snatch Kelvin away!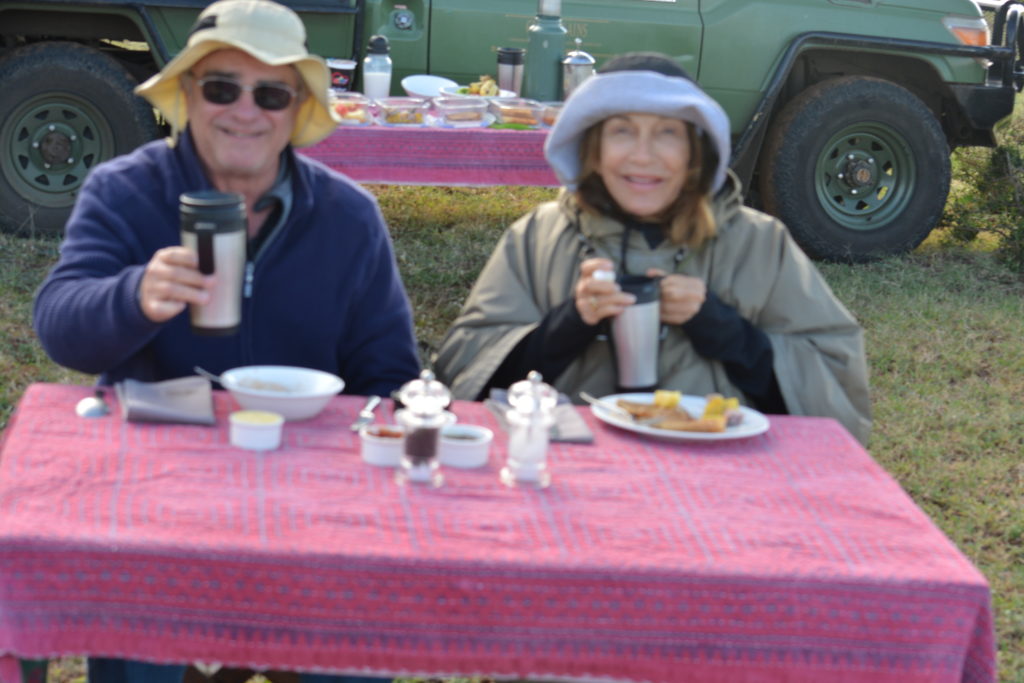 Part of the joy of our stay was chatting with the staff, in particular the Manager, John Parmasau (J.P.), who also loves being a guide in the bush. He is Maasai, as are the others who work here.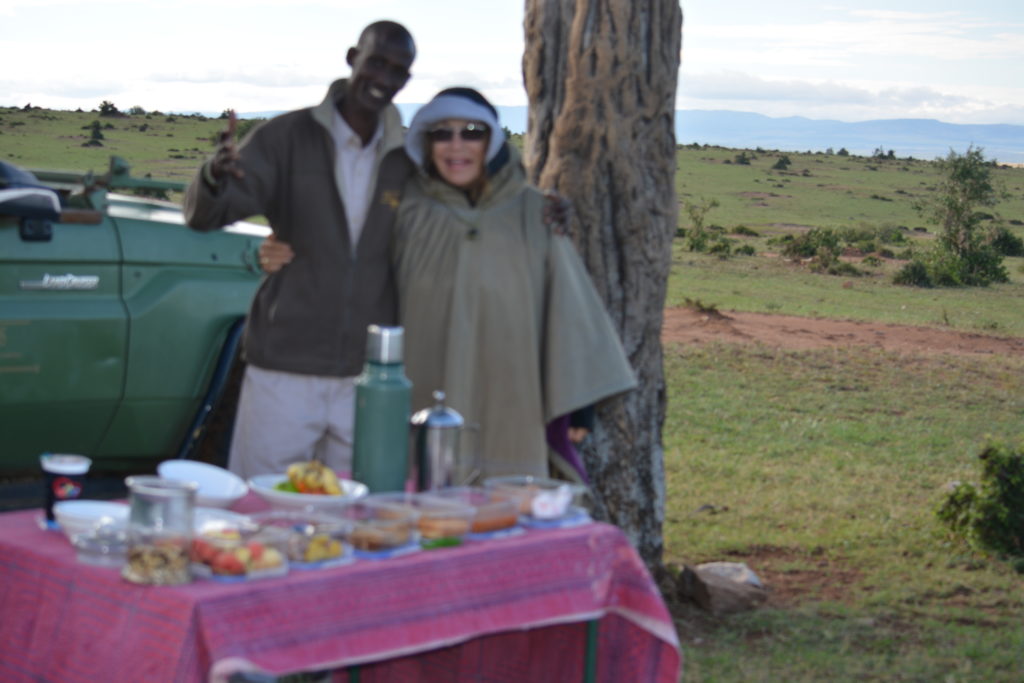 Indeed, most of the beautiful parklands we visit are on Maasai Land. Everyone else who works there is also extremely personable and works to make you as happy as possible too. The Maasai Mara is particularly beautiful. There are vast plains where you can see 360 degrees around you and take in the big skies. There are rivers where animals hang out, and there are areas of lush growth and thickets.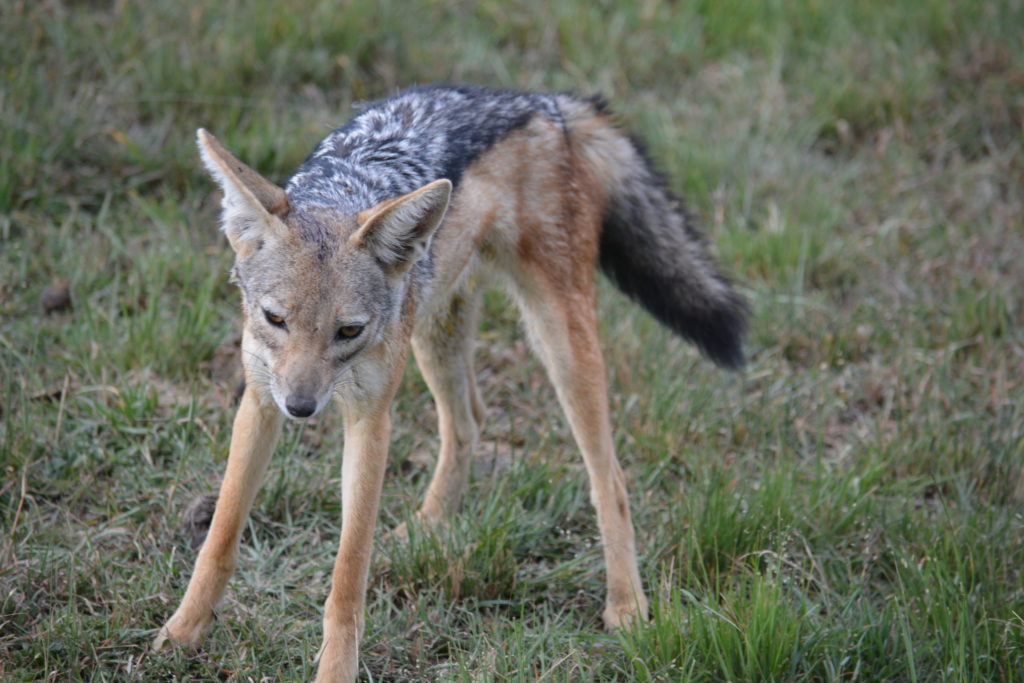 Camps like Mara Expedition, which is run by Great Plains Conservation, are determined to not only lease the land from the tribes but to enrich and educate its people. In addition to hiring local people to run the camp, Great Plains supports the bead project, MaaTrust. This effort empowers tribal women to earn their own money and thus their independence as women.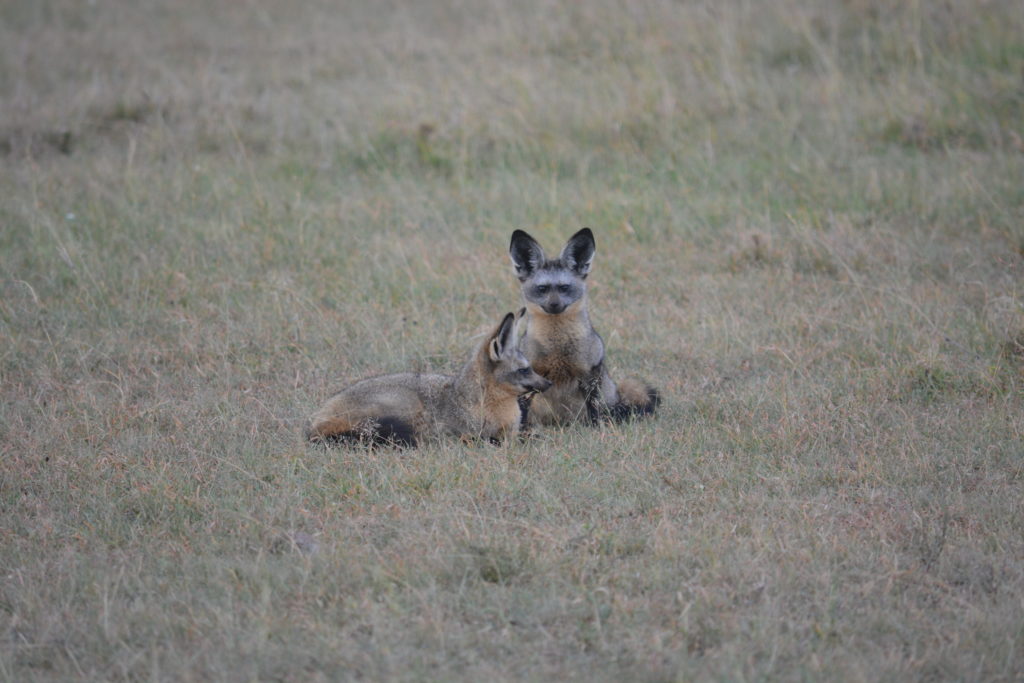 In off season, Great Plains sponsors free stays for the children of the community, who receive free game drives and also culinary lessons during their stay at the camp. This allows native residents be open to different ways of earning a living by supporting conservation and the tourist trade. They are more likely to protect the wildlife if it is a source of their livelihood.
The location of the camp on the edge of the Olare Conservancy is ideal. When experienced  guides see something interesting, they can use their massive four-wheel-drive vehicles and get in closer.
And game drives must still follow the rules – only 5 cars maximum at a sighting. In the case of the cheetah, the special rangers guarding the cheetahs will tell us how close we're allowed to get so that the animals and their natural behaviors will not be disturbed.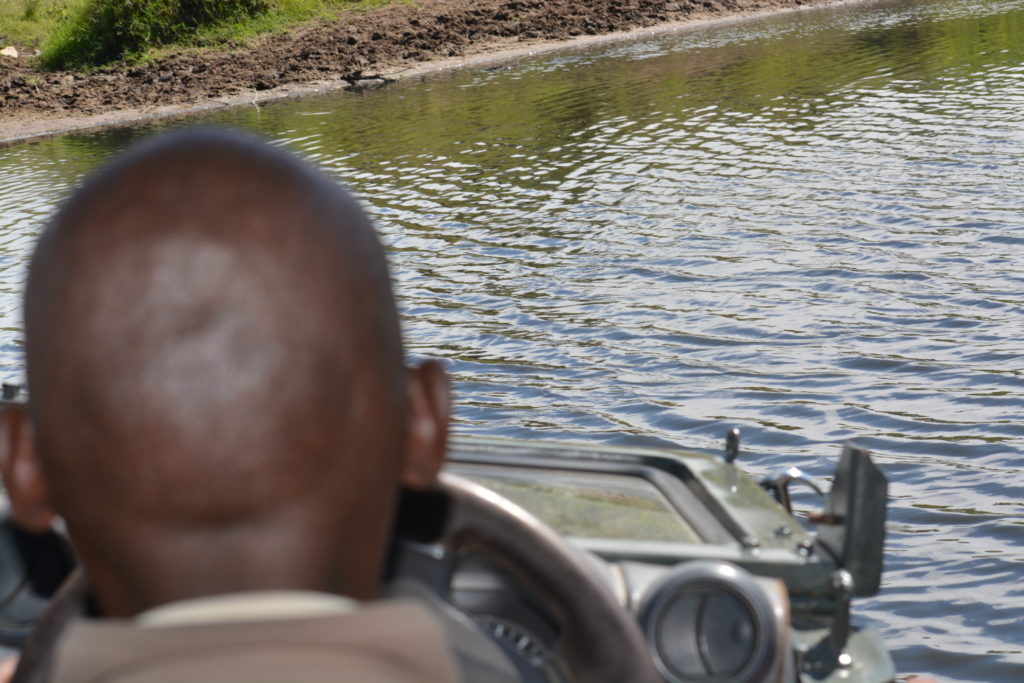 Since the guides are Maasai who grew up on these plains, they know everything like the backs of their hands.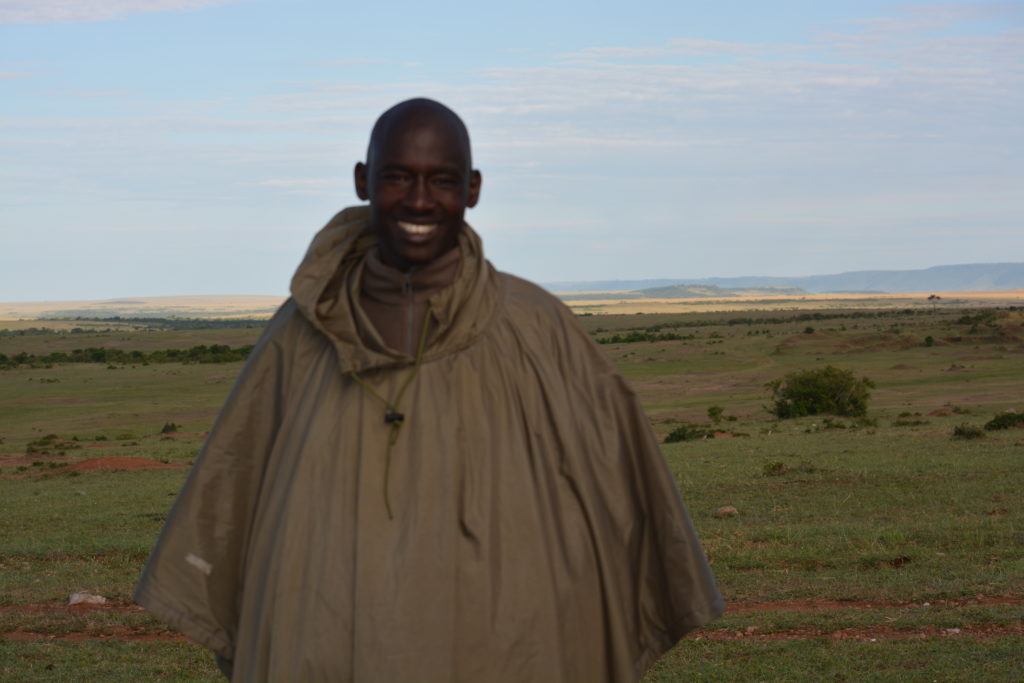 Our wonderful private driver Daniel could name the different kinds of grass in the field, which animal eat which kinds, and why. He knows why the animals move a certain way and taught us so much about this magnificent land and its animals. Like a live encyclopedia!
It is a shame that in the U.S. and many places, children do not learn about the natural world and cannot even name the few trees around them.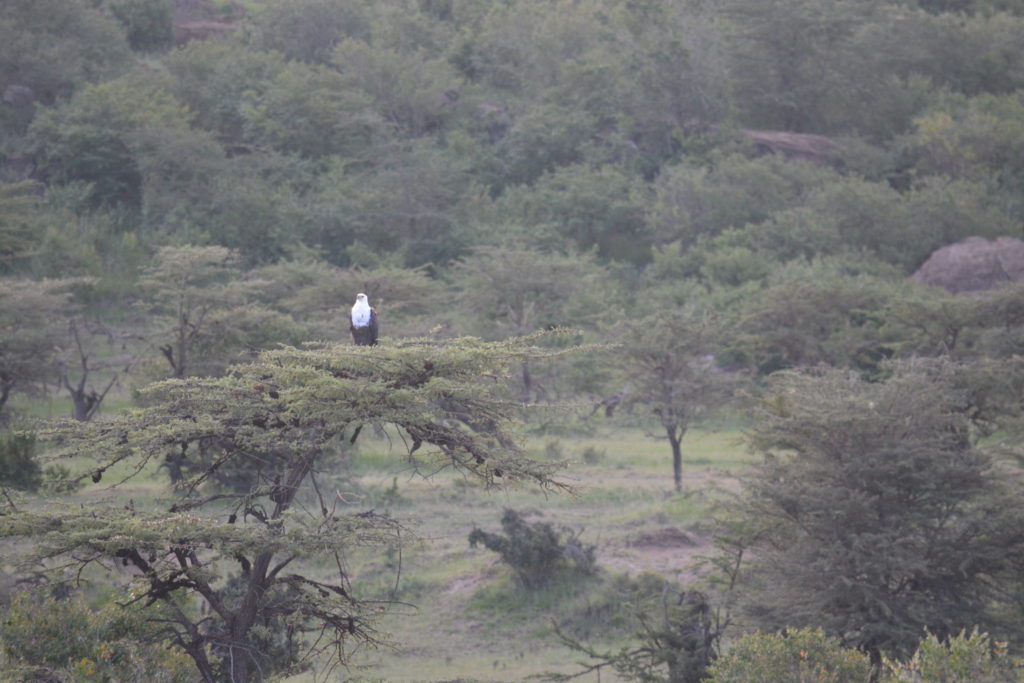 We loved visiting the Mara Expedition Camp just before the high season when it was quiet and everything was green – at the end of May and beginning of June – and we would highly recommend going at this time of year.
However, if you go in the high season, I'm told there will also be massage available, possibly in association with their sister Camp, Mara Plains. Hot air ballooning is also going on most of the year and is nearby if you wish to do that. Horseback safaris will also be an option. But for some of the best- guided safaris driving or even walking, the location and staff at Mara Expedition Camp cannot be beat!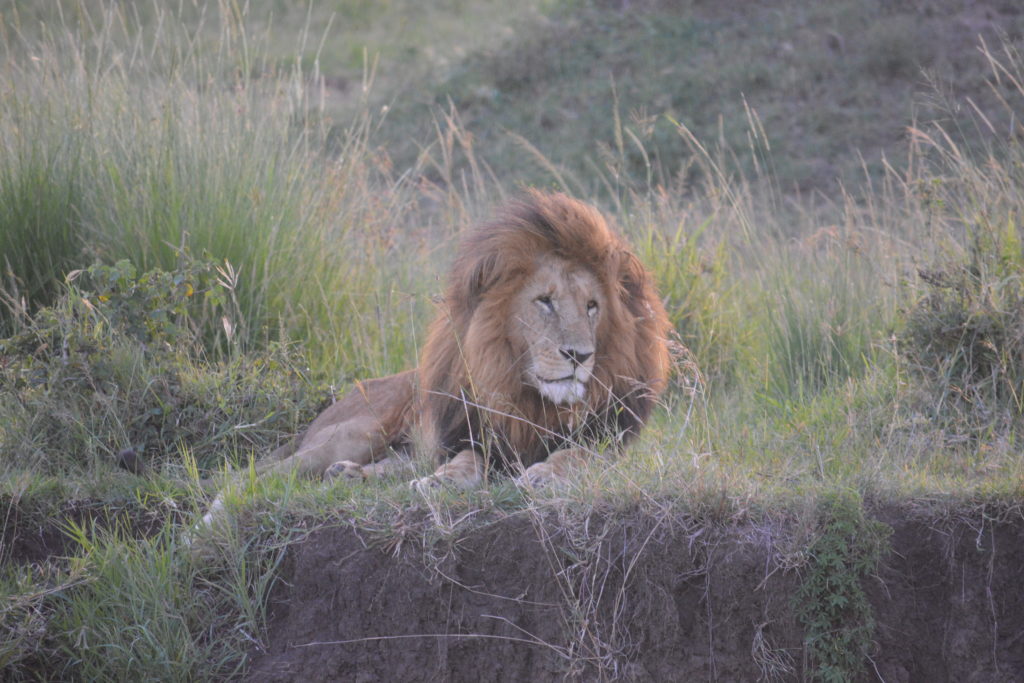 Since I have returned home, I have learned that the elephant count in the Maasai Mara is up by 72%! This is a great testimony to how well run the reserve and the conservancies are, in harmony with the local people. All are invested protecting the animals.
Of all the places we have traveled in Kenya, we have found the best and most diverse wildlife viewing to be in the Maasai Mara. When the Great Migration takes place during the summer, it is a spectacular view of millions of animals crossing over from the Serengeti Plains in Tanzania.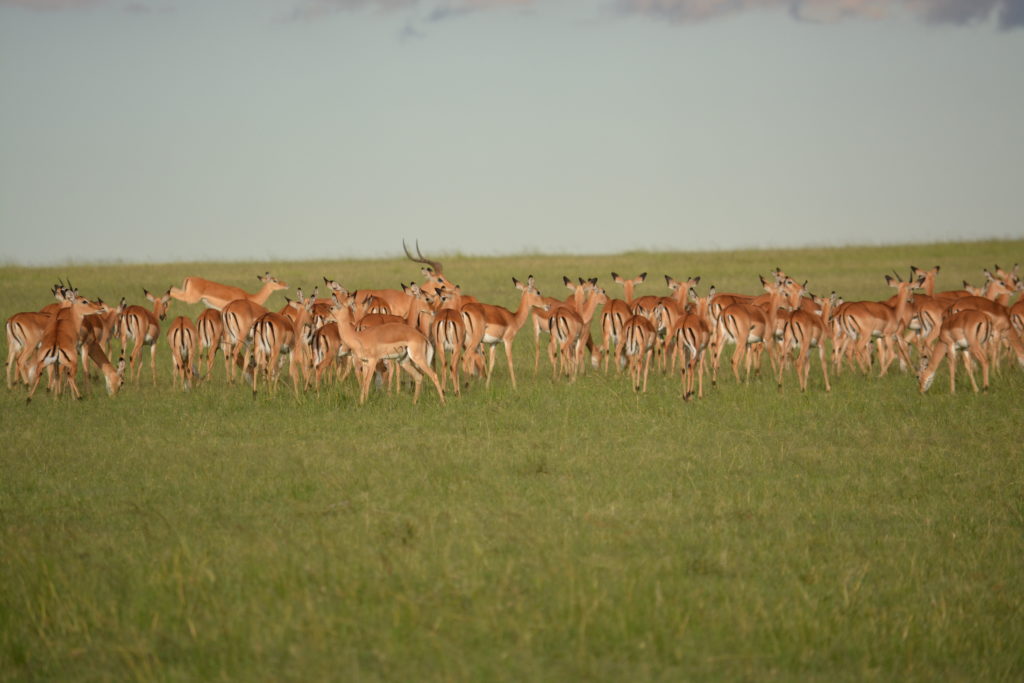 But even when it's not time for the migration, the animal viewing is stupendous. As J.P. pointed out, the animals are more relaxed here. The elephants feel safe.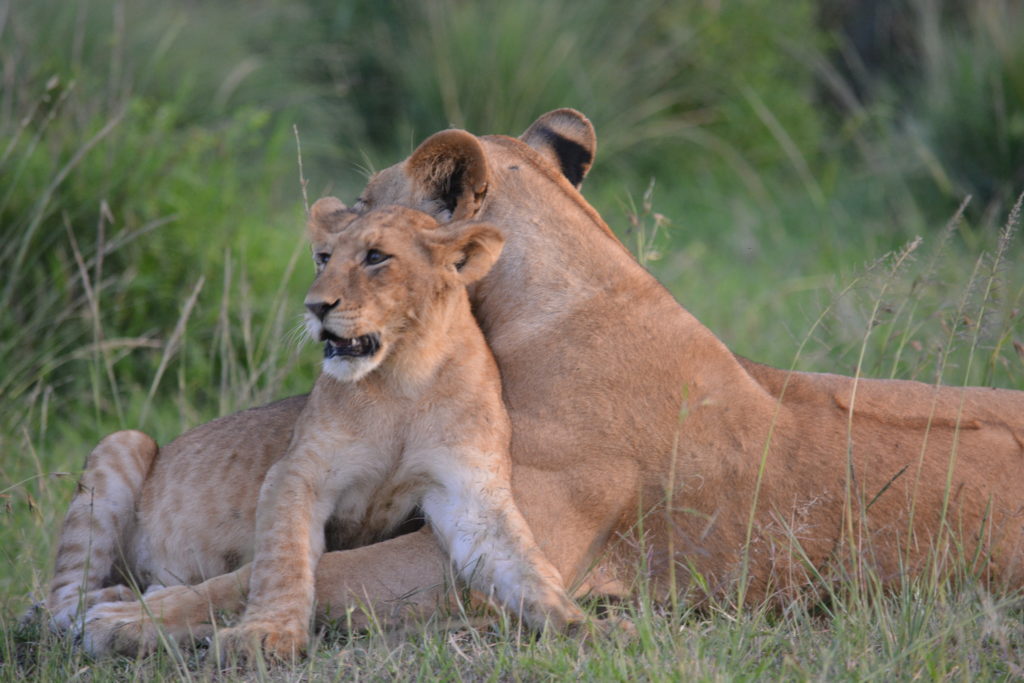 When sometimes elephants are crossing over from Tanzania and other places where hunting is allowed or poaching is not squelched, the animals are nervous and wary of humans – as they should be.
But our experience in the Mara was easy-going animals all around.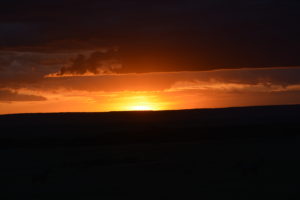 And this made us very happy.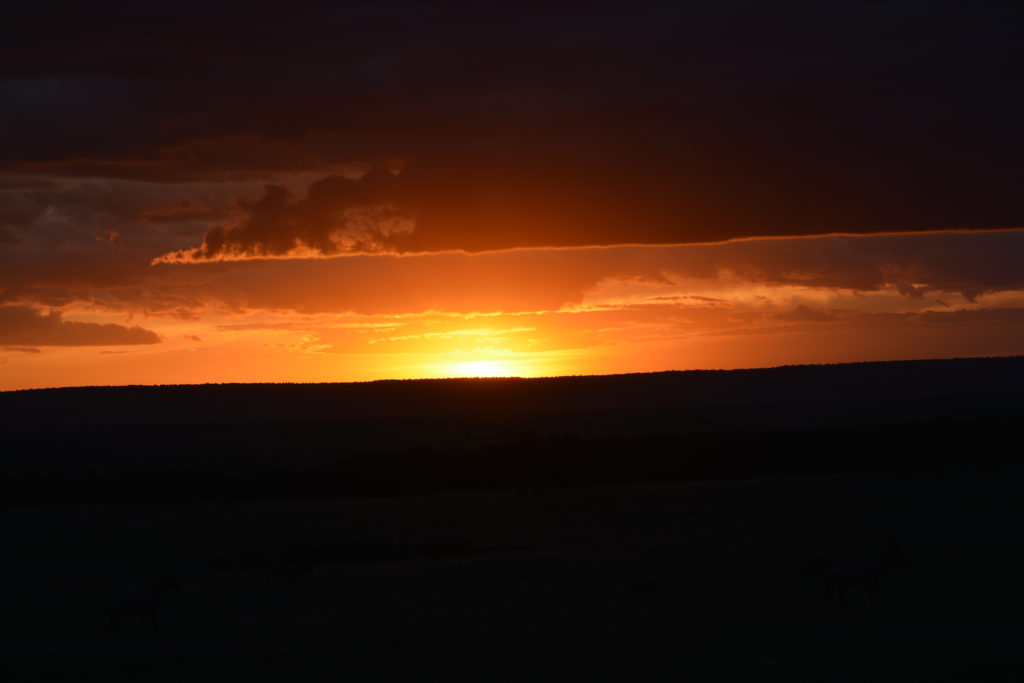 Georja Umano is a journalist, actor and animal advocate. All photos are by Georja Umano.
For more information, please go to:
Mara Plains, Mara Toto and ol Donyo Lodge:
BUSH & BEYOND
Phone: +254 20 6000457 / 6005108 / 6005980 | Fax: + 254 20 6005008
Email: in**@bu*************.com