By Kathy Carpenter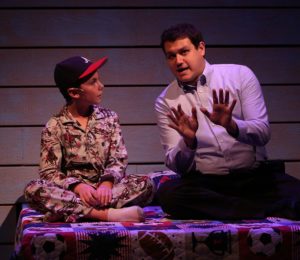 Coronado boasts great vacations and beaches, but they also play host to two wonderful theatres, producing quality plays. Coronado Playhouse and Lambs Players. Big Fish has taken over the stage at Lambs until July 30th, located in the heart of downtown, nestled among the shops, you will find your entertainment destination.
Big Fish, is a family tale, heartwarming. imaginative, and real. Punching you in the gut in a good way. Adventure, fun and family, Big Fish, directed by Deborah Gilmour Smyth, is the tale of a son getting to know his father. The stories are the way his dad bonds with his son. The son wants more. To know the man behind the stories. When his father is ill he tries to find the truth. Many lessons can be learned from this play. My sister honed in on the fact it's never too late to start over. A theme they repeated several times during the play. Although Edward exaggerated his stories, as with most tall tales they contained a grain of truth, and a message. Fearless living might be another note in the show. But it basically comes down to exploring the father son relationship.
What I like about this show is the versatility of the tales. A witch, mermaid, giant, circus, all American hometown hero, and a werewolf, not to mention catching the big fish. Most of us have at least one of these fantasies. Edward Bloom lives them all.
My favorite scenes are when Edward as a young boy goes into the forest with his forest to hear his fortune from the witch. He learns how he is to die, which adds a bit of mystery element to the play. And when Edward comes to the Circus he sees the girl he wants to marry. He works at the circus for three years, just to have the owner eek out one clue a month to who his mystery is. So romantic,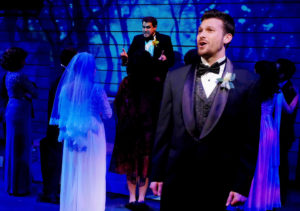 Brandon Joel Maier, shows his talent bringing Edward Bloom to life. Michael Cusimano gives a heart wrenching performance as Will Bloom rendering emotion through song. Kelsey Venter played Sandra Bloom, wife and mother, and brought her fabulous voice with her. Gavin Reid August, played young Will, and brought the cuteness, doing a great job as well. Caitie Grady, played the French girl who married Will, credit to Crista Reynoids-Vogele her dialect coach. Her character was believable as was her accent. Also, want to give a shout out to John Rosen, he played several roles, and I loved his circus owner role. Anise Ritchie also made a perfect witch. Of course the rest of the ensemble plays many roles, to which without them we would not have a show, Cast rounds out with, Jordan Miller, Charles Evans Jr. Mary Joe Duggan, Siri Hafso, Megan Carmitchel, Jack French, and Donny Gersonde.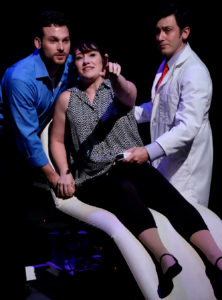 Visit the Lambs Players theatre before before July 30th, 2017 to live out your fantasies with Edward Bloom, Hit the beach, go to dinner, see a play.
619.437.6000