Ensemble Studio Theatre/LA will be keeping the one-act festivities going throughout the month and into mid July, as the Hollywood Fringe winds down. There will be no shortage of powerful entertainment during their curated presentation of the 2017 EST/LA Playwrights One Act Festival. Three distinctive programs in series A, B, and C from noted playwrights within their ranks.
Featuring four new plays, Program C begins at 8pm on Thursday, July 6th. It is a unique evening of entertainment, offering audiences a variety of entertainment from comedy to heartfelt stories and characters that they can relate to. All programs offer a variety of plots, but there is a subtle theme to each.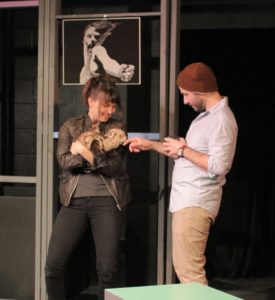 Program A featured Karen Rizzo's (2016 hit Mutual Philanthropy) Darkest Place, Tom Baum's Toby 24/7 Gets Lucky, a revealing look at the ultimate cure for shyness, Deborah Pearl's Can You Hear Me Now?, Tony Pacqualini's Already Forgotten, which follows a successful Hollywood agent as his life is upended, and Mary Porster's, So Lovely To Be Here On Earth. A steady show of support, from locals who know about this gem of a festival, kept houses near capacity during the run.
Program B continued to attract theatergoers looking for new and engaging experiences in live entertainment. "These are 30-minute plays in Program B, all of which deal with the concept of systemic corruption, the exploitation of those with less power, and the question of our personal responsibility within the economy—but with plenty of laughs!" says playwright Carole Real.
Her piece, The Guard Will Escort You to Ruff-Ruff, is based on her temp job days working for an entertainment conglomerate. As she read foreign factory audits eight hours a day, it opened her eyes to the fact that labor laws and safety codes are routinely violated in foreign factories that manufacture goods that are sold in the US. Her mission in writing the play was to spotlight the reality of exploitation for workers in all countries, and how we become complicit with the companies who perpetuate it. In relating to these characters it raises question in our own minds. Do we have to continue with business as usual? Is there a way out? "There is a social justice theme running throughout this program, but the plays are not vehicles for a message. They are funny, touching, and relatable stories, with professional actors in the roles."
Inspired by a "60 Minutes" interview, playwright Ian Patrick Williams created the engaging piece Provenance, which follows a near-homicidal art collector who confronts the forger whose painting he bought, and Thomas Stringer's Writing to Mrs. Otts rounds out the Program with a heartfelt homage to a women evicted in the name of progress.
The company has a committee that reads and rates the scripts that are submitted throughout the year and from the top rated pieces they select three programs that will work well as an evening or afternoon of entertainment for audiences.
Program C will start with a musical piece by Elin Hampton and Gerald Sternbach, called Things That Mattered, about items at a yard sale after a home is split by divorce. It is followed by Nicholas Ullett's How Do I Get To Carnegie Hall? with Jenny O'Hara directing. My Jesus Year by Tony Foster is a touching short play about a gay man who is waiting for a minor medical procedure as he and his sister are evaluating his life thus far.
The final piece in Program C is Katherine Cortez' "Between Friends, about a longtime friendship between two older women who discover a deeply held secret within themselves. Katherine's work In the Valley of the Shadow was just chosen as a "Pick of The Fringe," running as one of four Hollywood Fringe entrees at Rogue Machine Theatre.
"All of the plays in the One Act Festival are new works, or newly developed, through our various play reading programs, like the Playwrights Unit, NeWest Playwrights (this is our group of writers under the age of 30), and our various reading series like Winterfest, LAFest, and Launchpad," explains Co-Artistic Director Liz Ross.
Our focus has been to create new works here on our home stage with hopes of seeing them produced here or somewhere in the world of theatre outside of our walls so that we are serving many of our creative artists while also contributing to the theatre community at large.
Photos credit Youthana Yuos
2017 EST/LA PLAYWRIGHTS ONE ACT FESTIVAL runs June 1 – July 16, 2017. Ensemble Studio Theatre/LA is located in the Atwater Village Theatre complex at 3269 Casitas Ave. LA, CA 90039. Tickets: $19.95 – $26 (at the door). Reservations: here or more information at (818) 839-1197.
Website: http://www.estlosangeles.org