Karen Blixen Camp, located in the Mara North Conservancy, is located at a wide bend in the large Mara River (the River which travels through several countries and eventually is the Nile River).  It has one of the best wildlife viewing vistas from the dining room — where not only hippos and crocodiles swim daily – but also baboons, impala, giraffes and even elephant herds – stop by for a drink. They are all in plain sight while you are eating your gourmet salad.
The Karen Blixen Camp is owned by and leased from the local tribal community. Is one of the most beautiful areas we have seen. There are hills and trees and at this time of year (early June), with long grass. Good hideouts for leopards.   Also vast plains in other areas. There are so many thousands of animals, even before the Great Migration, which happens later in the summer. This makes for spectacular wildlife viewing all year round.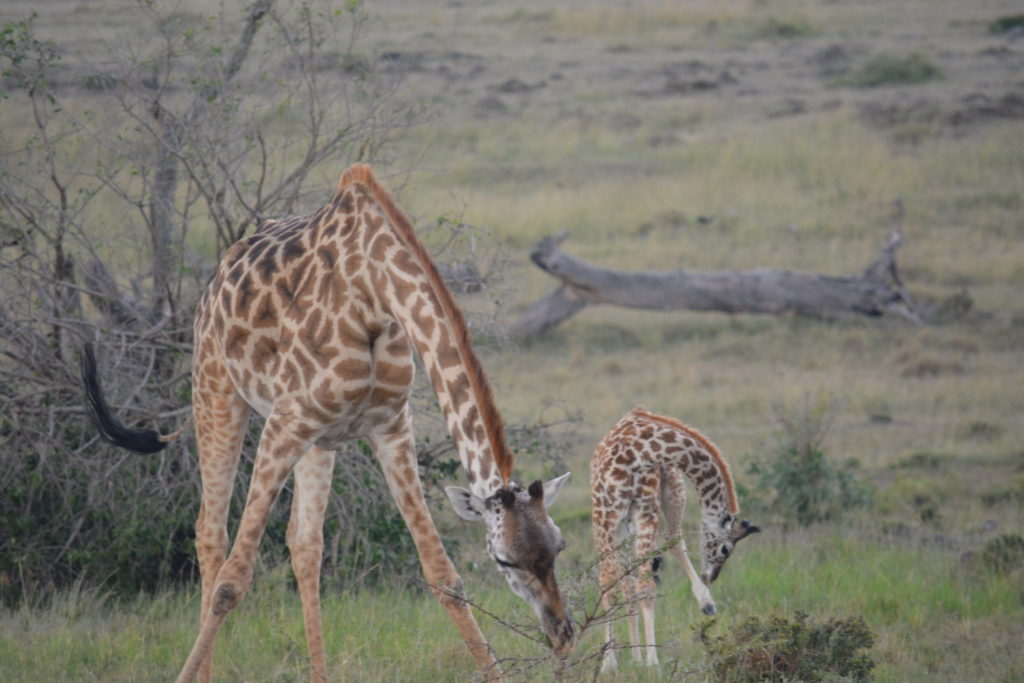 (During the Great Migration, thousands upon thousands of wildebeest, zebra and other animals jump though dangerous crocodile-filled waters as they come over from the Serengeti in Tanzania to the Mara to eat fresh fields of grass. There is always a row of lions and cheetahs waiting gleefully on the other side. Truly, it is a sight to behold. When you are on a great plain and look around 360 degrees, you see what seems to be hundreds of thousands of animals with your naked eye.)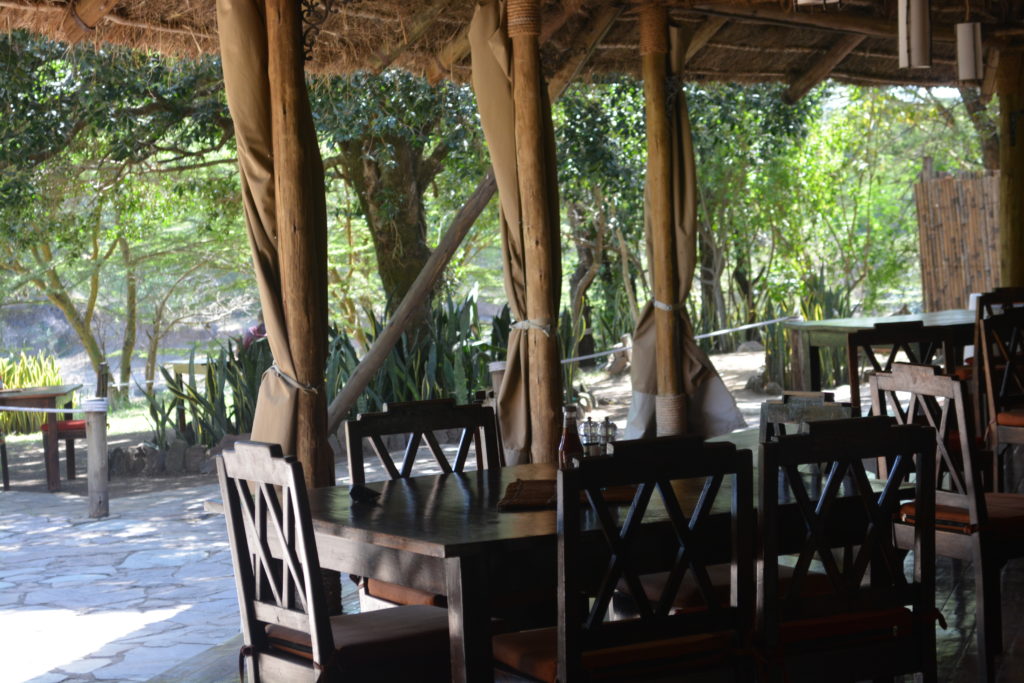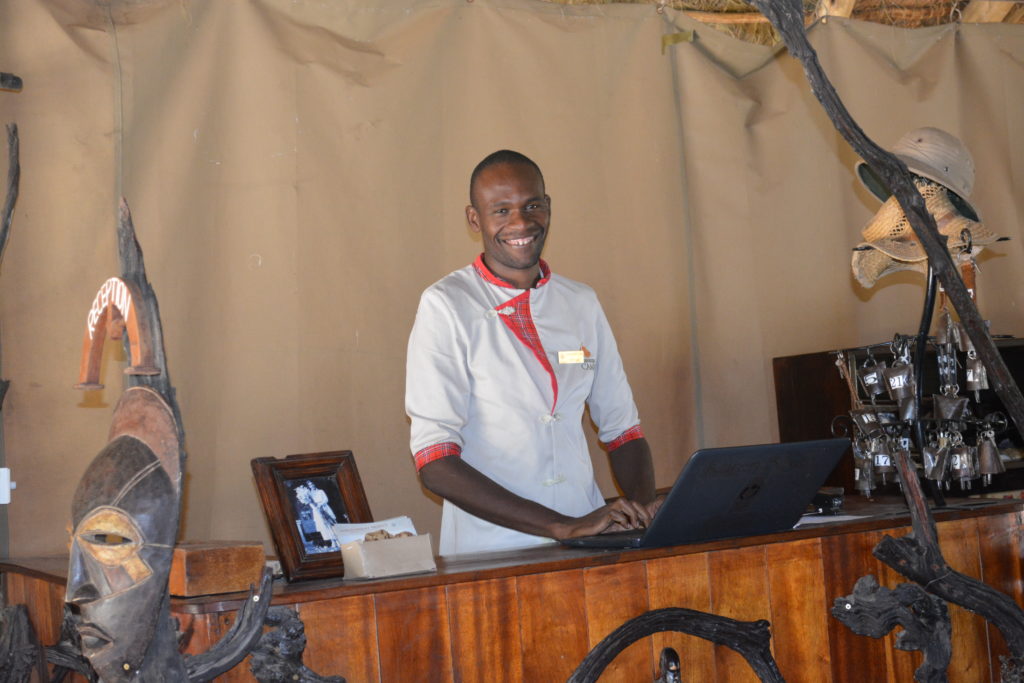 The land itself is a large expanse for a large camp. Twenty-two huge sleeping tents also face the river, as well as staff quarters, lobby bar and restaurant, along with schools and dormitories. When they are all full, you can see things are run like clockwork.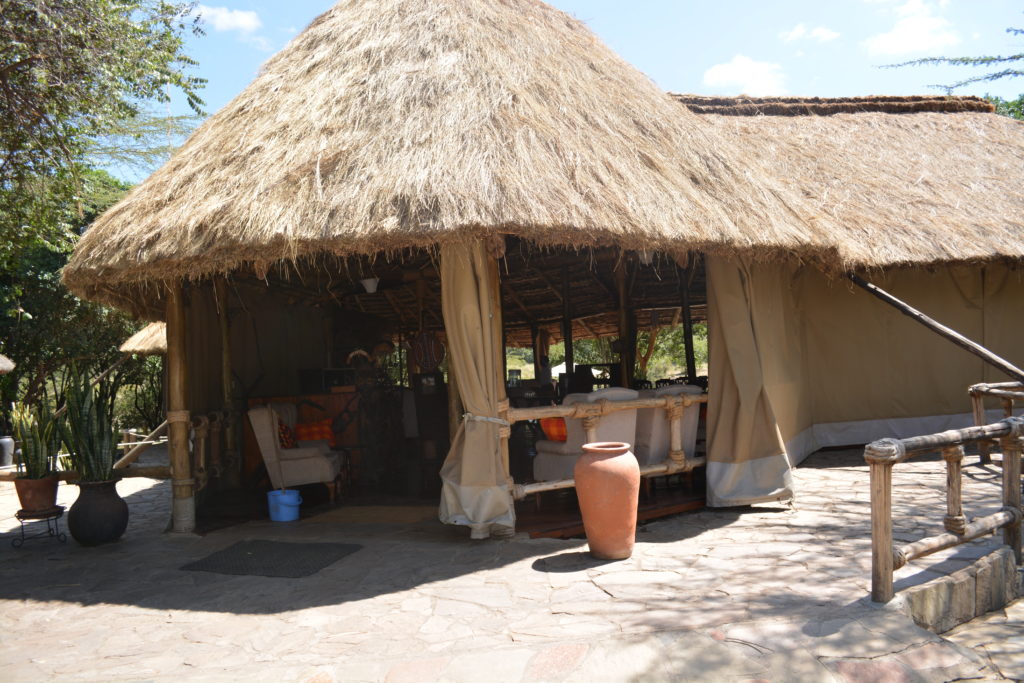 Even though we were practically the only ones there on the first days of the season, we were given orientation and asked what our preferred meal times were. We were assigned a waiter who would look after all our food and drink needs and remember our preferences (and, indeed, ours, friendly Job, did just that). We later learned that some of the meals were created not only at the hands of the master chef, but also were inventions of interns at the onsite cooking school.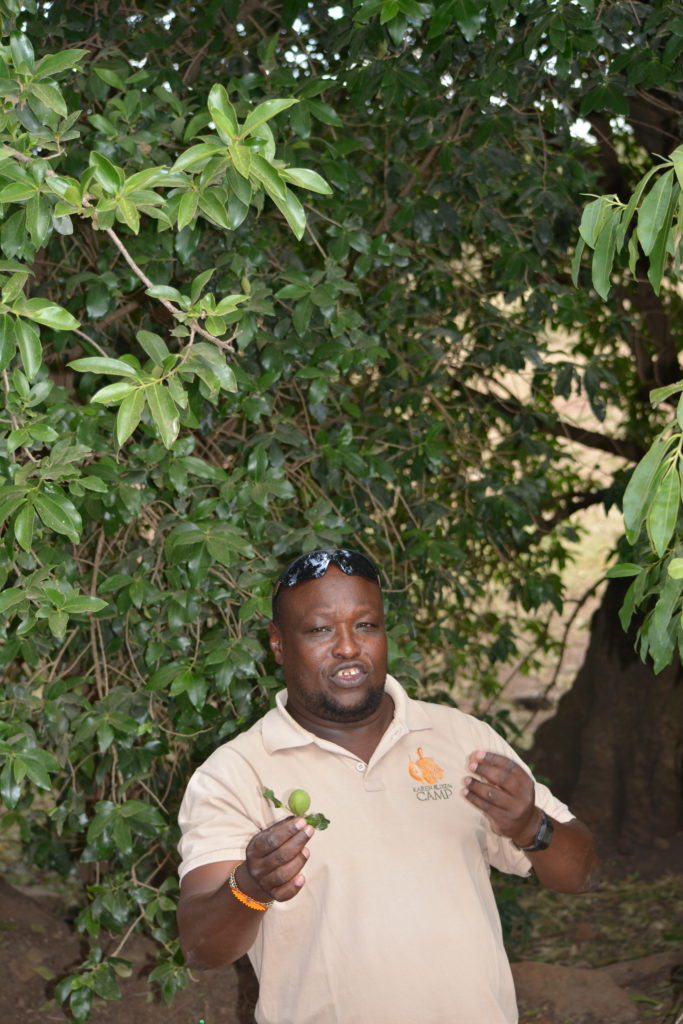 David, our safari guide who drives an enormous vehicle fit for 7 or 8 guests, is extremely knowledgeable about his native lands. When I asked about some beautiful trees, he happily jumped out of the truck and gave us a mini lecture about how elephants had made one the trees grow and how it produced a type of lime that was edible to them and also to humans.
Elephants are truly the architects of the forest. David also knew were to find newborn lions and where the leopards hide out.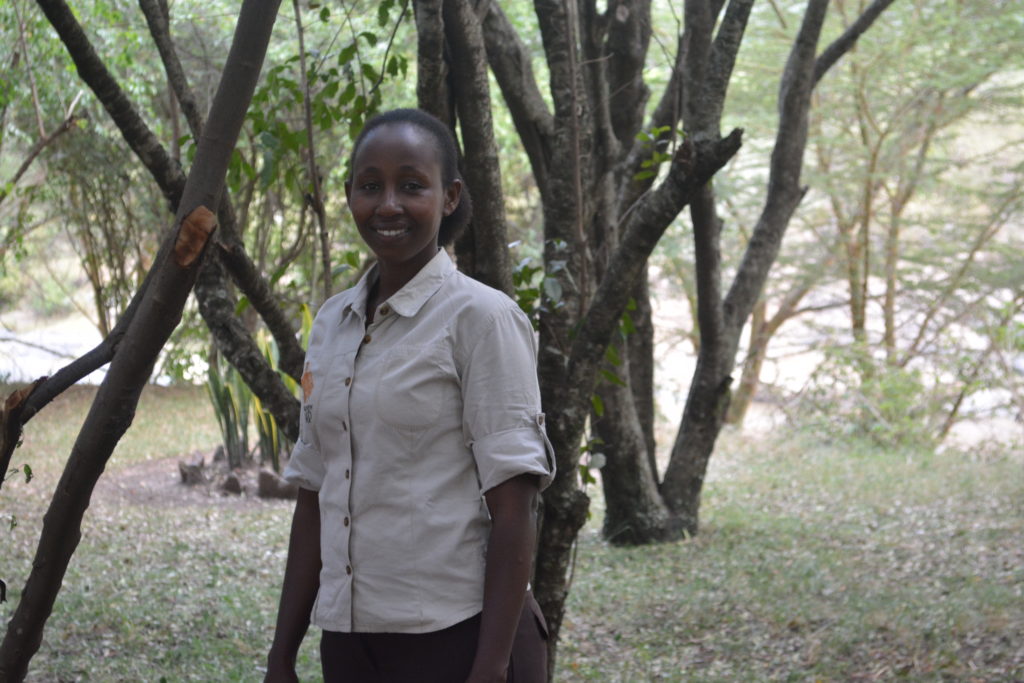 While at the camp I enjoyed a wonderful massage from a very talented masseuse, Lucy. I also enjoyed talking with the new camp manager, Lillian. Lillian is a cordial, young and highly organized person – managing a huge camp and more. I soon was to find out just how many hats she wears.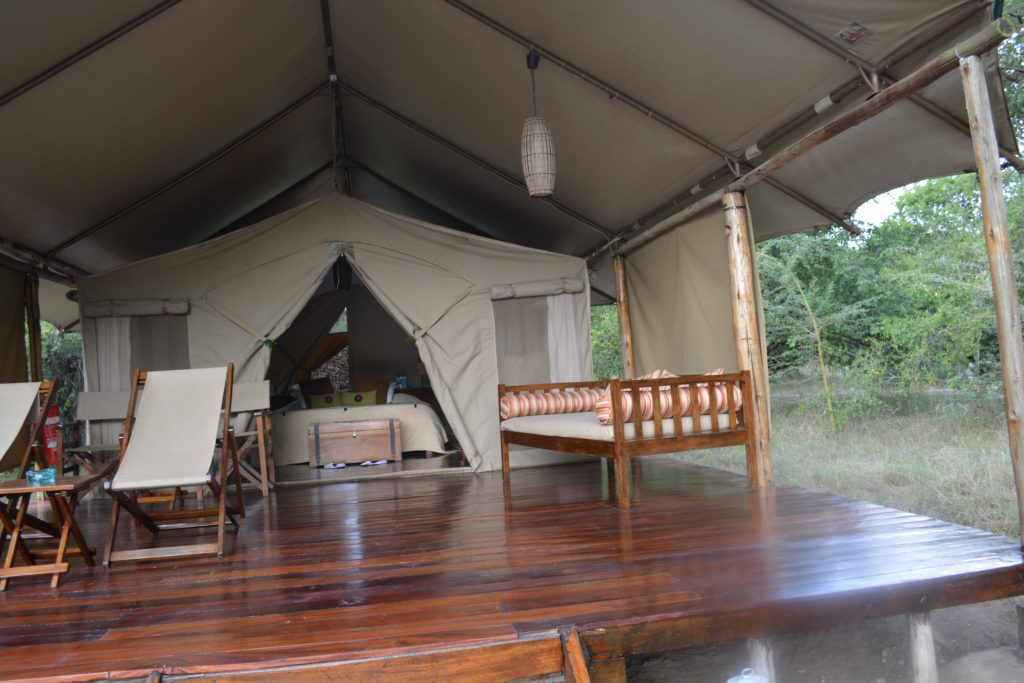 There is bonfire at night, a great part of African culture and also festive for those large groups who come to Karen Blixen camp for conferences and company outings.
Guests come from all over the world, and especially from the Scandinavian countries. The owner is Danish. as was the namesake Karen Blixen – whose success on the plains and kindness to native peoples are documented in the famous film Out of Africa.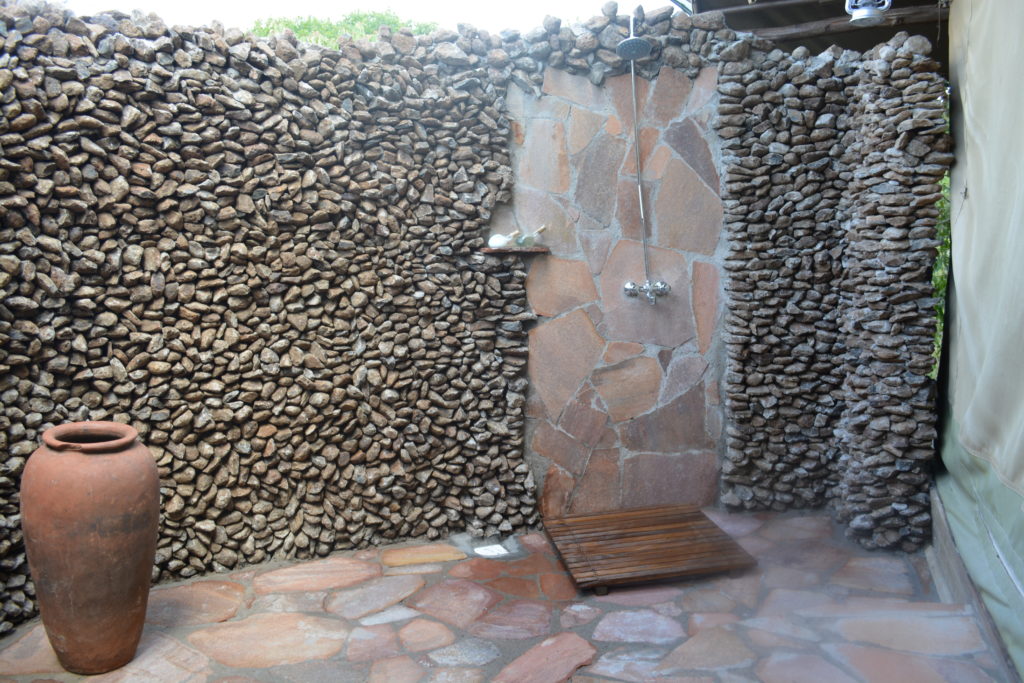 Not only does Lillian run the tents (with the help of her reception coordinator Jerome), but she also oversees the many outreach programs the camp is involved in with the community.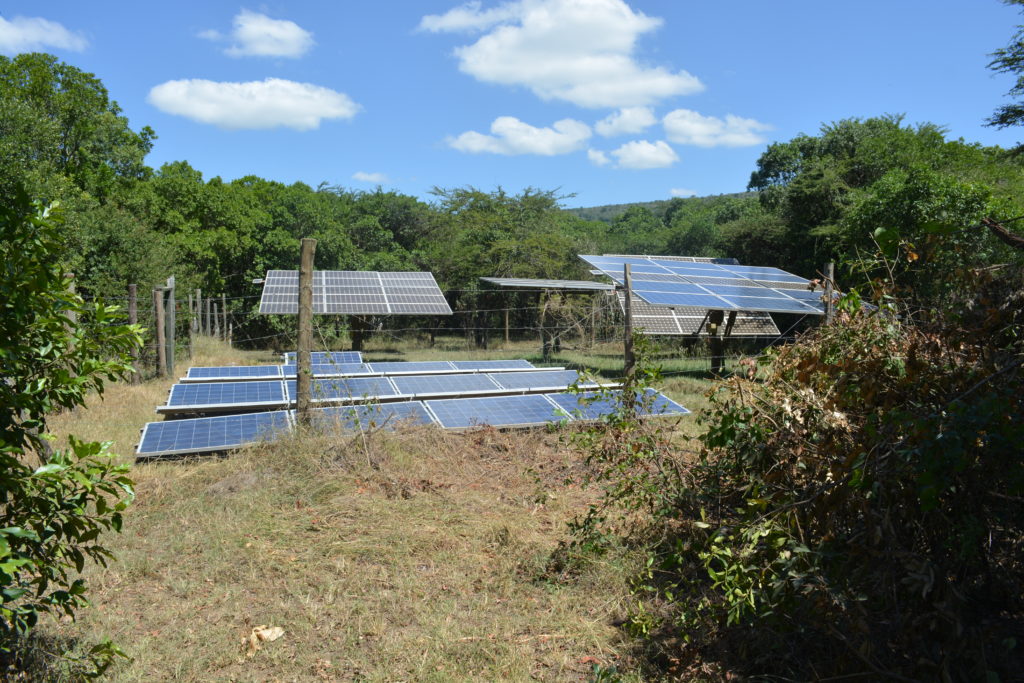 First of all, trade is with the community and local farmers, and nothing is bought from Nairobi. All electricity is run through huge solar panels with backup generators for emergencies. Water is filtered from the river and their own bore hole and is eventually sent back to the ground where it is so clean even fish and frogs enjoy it.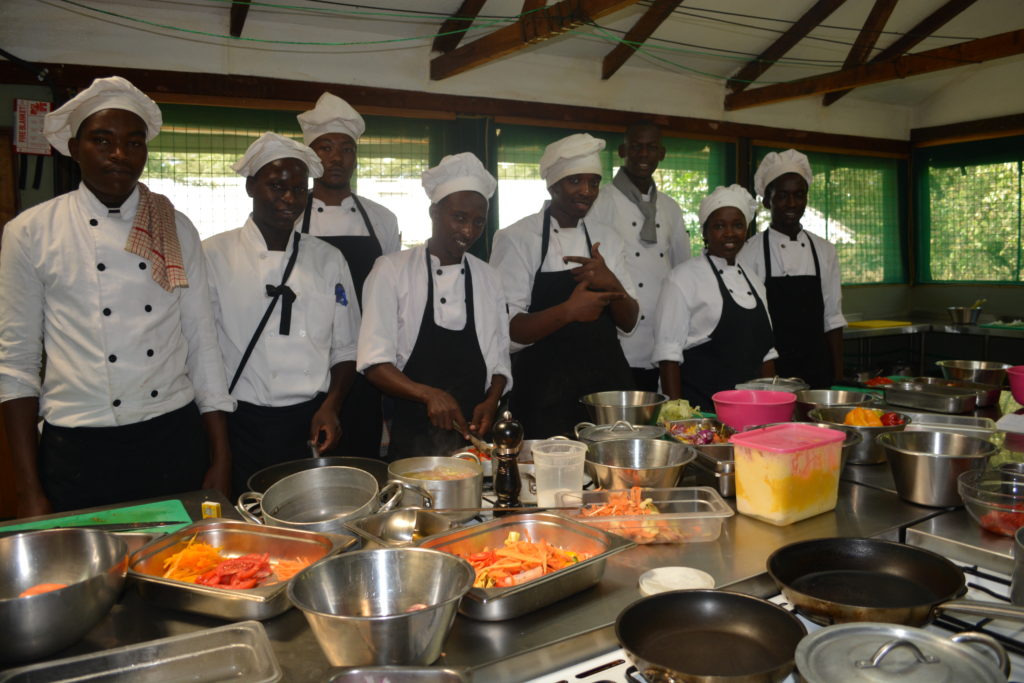 The Karen Blixen Hospitality School, operating on the vast grounds of the Karen Blixen Camp, teaches cooking, mathematics, computers and languages to the local community. The students stay on the premises so they don't have to commute. Girls are encouraged to go and are co-sponsored by the camp. Since 2012 there have been 27 graduates, and 90% of them are employed today.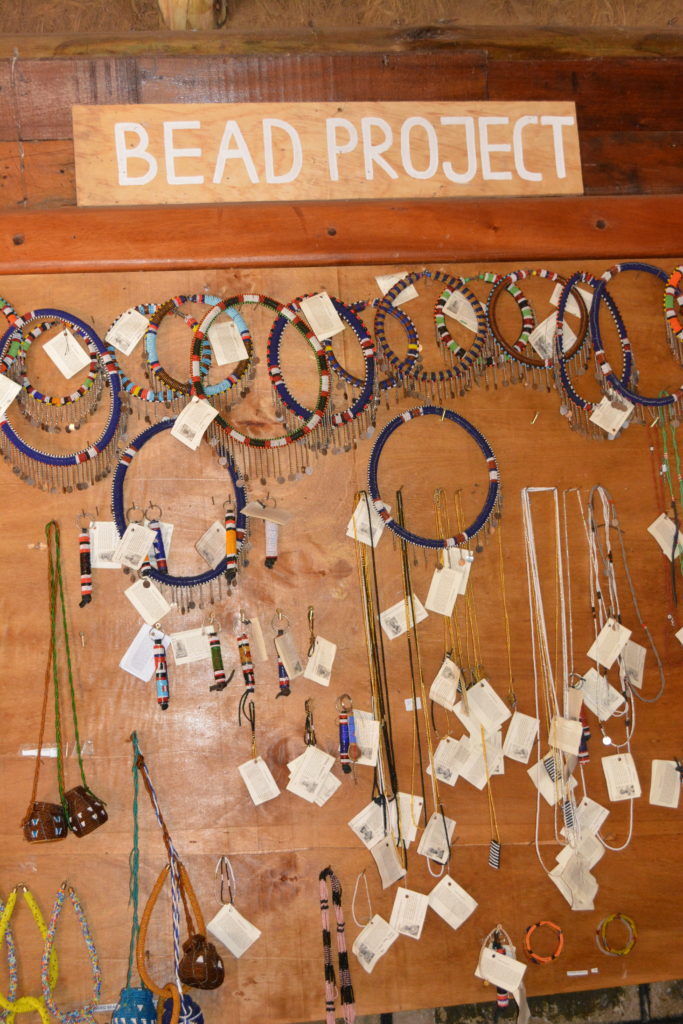 There are also individual cooking lessons (available to visitors at the camp as well), and language classes (English and German), as well as computer classes to help local people get ahead. The classes are open and free to the staff at camp.There's the bead work project – where they sell beads made by local women. The project is also part of their mission and part of the greater goal of aiding woman empowerment.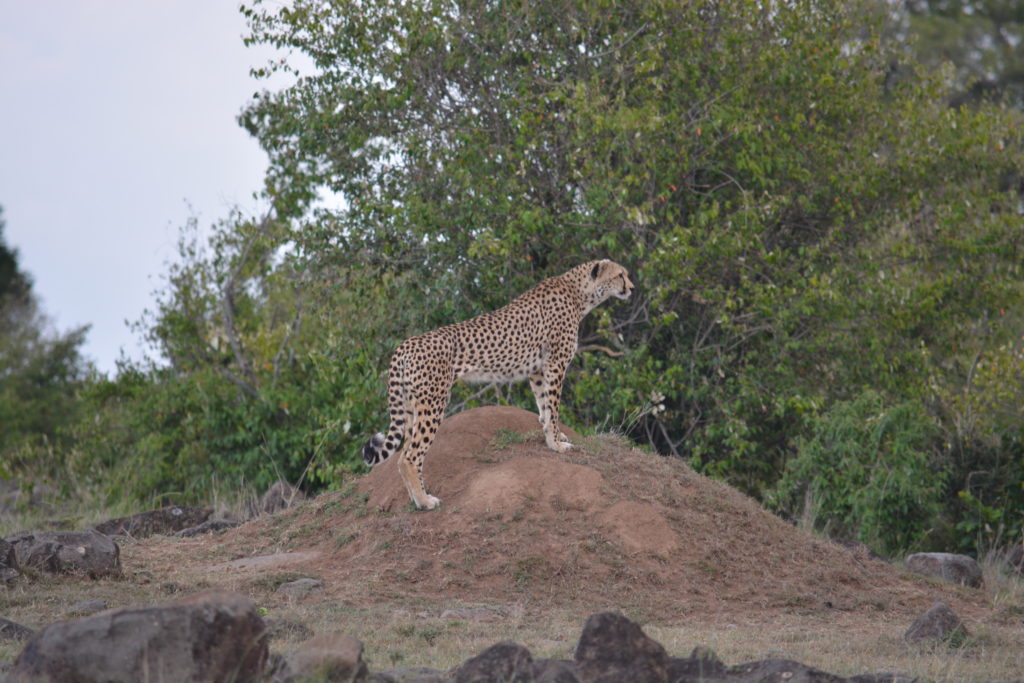 The ecologically minded owner of the camp, Karsten Ree, has purchased a helicopter for the use of the Mara Elephant Project. Local people call for the copter when elephants are getting too close to their crops. A drive-by is usually a gentle way of sending the herd in a different direction. The Mara Elephant Project, under the direction of Marc Goss, also discourages poaching, and it helps with collaring of elephants and veterinary emergencies. When necessary they arrest and hand over poaching suspects to the Kenya Wildlife Service.
Lillian explains that the camp is working towards its Gold status for ecology and conservation. The only things left to do are getting rid of all plastic bottles — and that is soon to come, with new metal reusable bottles being set up for each guest to use and take home as souvenirs. They are also working at limiting and keeping track of all the water used and filtered. The used cooking grease is saved and later used to coat the posts under the tents where it prevents termites.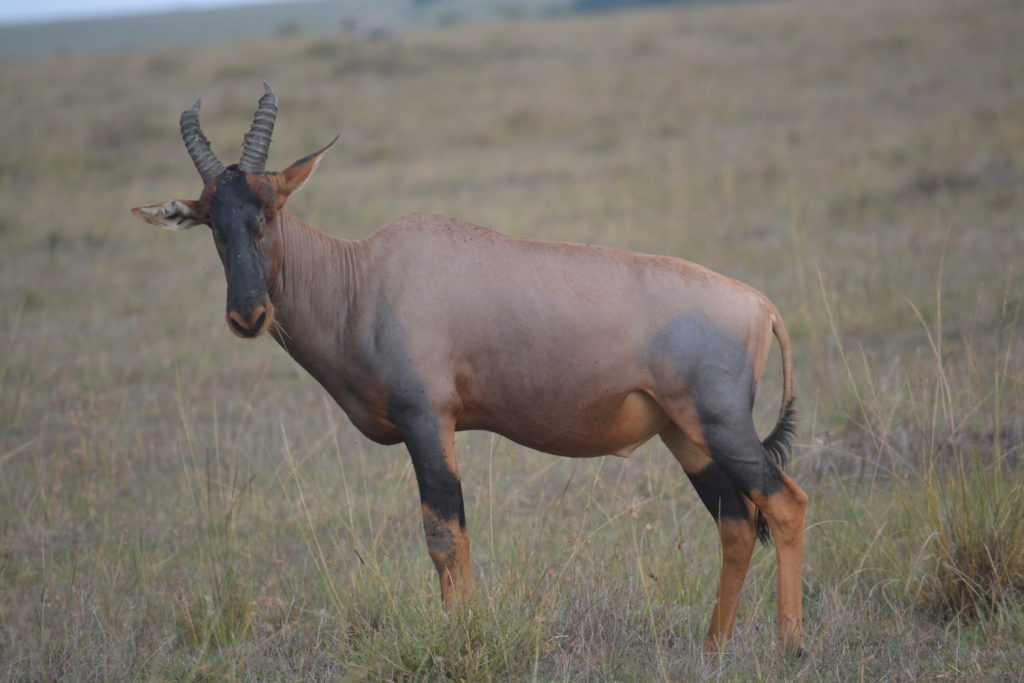 Many new trees have been planted around camp in addition to so many other conservation practices. Lillian says, "It's a lot of work to plant the trees, but then they are good for shade, windbreak, beautiful scenery and fresh air, absorbing co2. When you take care of the environment, the environment will take care of you."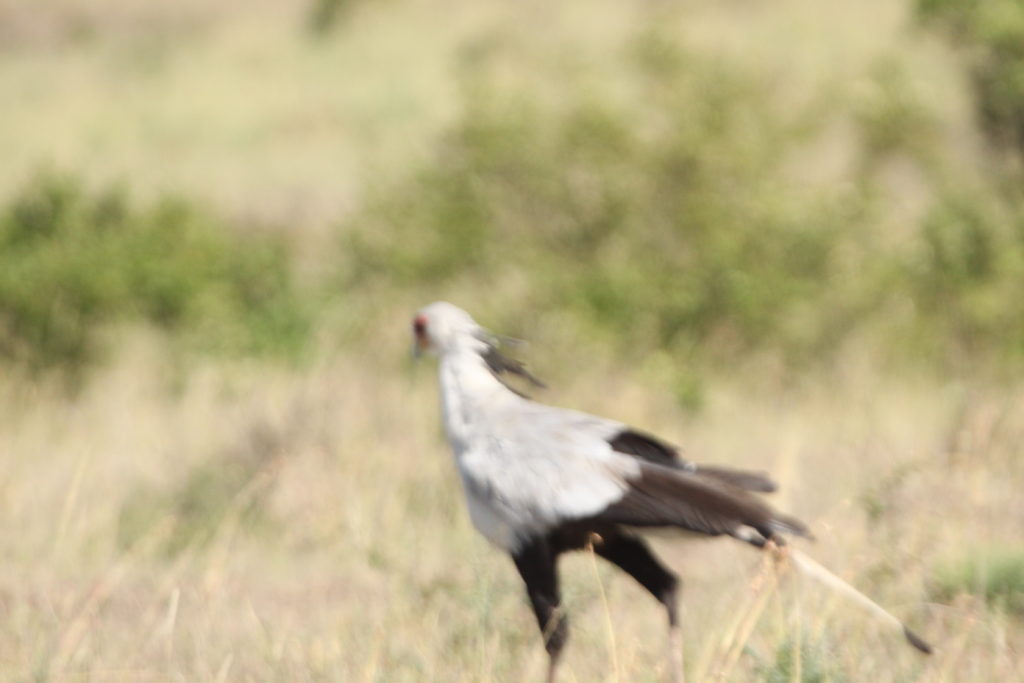 Karen Blitzen Camp is a shining example for other camps and groups in the many ways it treats its guests. It also gives back to Mother Nature and the community. Karen Blixen is the founding member camp of Mara North Conservancy, and guarantees it leasing fees of over $330,000 per year back to the community.If you or your company have a convention coming up with your business or group, you probably can't find a more wonderful setting with fabulous service and well organized safaris – well equipped to handle up to 60 people at a time.
If you want a romantic vacation for two, the accommodations are also great for you. You can have your breakfast out on the plains with an early game drive. You can sit at a table for two at the camp or choose to join a larger group if you wish. You will enjoy sharing the delightful moments of discovery in the bush together.
Georja Umano is a journalist, actor and animal advocate. All photos by Georja Umano
Please visit
http://www.karenblixencamp.com