Big Sky, Big Landscape, Big Tuskers! 
If you were one of the most wealthy and artistic people in the world, and you also had a great love of nature and wildlife,  it's hard to imagine you could come up with more spectacular lodging than Ol Donyo Lodge in Chyulu Hills, Kenya. Or that you could help wildlife conservation more.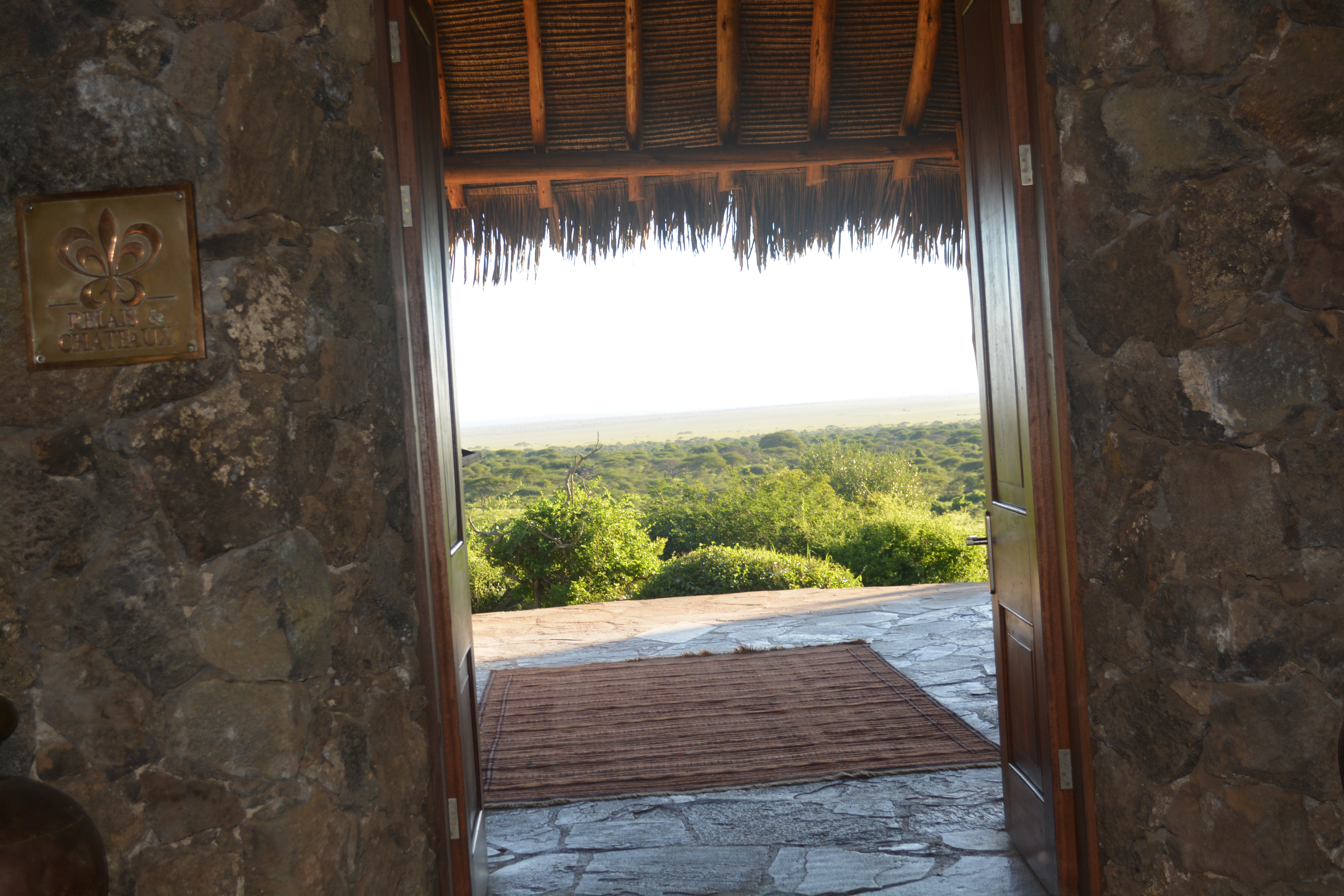 Never have I nor my husband experienced the degree of perfection and style in such a magnificent setting. Ol Donyo is up on the beautiful green Chyulu Hills looking down on the vast fields and plains and forests below it.  There is wildlife everywhere, and the structure is set up to have the very best viewing while its guests are living like royalty. And we were blown away to find out that Ol Donyo, like other Great Plains Conservation projects, is managed so as to be 100% sustainable. 
When we were shown to our suite at Ol Donyo Lodge, we were completely enchanted.  First of all, we couldn't believe that the massive and museum-like room we entered was only the living room!  Not only was there room for sofa and chairs but also tables, desks, and glorious African art – all done with top design and placement. And we hadn't even seen the luxurious bedroom yet.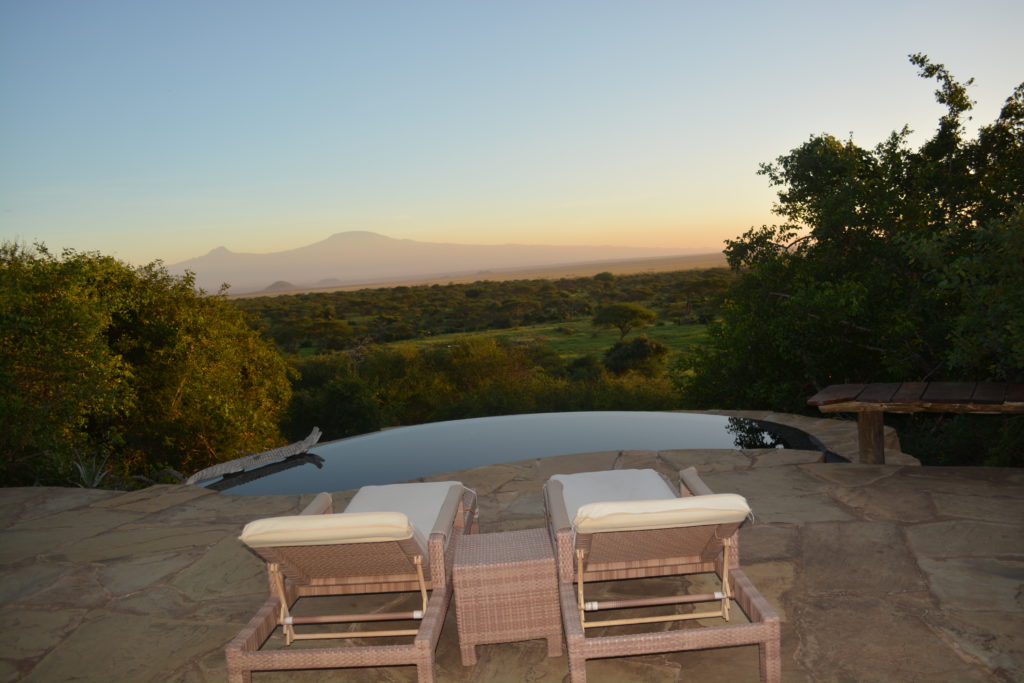 The west side of the suite looks out on the strategically placed watering hole and has no wall.  You can cover the entry with a curtain, or you can just step outside onto your own beautifully sculpted patio. And you have your own private dipping pool. This palatial resort is part of the "conservation tourism" that Great Plains strives for – with low-volume and low-impact tourism.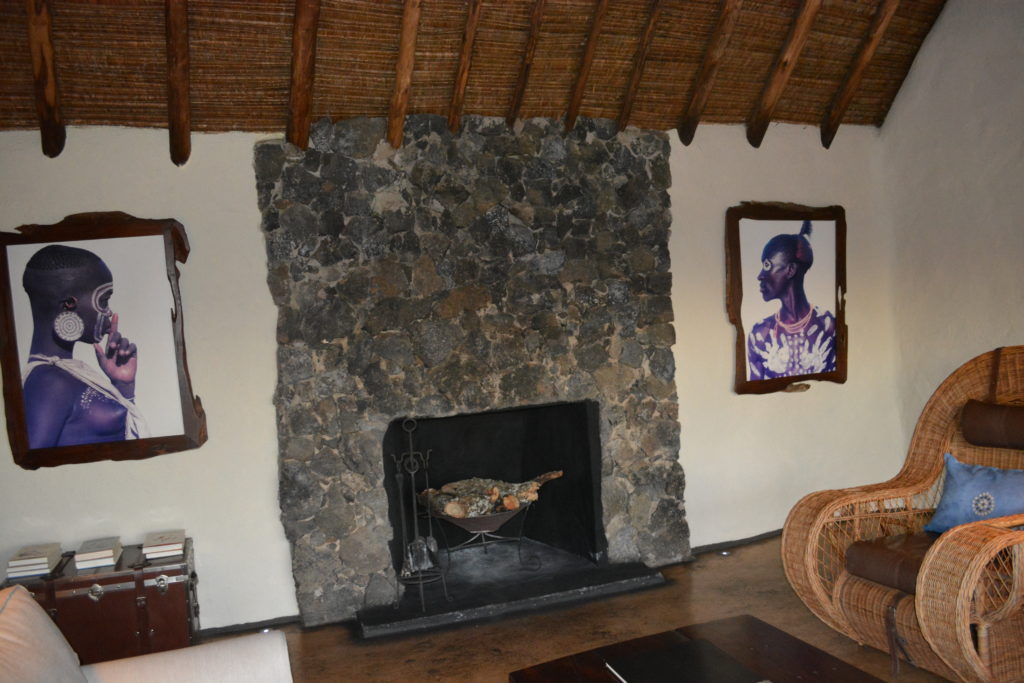 Both the bedroom and bathroom have massive glass doors which lead out to the patio, as well.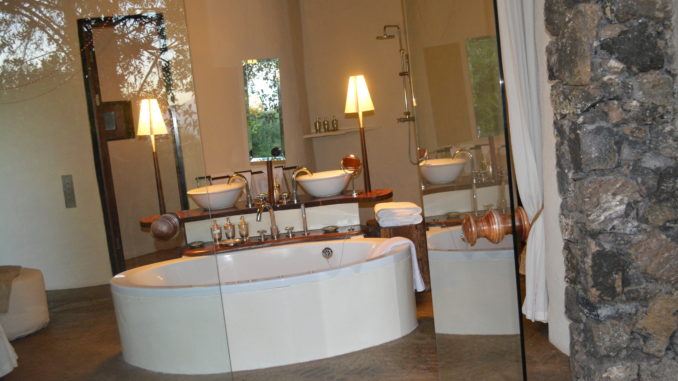 Yoga mats are provided in case you get an urge to do an asana.  One afternoon I did, and it was one of my most memorable times. While I was doing a warrior pose, I was actually watching a famous big tusker, OneTon, drinking water at the nearby water hole.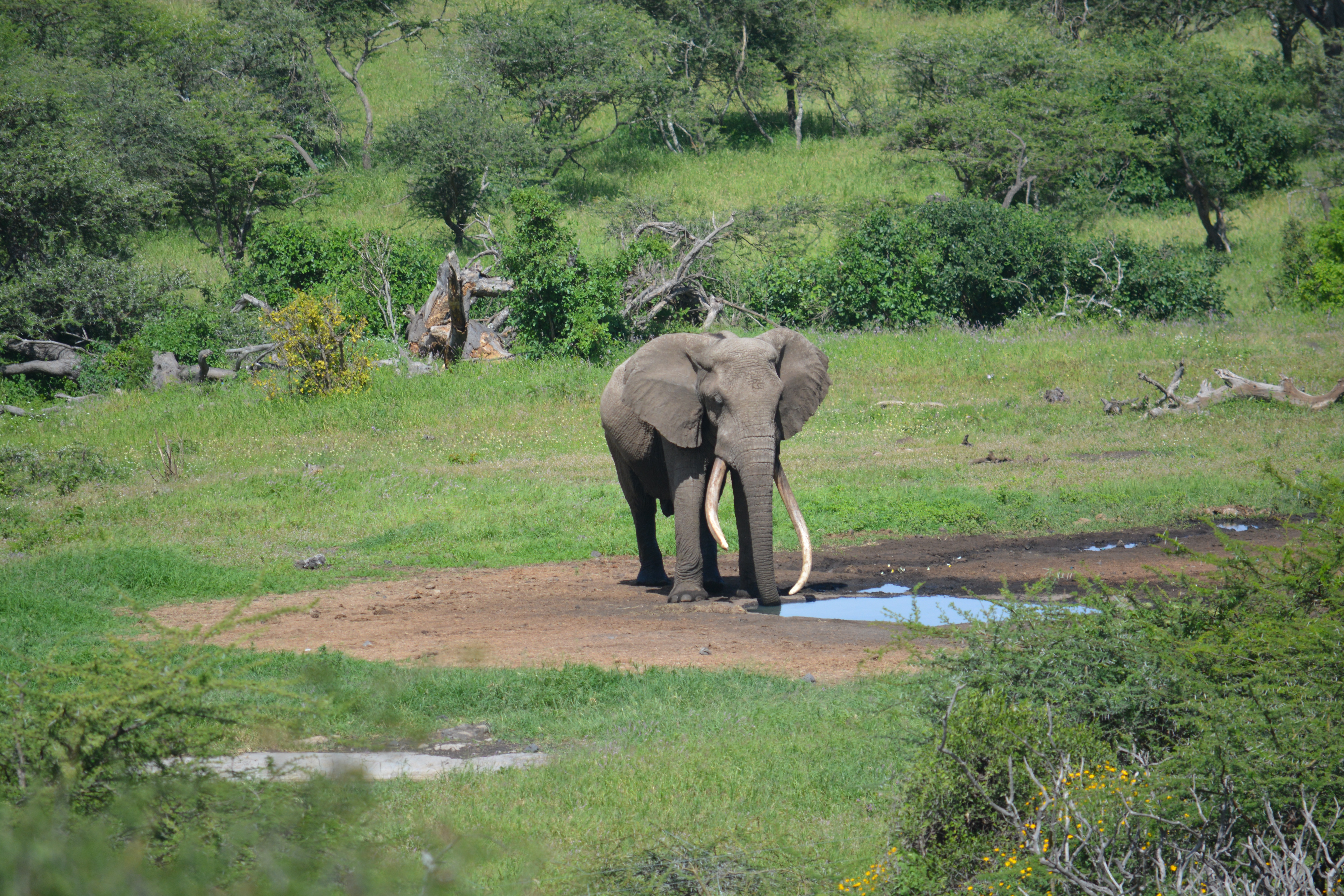 The night sky is bright and near – like hanging lights on the ceiling. From the patio, there is a set of steps going up to a rooftop and to the upper deck, which holds the "star bed." If you want to sleep or even rest for a while on the bed, the staff will come up and make it up for you.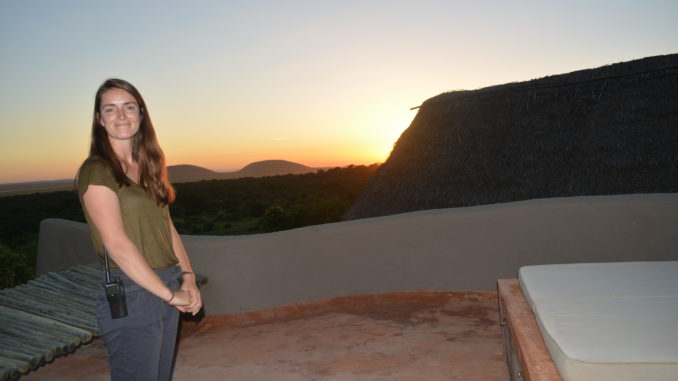 There are a few steps leading down along a manicured path, which you can take all the way down the the level of the field at the watering hole. It's like a tunnel made of vines and flowers. The shelter for you at the end of the path is called the "blind." Once you are there, you can sit in one of the chairs at the counter in the little stone area, which is oh-so-close to the watering hole – and you quietly gaze at the wild animals.
You never know who will show up!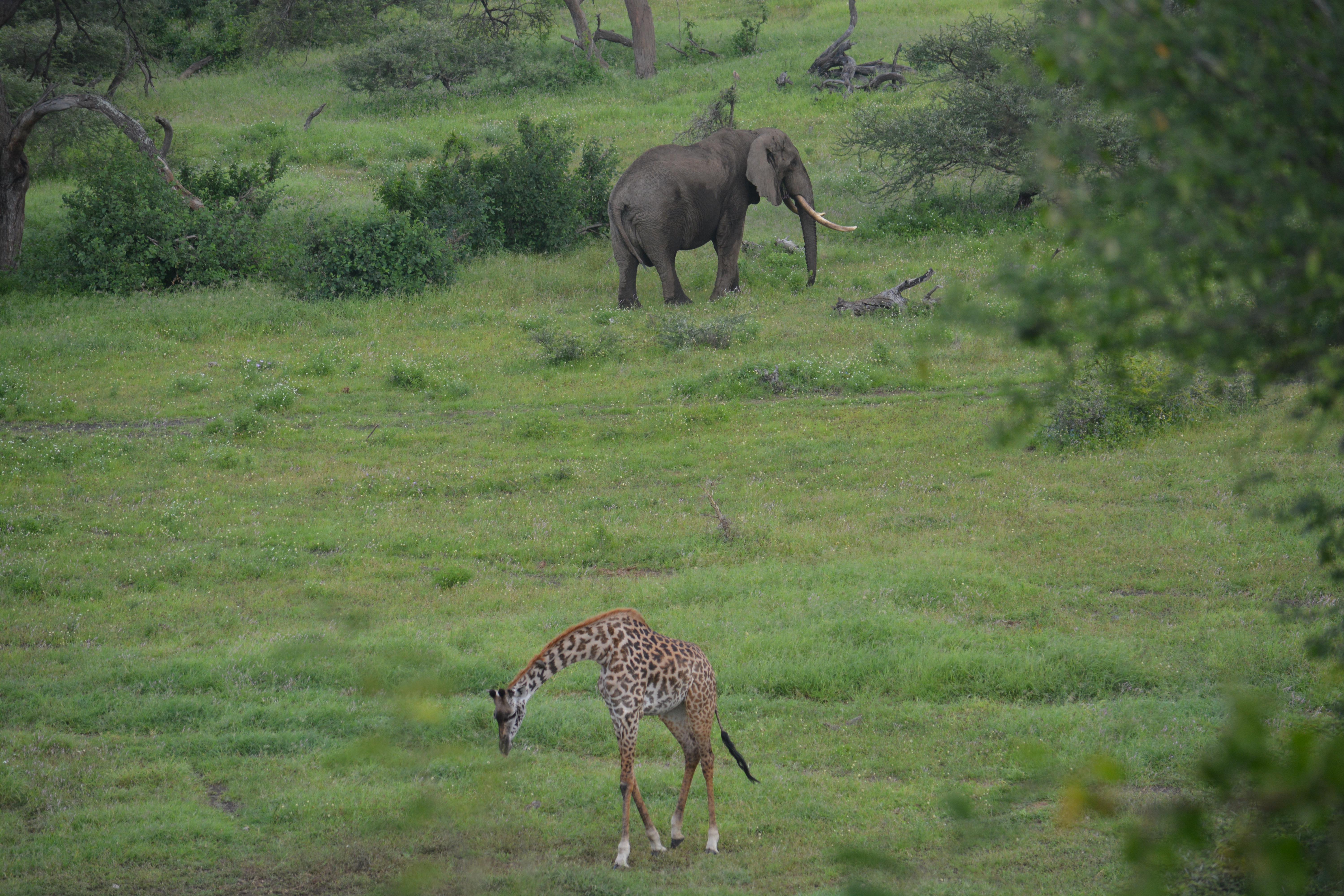 When you return from dinner in the evening, besides the well-stocked  tea case by your bed, there is also a bottle of aged sherry and a couple of silver goblets to top off your night.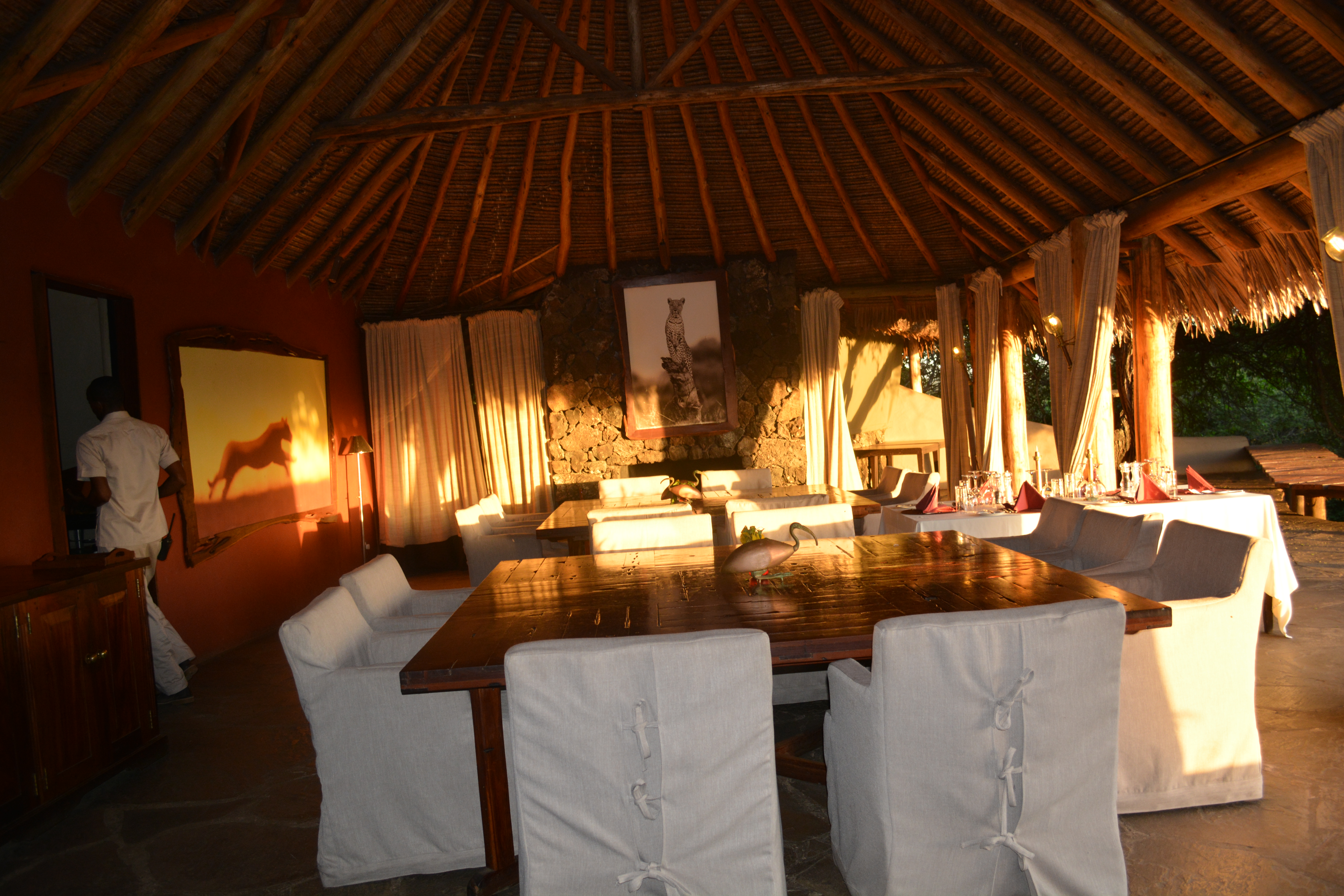 Chyula Hills is the only place I am told where you will see and have such access to the few "big tuskers" that are left. Sadly, most of these gigantic ones with tusks down to the ground have been decimated by poaching. Chyula Hills and Ol Donyo are extremely well guarded by rangers from Big Life Foundation. The famous OneTon figures prominently, as does Big Life itself, in the 2016 Netflix documentary, Ivory Game.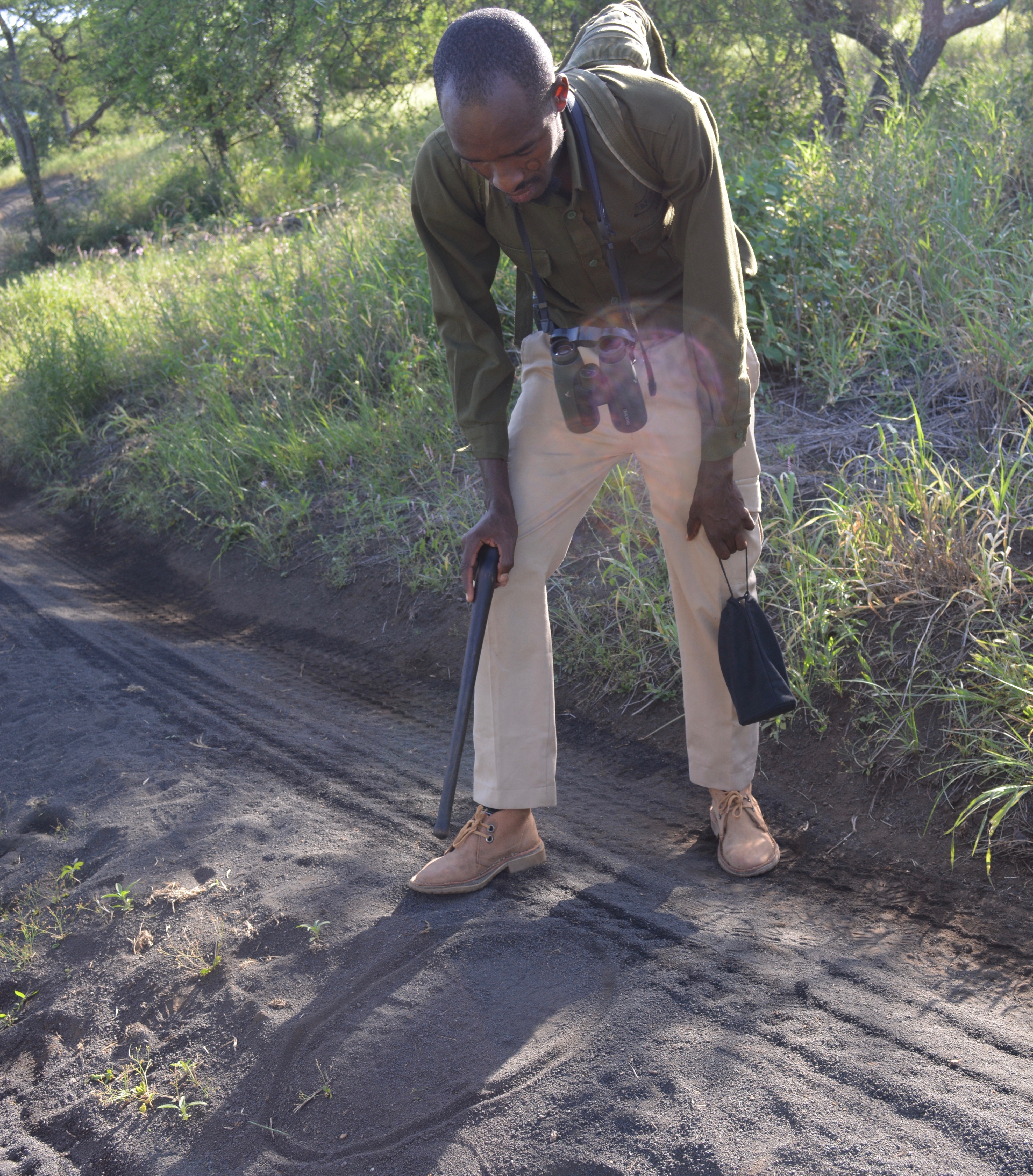 The headquarters for the Big Life Foundation are just a half-hour's drive down the hill. This is the organization started by noted conservationist Richard Bonham, who also used to be sole proprietor of Ol Donyo. I'm told it was more rustic then. He realized the animals were being poached and the trees were being chopped down. He set out to do something about it. (Please see my companion articles about Big Life.)
One of the many amazing things Bonham has done to help the community and save wildlife was to sell some participation and collaborate with many equally committed partners. Great Plains Conservation is one of the prominent ones he works with. Ol Donyo was revamped into an incredible first-class, top-notch luxury lodge. The place attracts people who love nature and are able to help support those efforts. By staying at Ol Donyo, visitors pay conservatory fees, most of which go to Big Life.  The lodge also creates a plethora of staff jobs help support members of the local community and engage them in conservation.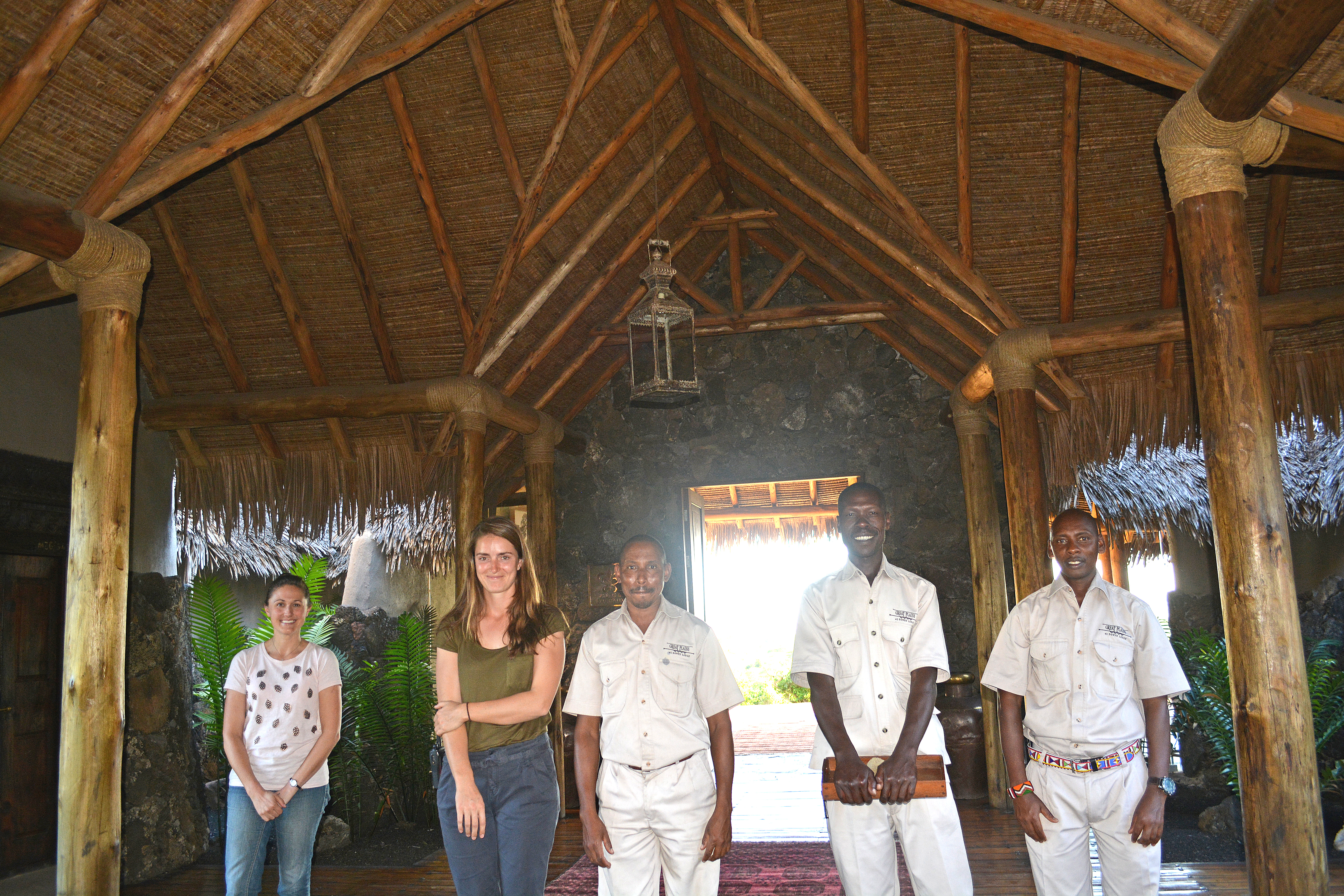 Everything at a Great Plains lodging is done with both personal service and conservation in mind. Rainwater is saved and used, and even shower water is filtered for some purposes. All the toiletries and products are biodegradable and do not hurt the water or filtration system. There are no plastic bottles anywhere. When we go for a safari drive, metal bottles of freshly filtered water from rainwater and a private well are supplied. These policies are strictly adhered to everywhere in the lodge – from preparation of the top-chef cuisine to the private bathrooms. The food is fresh, original, and made to order. Its presentation could be featured in a gourmet magazine –  even the picnics, which include tablecloths and cutlery.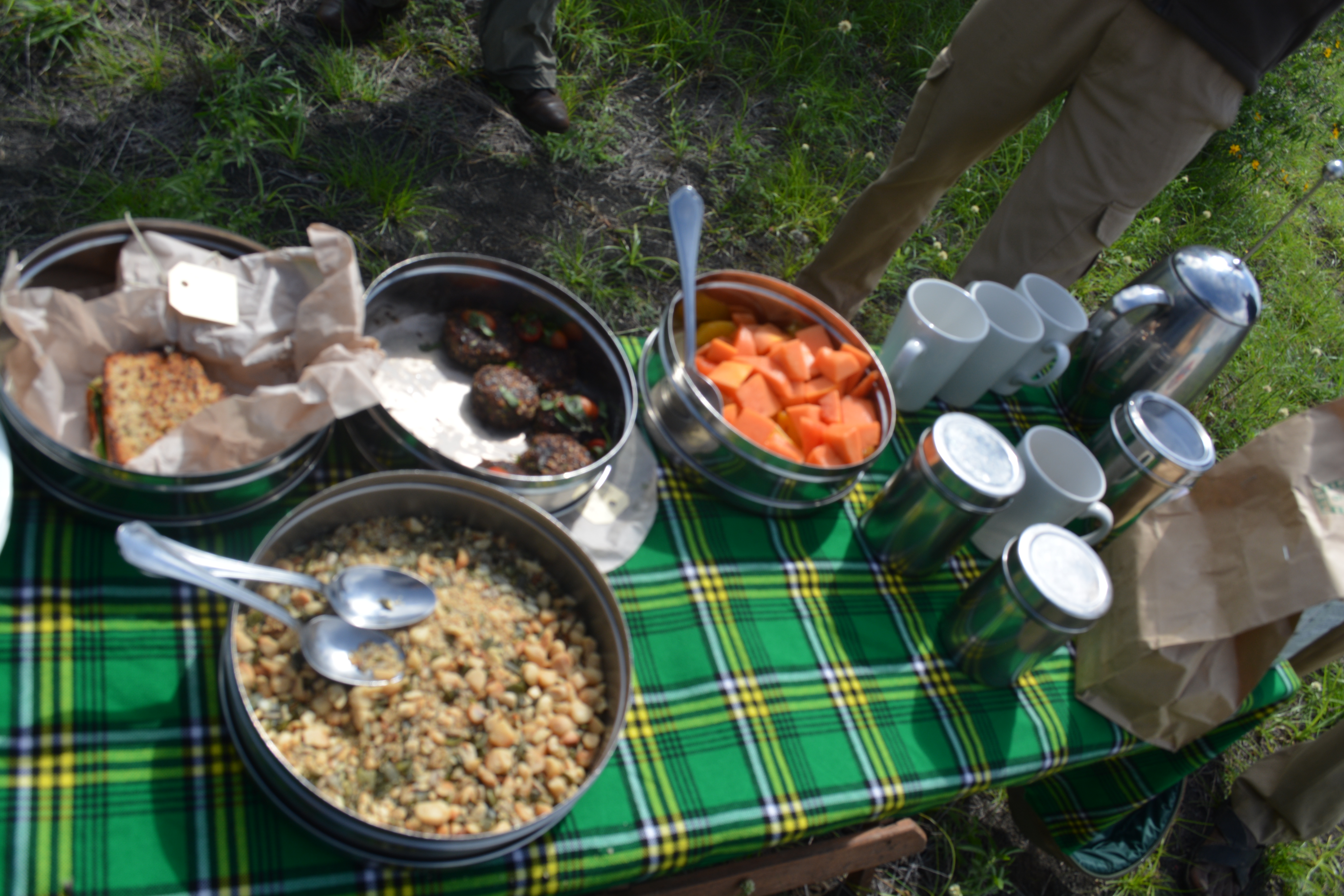 Great Plains Conservation and its partner Great Plains Foundation were started by the Joubert family. They have created many amazing properties that support luxurius, sustainable tourism as a way to provide funds for wildlife. They run lodges and camps not only in Kenya but also in Botswana and Zimbabwe. Derek Joubert, CEO, states, "We are in the midst of the Battle for Africa. We find and fund projects that will rehabilitate, enhance, and save Africa's wildlife." He feels we must concentrate on elephants, rhinos and lions.  In this regard, Great Plains is a huge supporter of the Big Life's very successful Maasai Olympics, which teaches young warriors to change from hunting lions to competing for trophies.
Everything at the lodge is inclusive, including  horseback riding on the plains with the wildlife. We took an afternoon ride out on the savanna. It was thrilling riding close to the giraffes and zebras – which look in amazement at the four-legged creatures that look like them with tall beings on their backs!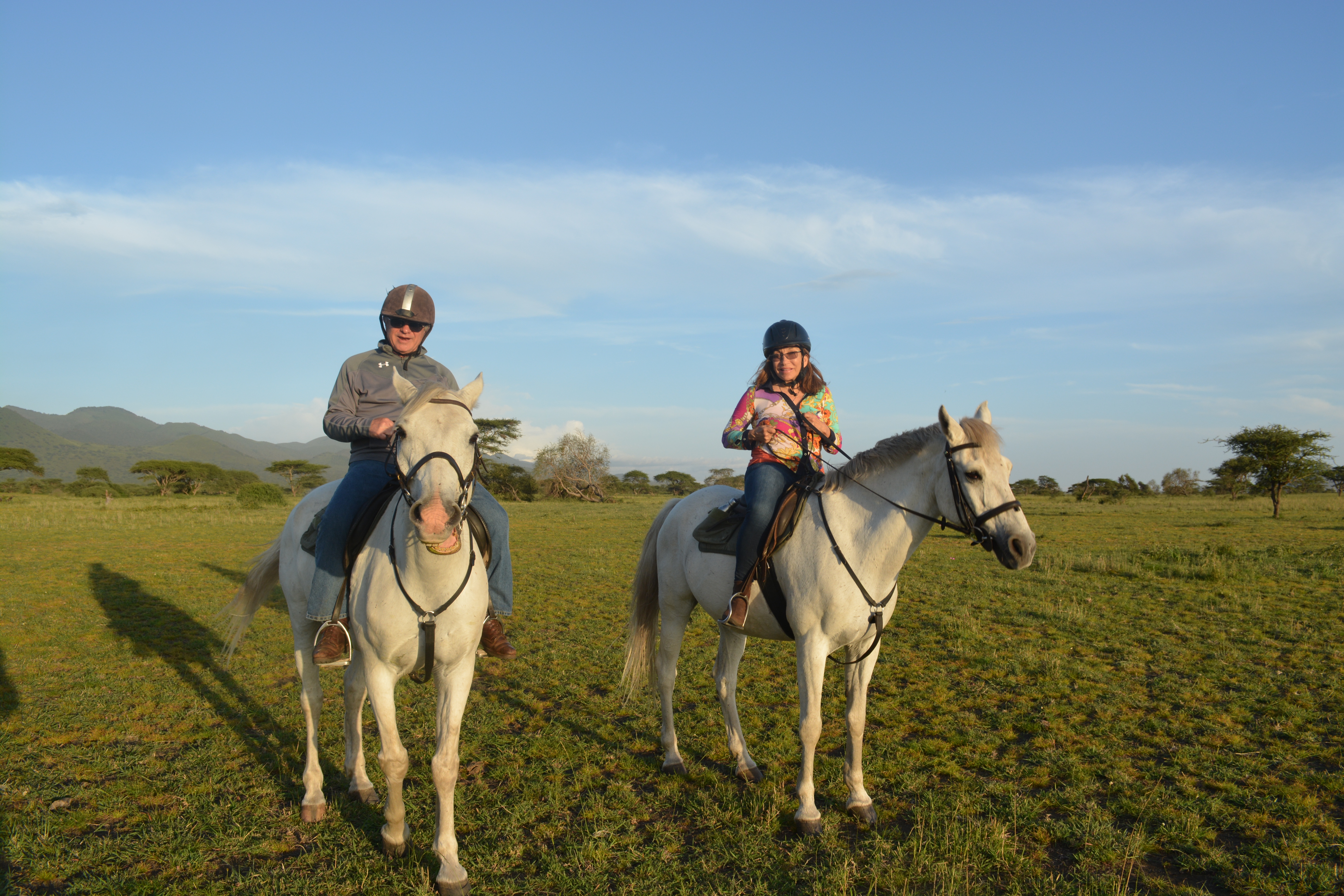 The elegance, style, and conservation at Ol Donyo, catering to your every need, are unbeatable.  The staff is also available to teach you about the strides they are making in educating people about conservation. They will tell you fascinating stories about the many original projects Big Life has successfully initiated and is currently carrying out. It's all a truly remarkable experience. I will treasure it forever.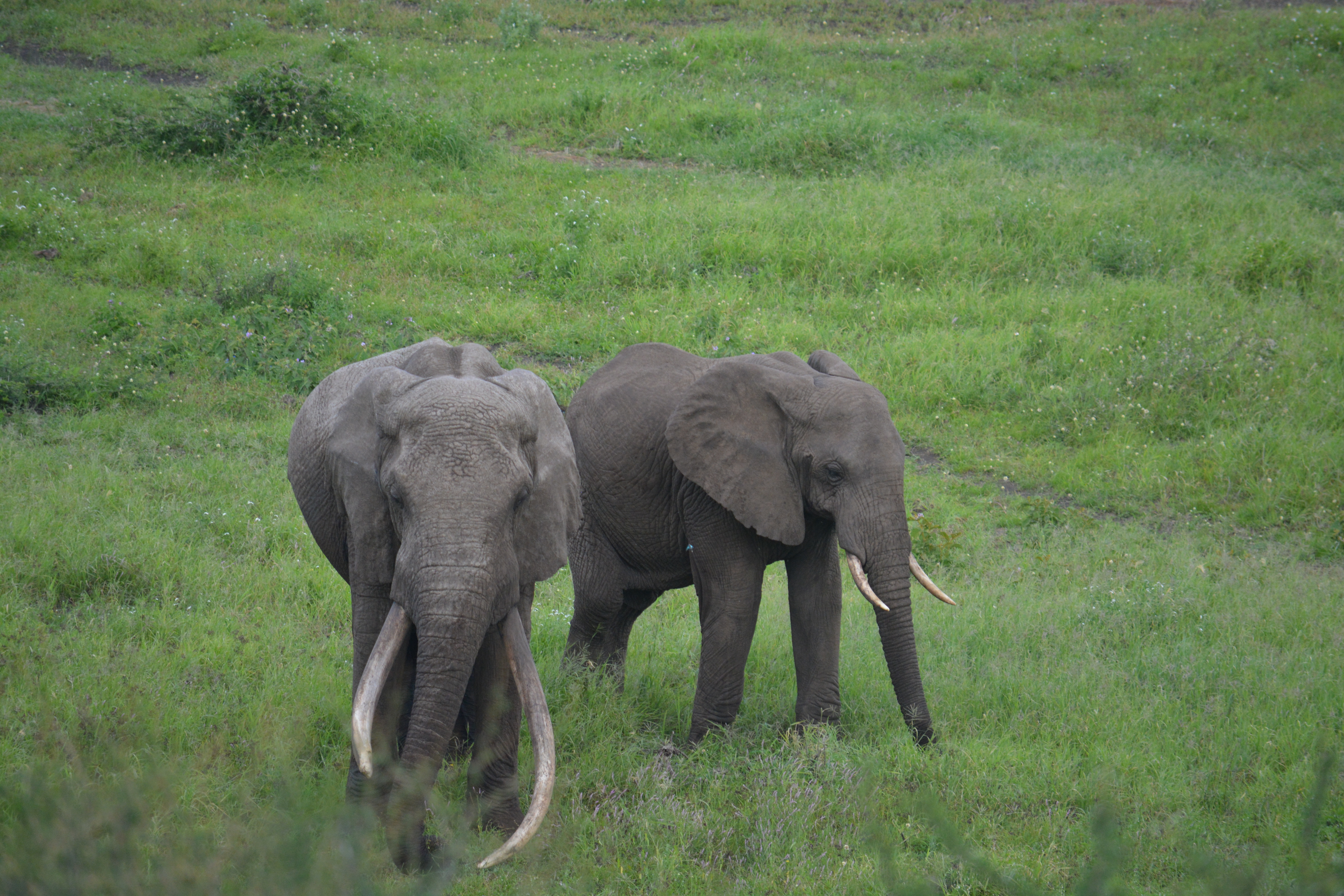 Georja Umano is a journalist, actor and animal advocate. All uncredited photos are by Georja Umano
For more information, please go to: