On Saturday, July 9, 2017, Nothing Without a Company presented the first in a series of annual fundraisers, New Play Festival: 4PLAYs, at Mary's Attic in Andersonville. Also featuring silent auctions, raffle prizes, and a post-performance dance party, the event centered on the performance of four new works by local playwrights. Following the company's mission of site-specific theatre, each of the short plays was set in a bar, and each was performed in a different part of the space, resulting in a rotating playing space.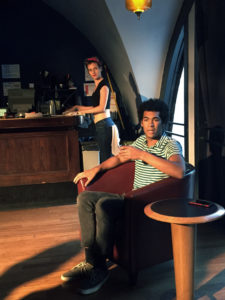 The first play of the evening was Love and Cephalopods, a sweet and hilarious piece by Alexander Perry that featured an aspiring romance writer (Shalyn Welch) writing and rewriting a scene, with each iteration acted out by the characters, Patty (Taylor Raye) and Matty (Brandon Boler). Only when the writer abandons her attempts to follow the rules does she find success. Welch, as always, was charming in the role and had spectacular comedic timing.
The next play, Rebecca and Robbie Do Nothing at a Bar by Tate A. Geborkoff, suffered from three entirely unlikeable characters and an unfocused plot, which made it hard to enjoy in spite of strong acting and interesting blocking. Shotgun Preemie by Kevin Sparrow started out well enough, with a rather mismatched couple trying to make a Tinder date work. The arrival of a drag queen Greek goddess, while entertaining, did nothing in particular for the plot; she offers Kelly a choice between eating and not eating a magic taco that, if eaten, will result in her going home with her date and, if ignored, will allow her to walk out of the bar "a free woman." As these choices were both available to Kelly from the start, the introduction of the magic tacos was confusing and ultimately unnecessary.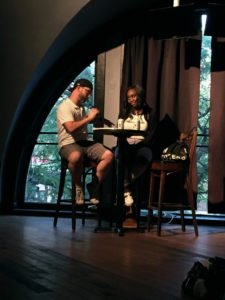 Accidents, by written by Leah Bognanni and directed by Nothing without a Company co-artistic director Anna Rose Ii-Epstein, was undoubtedly the highlight of the evening. Raunchy, hilarious, and heartfelt, this story of an unconventional couple (Wanda Jin and Joseph Giovannetti) having a tumultuous argument in a bar, observed by a borderline insane elderly woman (Joette Waters), was an absolute delight. Wanda Jin shone as Olivia, a foul-mouthed, edgy bartender with a heart of gold; her performance was vivacious and utterly captivating.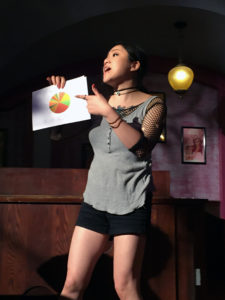 As far as the structure of the evening itself, Nothing Without a Company flourished, as always, in its mission to offer site-specific performance, making excellent use of the space, including the bar itself at one point. The logistics of having the audience rotate around the room needed a little work; I got some organic guidance from Anna Rose Ii-Epstein as I was moving (since I kept managing to position myself in the direct path of actors' entrances and exits), but in general, the stress of finding a good place to stand/sit for each show was an unneeded distraction. An unfortunate side effect of performing in Mary's Attic was the sound bleed between the upstairs performance space and the bar below; more than one dramatic moment was ruined by the sound of Lady Gaga or the like coming from downstairs.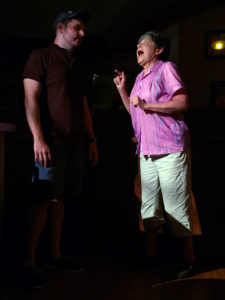 Nothing Without a Company is a hidden gem of a theatre company. This annual fundraiser was a delightful event, complete with the work of talented artists and some excellent silent auction and raffle prizes.
This event will be annual, with a different title and theme each year, so be sure to check it out next year! In addition, Nothing Without a Company's next production, Bobby Pin Girls, opens this November at Berger Park Cultural Center. Click here for more information about Bobby Pin Girls and the rest of the company's season, or here to contribute to this non-profit company and support future and upcoming local Chicago new works.
All photos by Jessie Bond, edited by Emily Andras.