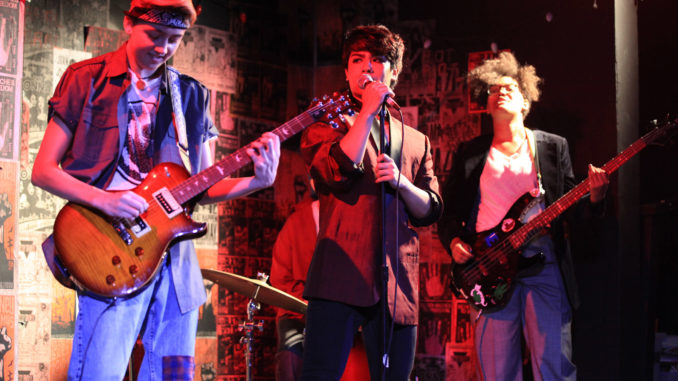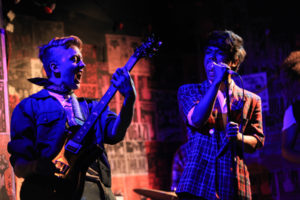 The riot grrrl movement of the 1990s is hardly familiar territory for contemporary teenagers and young adults; modern social justice movements have taken on a different shape and focus than this punk rock, "girls to the front"-centered subculture. Though only two decades old, riot grrrl aesthetics and values already feel dated, and this is the theme explored in About Face Theatre Youth Ensemble's new devised work, Brave Like Them, co-directed by AFT Education and Outreach Director Ali Hoefnagel and Education Coordinator Kieran Kredell.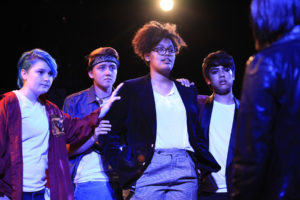 Created and performed by LGBTQIA+ youth, this world premiere production features an ensemble of diverse performers who act, sing, and mosh their way through an exploration of the feminism of the previous generation. The story centers on Danni, a high school student and writer who becomes involved first in the riot grrrl movement itself and then in a counter-movement that criticizes riot grrrl's focus on cis, white, heterosexual women.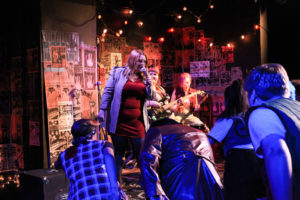 The About Face Theatre Youth Ensemble is a remarkably talented group of young people, with a clear passion for both their art form and for improving the world they live in. Mia Vivens is sweet and moving as mother character Lydia Foster, displaying remarkable maturity in the maternal role. Jimbo Pestano is warmly charismatic as punk rock singer and revolutionary Coe; Sandy Nyugen balances angst and likeability in the character of Sam; and Kyla Norton makes for a strong center as the story's protagonist, Danni. But the best performance of the show by far is that of Sharon Pasia as the record store owner; her delivery of the character's weird, spaced-monologues and hilarious one-liners is the comedic heart of the show.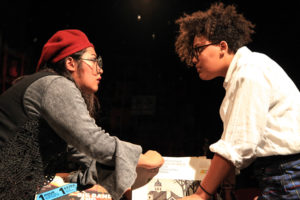 The script's biggest weakness is a tendency toward preachiness. The play's thesis statement is a good and important one: feminism/social justice that is not inclusive of all intersections of marginalized identities is ultimately unproductive. The trouble is that it's a play with a clear thesis statement. In many ways, the genderqueer Coe and their trans bandmates, Chris and Noa, represent the Youth Ensemble itself, having a frustrated one-way conversation with the cis, white, middle-class riot grrrls.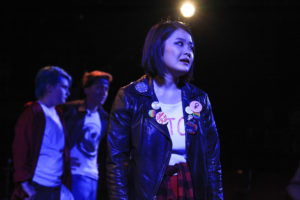 In a bizarre twist, the refreshing racial diversity of the Youth Ensemble muddies the story. Coe and later Danni complain of the lack of minority representation among the riot grrrls, but the two characters who serve as the primary connection to the movement (Sam and Jamie) are both played by women of color, and Noa and Chris are both white, making the racial breakdown of the two groups pretty equivalent.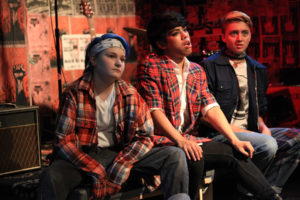 Admittedly, the script does save itself from some of these shortcomings in Act 2, in which two of the riot grrrls get to have their say; Jamie explains how the movement fulfills her desperate need for a sense of safety and belonging, and, in one of the most fascinatingly complex moments of the script, Sam declares that she chooses to focus on her identity as a woman at the cost of her identities as a queer person and a person of color. With these moments, the story manages to avoid becoming intolerably sanctimonious, in spite of some fairly heavy-handed dialogue, which seems the mark of inexperience more than anything else.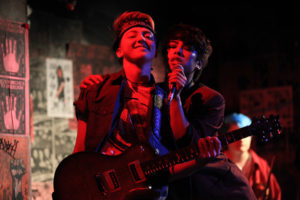 The show features some fun design elements; costume designer Jeanine Fry brings the riot grrrl aesthetic to vivid and glamorous life with leather, safety pins and colorful hair extensions. Set design by Scott Penner is also great fun, with grungy neon posters and lockers creating a lot of atmosphere with only a few elements.
Brave Like Them is a smart, fun piece of theatre. In spite of crossing over into preachy territory at times, the characters and story are compelling, and the message at its heart is one worth hearing. The About Face Youth Ensemble have created something to be proud of.
Ticket Information
Location: Pride Arts Center (The Buena), 4147 N. Broadway, Chicago
Regular run: Saturday, July 29 – Sunday, August 6, 2017
Curtain Times: Wednesday, Thursday, Friday & Saturday at 7 pm; Sunday at 3 pm
Tickets: $20 or Pay-What- You Can. No one will be turned away for lack of funds. Tickets are currently available at the About Face Theatre website or by calling (773) 784-8565.
All photos by Emily Schwartz.