On Thursday, July 27, 2017, Barrel of Monkeys celebrated its 20th anniversary with an intergenerational storytelling extravaganza, held in The Athenaeum Theatre. Featuring 33 performers and 23 plays and short films, Kids Write It was a delightful evening filled with storytelling both hilarious and heartfelt.
Barrel of Monkeys is an educational company that serves students in the Chicago public school system. Their team of educators host creative writing workshops in CPS schools, and some of the stories generated from those workshops are adapted into stage performances, presented both in schools and to the public as part of the company's ongoing performance series, That's Weird, Grandma. The educators are also the actors, and their passion for their work both onstage and in the classroom shines through every moment of their performances. The creativity with which the Barrel of Monkeys team turns the sweet, funny, and often bizarre ideas of children into scenes, songs, and dances makes their shows a uniquely delightful experience. The show programs include the original text of the stories, which adds another fun dimensional to the performances.
For this anniversary performance, a collection of favorite plays from the company's twenty-year history were assembled and performed in one deliriously wonderful evening. Highlights included the self-explanatory (and utterly hilarious) I am Superman and I Am tired of Saving People; the longest-running piece in That's Weird Grandma history, a "cult classic" titled The Dog Was Dead; and the gut-bustingly funny final piece, a unique youthful take on feminist revolution titled The Women Rampage.
A few of the stories were more serious, including Dear Alicia Keys, a song written by young women that addresses body image; My Street is Always Quiet, a heartbreaking request for a neighborhood free of violence so that the author and her friends could play outside; and Los Hombres de Inmigración, a piece originally written in Spanish that describes the lives of undocumented immigrants through the perspective of a child.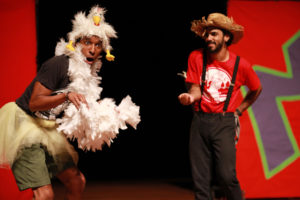 Adding to the fun were a handful of short films the company has produced over the years. Several student authors were present in the audience, some still in elementary school and others grown into young adults. The family-friendly performance was just as much fun for adults as it was for little ones, making it truly an event for multiple generations of theatre lovers.
Barrel of Monkeys has become a Chicago institution, and Kids Write It was an utterly wonderful celebration of all the many people, from students to educators to audience members, who have benefited from its programs during its two decades of existence. I have no doubt that Barrel of Monkeys will continue to do great things in the future.
For more information about Barrel of Monkeys, including the return of That's Weird, Grandma on August 7, check out the Barrel of Monkeys website.
All photos by Beth Bullock.