Photographs by Greg Autry and courtesy of Hyatt Regency LAX*
The newly renovated Hyatt Regency LAX is a world class hotel standing directly adjacent to the Los Angeles International Airport at Century and Sepulveda Boulevards. Befitting a World Airport, and an International City with 580 rooms you are sure to find everything to meet your needs.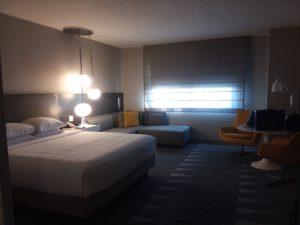 The Hyatt Regency Los Angeles International Airport Hotel offers luxury amenities usually seen in Beverly Hills hotels, along with a central location offering easy access to move about the Southland in reasonable time, no matter where your destination. The rooms are spacious and comfortable, with world class amenities. For residents of the Southland, this hotel is a superb getaway offering culinary delights and treats so that you never need leave the hotel, or your room for that matter.
My room overlooked the LAX runways and I was dazzled by the planes taking off and landing, along with a sparkling array of lights at night. Try as I may, I heard absolutely no airport or outside noise. Nada! Zero!
When I let the drapes down the outside lights were gone and my room became my own cozy domain. The room was nicely appointed, and included a 55" high-def big screen TV, a super comfy bed, and a great shower with endless hot water. Of course there was Wi-Fi, which I tapped into with my phone thus not using any data on my plan. As they say,`Unapologetically UnAirport!'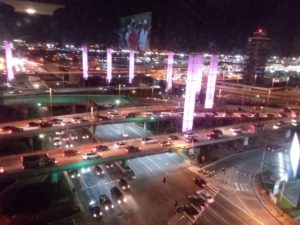 Whether you are flying in by plane, or driving in by car, accessibility is the key. The Hotel offer continuous Shuttles that are reliable and run 24 hours to all parts of the airport. Valet parking is available at $44.00 nightly, or paid self parking is available in a structure next to the hotel.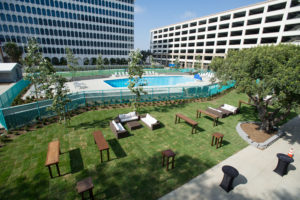 For the business traveler there is a business center offering everything imaginable. When you are done working you can hit the fitness center to build up those endorphin's, or head on out to the cabana-lined swimming pool for a little relaxation. What I liked best, was the beautifully landscaped area around the pool, with "real grass" and plantings that one would only expect at a bespoke location. There are numerous options for meetings and conferences and the expert staff at the Hyatt can help you arrange any event to fit your specific needs, from very small groups, to very large.
Next we come to what for me was the biggest surprise. Off the main Lobby in the hotel, and literally steps away from Terminal One at LAX, you'll think you are in heaven at the unity la Restaurant, Open Market, and Bar.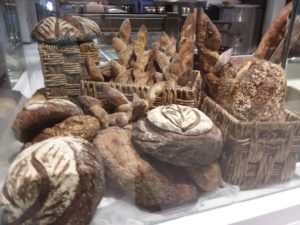 Break away from the LAX hustle, or celebrate an arrival at the unity bar, serving spirits from local distilleries, diverse wines, local craft beers and unique cocktails, and an all-day dining menu. You may want to take note of the offering from Greenbar Distillery's selection of organic liquors.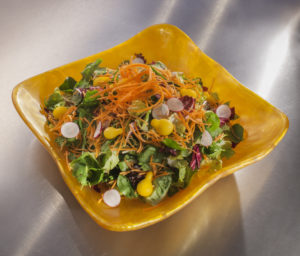 The café-style LAX restaurant, bar and market is the perfect place to enjoy a relaxing meal before or after a flight. And I'm sure; the locals will soon be discovering the delightful treats at the eatery. Designed for sharing, the menus are inspired by the Los Angeles' Latin and Asian communities, with foods like Sticky Pork Ribs from Korea-Town, Drunken Noodles from Thai Town and Carne Asada from Boyle Heights.
Unity Open Market offers four distinct stations serving chef-made dishes using regional products and the freshest local ingredients. The Market features Illy Café, fresh-made salads and sandwiches, flatbread pizzas and a soup and noodle station with on-trend items such as Pho and Ramen. Grab freshly made items to go and bottled beverages. Gone are the days of getting you food at an airport hotel from vending machines. Hyatt has taken this to a whole new level and open 24 hours daily.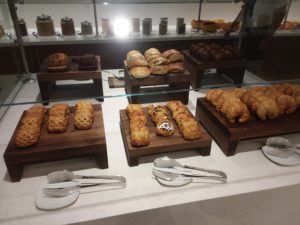 Unity la serves sit down restaurant breakfast and dinners. Food plays an important role in connecting and educating visitors to Los Angeles, about the cultural richness of each community. Unity la offers a great opportunity to introduce visitors to an array of foods from an array of neighborhoods and cultures they may not have the opportunity to visit.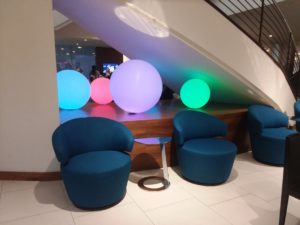 Options abound depending on your schedule or your mood, looking for something delicious to grab-and-go, or a sit down atmosphere in a comfortable quiet sitting. My personal choice was for breakfast at the restaurant, where I found tantalizing mouth watering offerings on the menu such as Huevos con Chorizo, Tres Leches French Toast, or a Churro Waffle. I ended up at the buffet where my eyes and my stomach were delighted.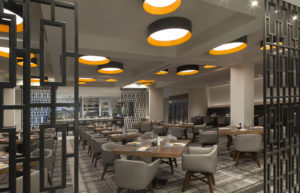 The dinner menu offers an equally vast selection of foods from around the Southland. Whether you're interested in the Pork-Belly Ramen with wood ear mushrooms and a soft boiled egg, or perhaps Chicken Mole served with a sweet potato hash, red mole, topped with cilantro and sesame seeds. The list went on and of particular interest I noted the Pacific Shellfish in tomato broth, and the Fish Tacos with lime seared rock fish.
Undoubtedly you will not be staying in your room nor the hotel your entire visit and the gift shop will no doubt have anything you may need for your travels about town. The Hyatt Regency LAX scores big in its central location allowing you to explore Los Angeles and southern California from a convenient locale. So whether you're in town for a business meeting Downtown, or an excursion to Disneyland, or off to Laguna Beach to check out the Art Galleries, I think the Hyatt Regency LAX is a perfect place to stay. When you get back to the hotel, you'll have great options to eat, a comfortable bed and a hot shower waiting.
I recommend your next stay in LA, be at the Hyatt Regency LAX, and ask you to let me know what your think and how your experience was. Feel free to Share and leave comments, and let me know if you have any ideas you'd like to see an Article about, here in LA SPLASH MAGAZINE. You can also connect with me on Facebook Facebook.com/GregAutryPhoto, Twitter @CGAGreg, and Instagram gregautry.cga .
For more Information about the hotel and its amenities visit:                         HYATT REGENCY LOS ANGELES INTERNATIONAL AIRPORT 
Connect with Hyatt on Social Media at:
*Photography  ©2017GregAutry ALLRIGHTS RESERVED
* Select photos courtesy of Hyatt used with permission