Set in the American South of the 1920's and 1940's and inspired by a real event, BRIGHT STAR tells a tale of two lovers swept apart by tragedy. With music, book, and story by Steve Martin and music, lyrics, and story by Edie Brickell, BRIGHT STAR sports a pedigree which should make it an instant hit in musical theater. BRIGHT STAR premiered in San Diego in 2014 to enthusiastic audiences and makes its Los Angeles debut at the Ahmanson Theater in 2017.
Let's begin with the 1920's as a jumping off point. When Alice Murphy (Carmen Cusack) and Billy Cane (A.J. Shively) meet, sparks fly as the star-crossed lovers make eager plans for their forever future. One problem emerges which neither of the two teens anticipates – and which Daddy Cane (David Atkinson) is only too happy to share. Billy is the scion of wealth and privilege – while Alice comes from a family of poor sharecroppers and soil-scratchers. That doesn't stop them from consummating their love – with the predictable consequences. Then tragedy strikes as Daddy Cane wrests the newborn from Alice's arms and decides to get rid of the problem forever.
Now it's the 1940's, and Jimmy Ray Dobbs (Patrick Cummings) has just returned home from World War II. Jimmy's dream is to become a writer, and he's ready to pursue that goal no matter what – even if it means that he leaves his childhood best friend Margo Crawford (Maddie Shea Baldwin) in the dust. So off to Asheville, North Carolina, he goes to meet with Alice Murphy, 20 years older and now the famed editor of a magazine noted for showcasing the talented and brilliant writers of the day. On some level, the forthright, no-nonsense Alice is taken with Jimmy's potential and decides to mentor him.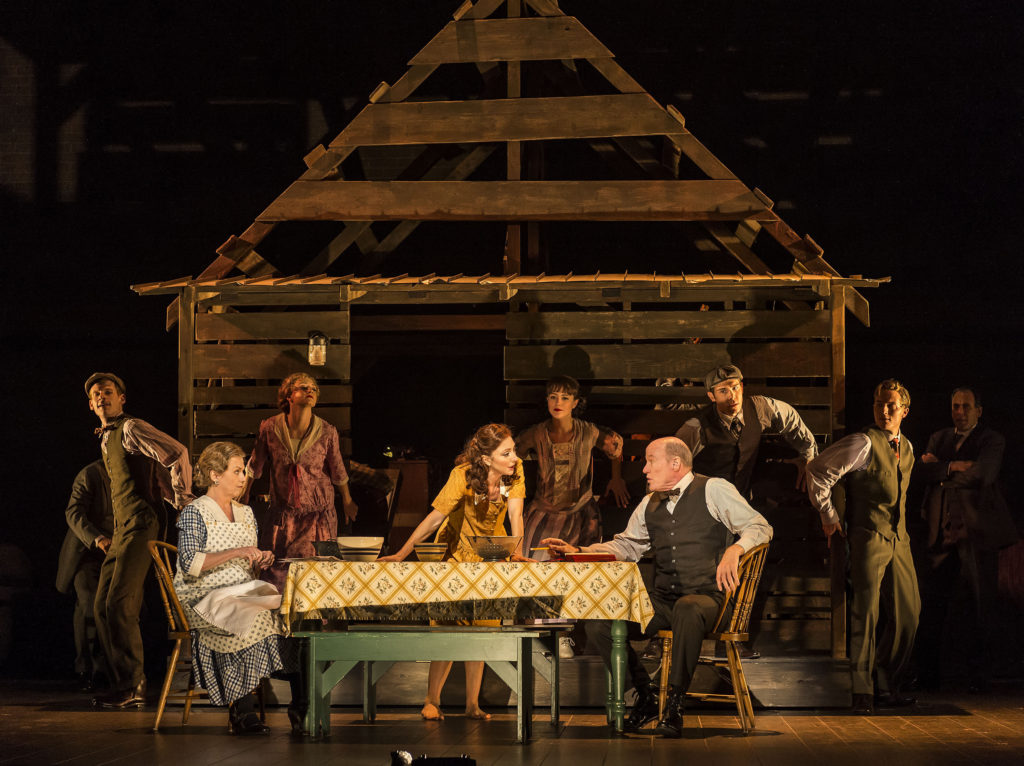 BRIGHT STAR has some striking strengths, the strongest of which is its star, Carmen Cusack, who can literally charm the birds out of the trees. Her clear, lilting voice does enthusiastic justice to the country laments and hayseed songs she belts out with such effervescence. Another powerful addition is the orchestra conducted by music director/conductor Anthony de Angelis which backs up the music. The orchestra is housed in a very clever roaming skeletal wood cabin, courtesy of scenic designer Eugene Lee – and made even more so by the able assistance of lighting designer Japhy Weideman and sound designer Nevin Steinberg. The audience showed its obvious appreciation of the music by riotous clapping to the orchestra's solos. Director Walter Bobbie insures that the play switches between the mid-1920's and mid-1940's with ease. Finally, the show taps into the audience's "smile button," more so as the account unfolds and reaches its conclusion – with everyone leaving the theater after the last number with a dopey – but satisfied – grin on his face.
BRIGHT STAR also has some limitations, including a tired, corny, and very predictable story which most of the audience probably guessed before the end of Act I. The music is pleasant but not earth-shaking; and the lyrics are simple, often repetitive, and uninspired. Despite these apparent shortcomings, however, BRIGHT STAR deserves kudos for leaving the audience fulfilled and happy – no small feat in this complex and often troubling world. And that ain't so bad.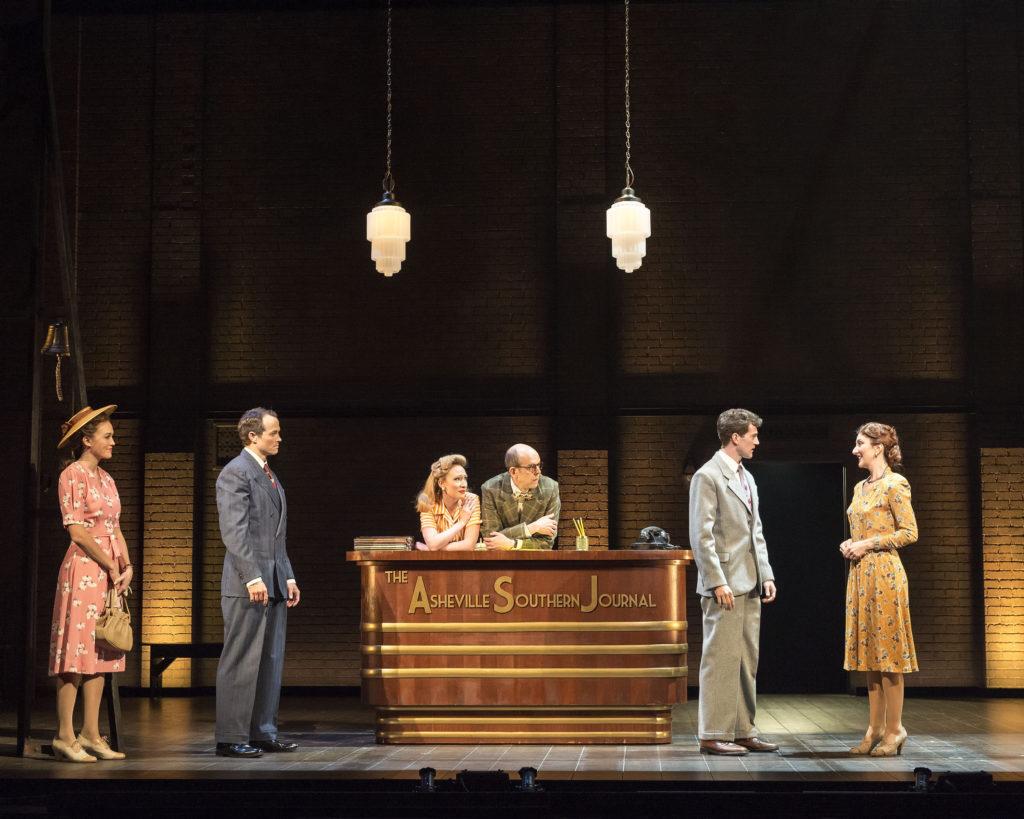 BRIGHT STAR RUNS THROUGH November 19, 2017, with performances at 8 p.m. on Tuesdays through Fridays, at 2 p.m. and 8 p.m. on Saturdays, and at 1 p.m. and 6:30 p.m. on Sundays (2 p.m. performance added on Thursday, November 16; and no 6:30 p.m. performance on Sunday, November 19). The Ahmanson Theatre is located in the Music Center, 135 N. Grand Avenue, Los Angeles, CA 90012. Tickets range from $30 to $130. For information and reservations, call 213-972-4400 or go online.