Who knew? The story of Marie Curie's life turned out to be far from the turn-of-the-century dry tale of a dedicated (and very boring) scientist who married right. Was she the only person ever to be awarded two Nobel prizes in two different fields (physics and chemistry) – and the first woman ever to receive a Nobel Prize to boot? Or was she the "foreign Jewish homewrecker (Anirudh, 7/15/13)" whose affair with a student five years her junior caused a scandal which rocked Paris and caused her to go into hiding to escape rioting mobs? And almost cost her that second Nobel Prize. Was this the woman who kept a sample of radium next to her bed to serve as a night light?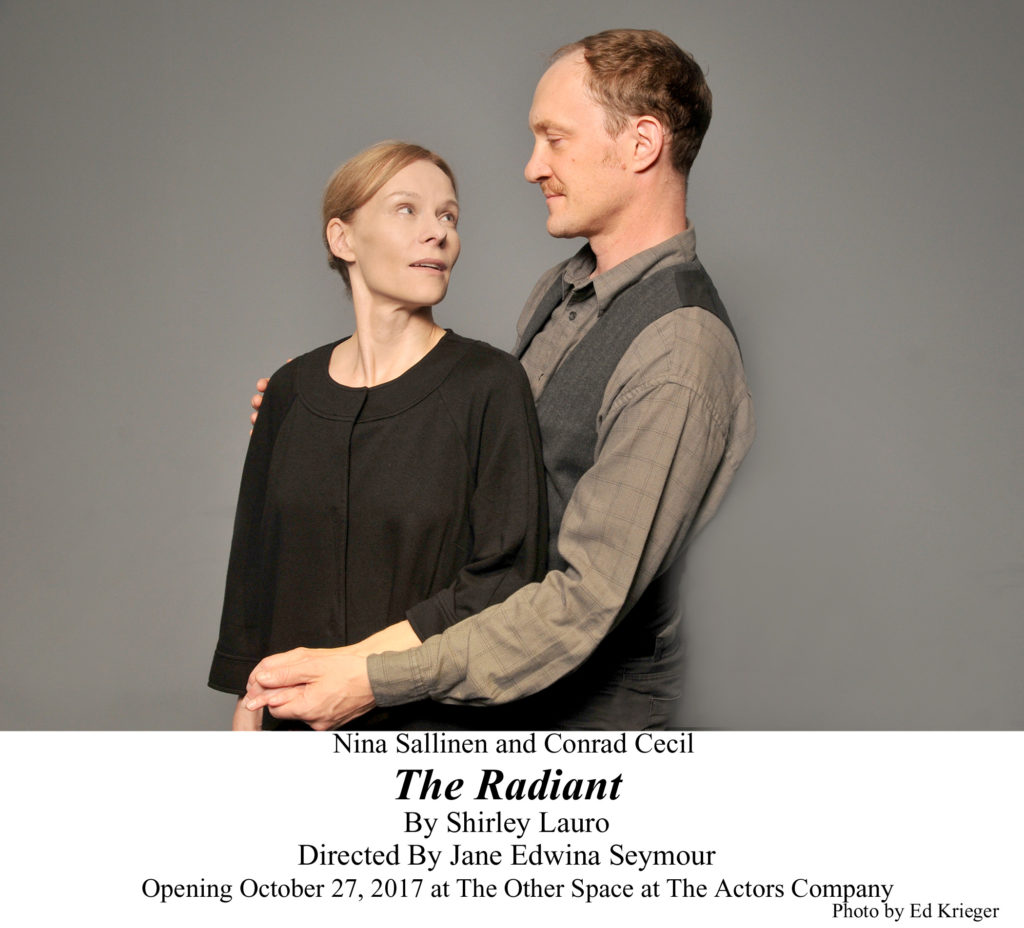 Playwright Shirley Lauro's treatment covers Mme. Curie's life during the first decade of the 1900's – with generous helpings of past and future thoughts to season the dish. Directed by Jane Edwina Seymour, Lauro's play is a fairly comprehensive look at the private life of a publically acclaimed female. Broken into multiple short scenes, each depicting an important moment in her life, THE RADIANT offers a compassionate peak at a woman trying to make it in the man's world of 1900.
THE RADIANT picks up with Polish-born Marie Sklodowska Curie (Nina Sallinen), recently widowed and pretty much destitute, as she tries to put her life back together after her husband's death in a tragic road accident. With pluck fueled by desperation, she manages to make Pierre Curie's job at the Sorbonne her own – despite considerable flak from the male-dominated university world. After all, it was hard to ignore two important facts: She was the first woman to receive a Ph.D. from a French university; and she and her husband shared a 1903 Nobel Prize in physics.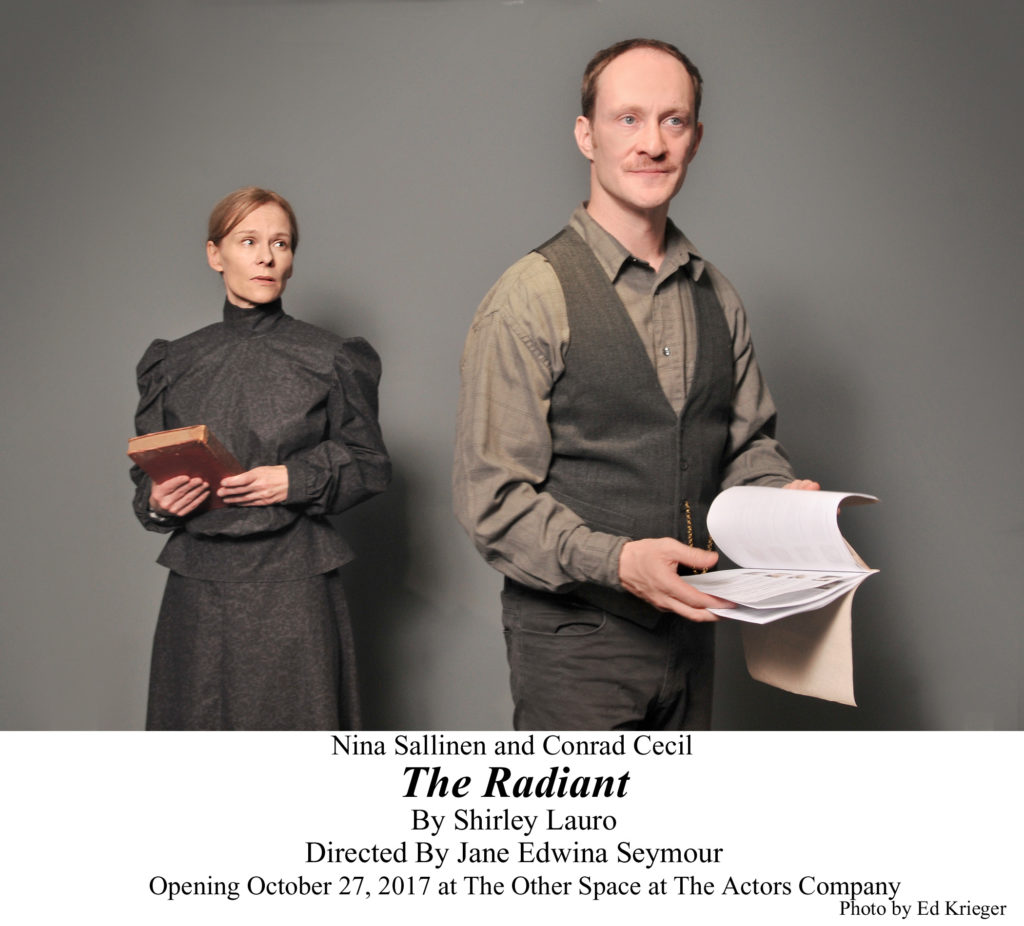 But life for a widow of 39 can be lonely. What better solution to fill those few hours between working than entering into an affair with her husband's student, who just happens to be young, dashing, an up-and-coming scientist himself, and – married. Paul Langevin (Conrad Cecil) is the answer to her dreams. He can become the brilliant assistant she desperately needs to continue her research – and he can double as a romantic, forbidden lover who gets her creative juices flowing. What could possibly go wrong?
THE RADIANT taps into Mme. Curie's life with all its challenges, hopes, fears, and impediments. John Moscitta, Jr. depicts multiple small roles as people she encounters briefly (Chief University Paymaster, Lord Kelvin, Professor Wilbois, etc.), while Andrea Flowers is Katarina, a fictional add-on in Marie's life who represents her friend/confidante/family.
Taylor Sandling's costumes reflect the lady herself – that rare woman for whom clothing was a bother and had better be dark and simple to allow her the freedom to handle dangerous chemical concoctions without worry. Karen Ipock's set reflects the quick flashing scenes of her life – with bits and pieces nestling against stage walls. The combination of a gripping story about an intriguing woman coupled with a talented cast and crew make for a fascinating evening at the theater.
For the curious, Paul Langevin went on to become a well-known scientist and professor, while one of Marie's two daughters, Irene, also won a Nobel Prize (the only mother-daughter pair to do so). Albert Einstein was incensed by her private life becoming a public issue while ignoring her scientific contributions – and wrote her a letter encouraging her to continue with her research. Eventually, she refused the French Legion d'honneur but did come to the U.S., where President Warren G. Harding received her at the White House and gifted her with one gram of radium – valued in 1921 at $100,000 which was raised by American women over one year. By the way, if you want to see the Curies' original notes and papers, they are radioactive and stored in lead-lined boxes.
THE RADIANT runs through November 19, 2017, with performances at 8 p.m. on Fridays and Saturdays and at 3 p.m. on Sundays. The Other Space at The Actors Company is located at 916A N. Formosa Avenue, West Hollywood, CA 90046. Tickets are $30. For information and reservations, call 323-960-7712 or go online.