Sherlock Holmes is back, every brilliant, arrogant bit of him – this time working a case with the likes of Lillie Langtry and Oscar Wilde. Sherlock's old buddy Oscar is currently working on his newest and best play, The Importance of Being Forthright, and plans to star his dear friend Lillie in the title role. Lillie, in the meantime, is being blackmailed over some letters written to a former lover – and he just happens to be a member of the British royal family.  Who is guaranteed to crack the case? Sherlock Holmes, naturally.
SHERLOCK HOLMES AND THE CASE OF THE JERSEY LILY manages to fuse factual fiction and fictional fact into a gripping – and hilarious – mystery which will keep the audience glued to their seats as they follow the maze, chuckling all the time. The very real Lillie Langtry, known by her sobriquet of Jersey Lily, was in fact the famed satirist Oscar Wilde's chum, dubbed by the author "the Venus Victrix of our age" after her hugely successful tour in the U.S.
Lillie was known for her beauty, charm, and notoriety, which apparently always insured a full house. It seems that her amorous conquests spanned several royal houses from different countries, including the Prince of Wales, later to become King Edward VII. When one of her guests pointed out that Wilde was a convicted homosexual, Lillie responded, "You fool…you don't understand…Oscar was a very versatile man." Few realize that the lovely Lillie opened a winery in California in 1888, making her at least part American.
Playwright Katie Forgette's clever tale has the famous trio (perhaps a quartet with the ever-present Dr. Watson) join forces to deal with dark doings, very likely masterminded by the devious Professor Moriarty. Sherlock Holmes (Martin Thompson) finds Lillie Langtry (Melissa Collins) an intriguing client, and Dr. Watson (John Wallace Combs) is absolutely bowled over by her presence. But it is to Oscar Wilde (Scott Facher) that most of the truly clever lines fall. Who is the biggest evil-doer in this tale? Is it the meek personal assistant Irma Tory (Alison Blanchard)? The man in the shadows (Shawn Savage)? Or perhaps the malevolent Professor Moriarty (Dave Buzzotta)?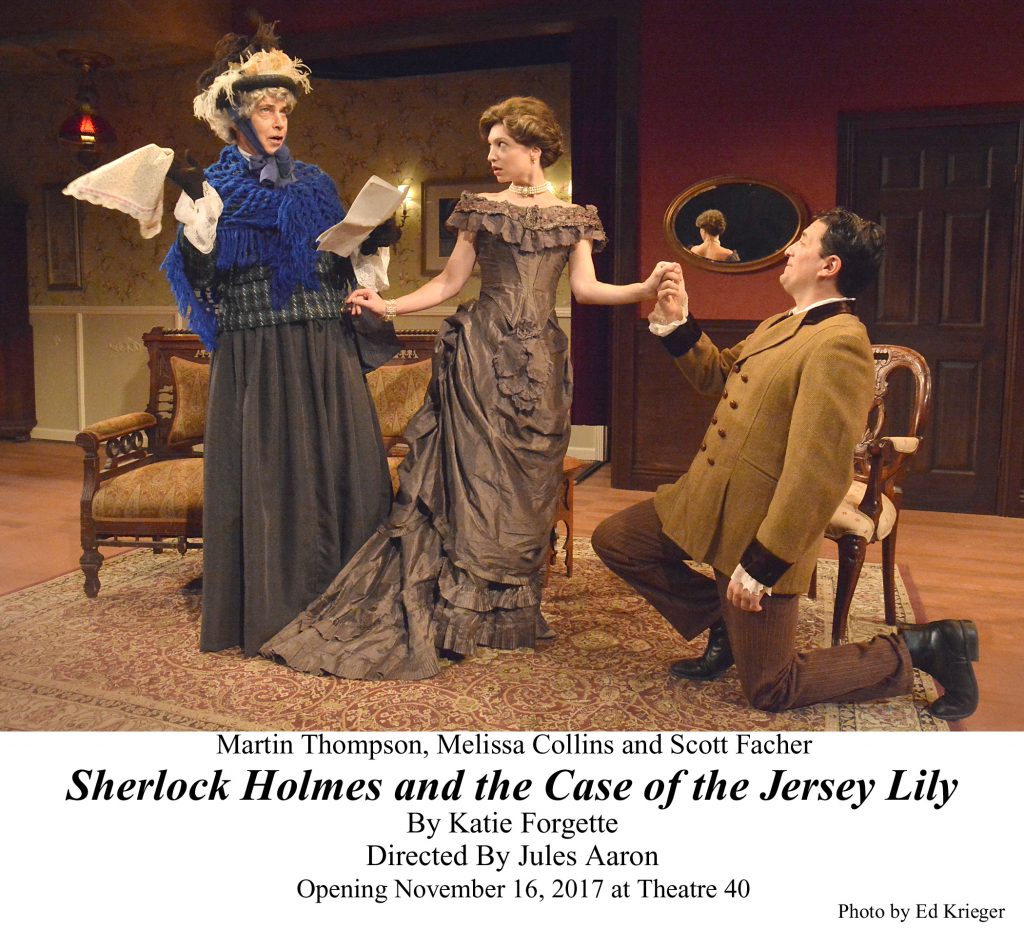 SHERLOCK HOLMES AND THE CASE OF THE JERSEY LILY is an uproarious romp taking place in the London of 1894. This is a whodunit that focuses on brains, not blood, as master sleuth Sherlock fights the forces of evil through his keen ability to see AND observe. But let's not forget about that swashbuckling sword fight in the second act. Sherlock has more than brains going for him.
Director Jules Aaron helms this production with an eye to the enigma, but also the fun, inherent in a Sherlock Holmes mystery. He is ably assisted by the very talented cast of seasoned performers. As always, Jeff G. Rack's set and Michele Young's costumes are true to time and place. With Ric Zimmerman's lighting and Joseph Slawinski's sound, the entire production team does an excellent job of bringing the Victorian ambiance to life. For a genuine fun evening that will leave you smiling, this highly entertaining production fills the bill and more.
SHERLOCK HOLMES AND THE CASE OF THE JERSEY LILY runs through December 17, 2017, with performances at 8 p.m. on Thursdays through Saturdays and at 2 p.m. on Sundays, with added performances at 8 p.m. on two Mondays (12/4 and 12/11). The theater is dark on November 23 and November 24 (Thanksgiving). Tickets are $30. For information and reservations, call 310-364-0535 or go online.