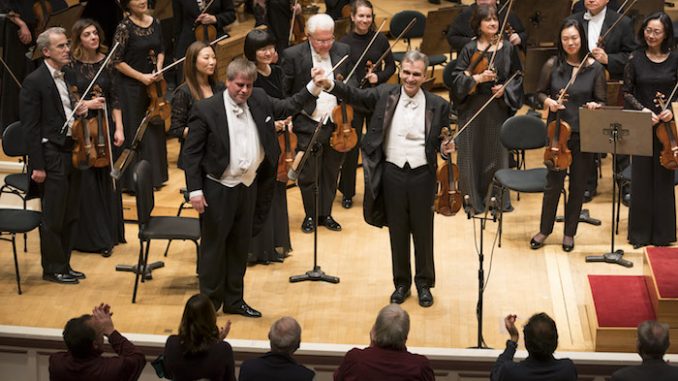 On November 30th, 2017, acclaimed conductor/violinist John Storgårds led the Chicago Symphony Orchestra and violin virtuoso Gil Shaham in a cohesive concert of refined and stirring music at Symphony Center, 220 S. Michigan, Chicago, to be repeated on December 1st, 2nd, and 3rd.
The program included:
– Edvard Grieg, Suite No. 1 from Peer Gynt, Op.46, 1874-75
Morning Mood
Åse's Death
Anitra's Dance
In the Hall of the Mountain King
This legendary music begins with Morning Mood, a beautiful melody with subtle harmonies, both begun by flutes and set off by the trill of flutes.
Åse's Death is a lovely song due to the slow ascending chords that open the piece, a quickly repeated pattern in a higher key, followed by that same pattern in reverse, descending chromatically. The melody invites one to focus on either a herald of death or a climb to heaven.
Anitra's Dance is an exotic and elegant mazurka that begins with an uplifting violin melody over a pizzicato background.
In the Hall of the Mountain King is a wild, almost teasing and brassy climactic piece.
The Chicago Symphony Orchestra, under the sure baton of Storgårds, brought forth the myriad different colors and textures of these various styles, from lyrically pastoral through contemplative, then waltz-like, to a dervish near-frenzy. This was an exhilarating performance.
– Felix Mendelssohn, Violin Concerto in E minor, Op. 64, 1844
This eloquent rendering with Gil Shaham's lustrous and supple tone coupled with sure phrasing by the Chicago Symphony Orchestra, led with strength and delicacy by Storgårds, was a sonorous triumph. The piece is quite stimulating, as were Shaham's facial expressions; he seemed transfixed with joy  while performing.
Throughout a relaxed first movement, passionate second, and vibrant third, Shaham lingered where he could, producing rhythmic and dynamic nuances. The Orchestra's musicians brought the concerto to life with a classical objectivity amid the emotion. The performance as a whole was imbued with warmth and freshness, beginning with the entrée to the compelling melody in the 1st movement arriving with great subtlety. At the beginning of the falling solo arpeggio, Shaham's playing was superior; he phrased the slow movement in marvelous fashion. Storgårds kept any section from languishing, conducting the middle section persuasively. The finale, Orchestra and soloist together, exuded vitality.
After a rousing ovation, Shaham announced a welcome solo encore:
– J.S. Bach, Loure and Gigue from Partita No. 3 in E Major, BWV 1006, 1720
This was performed with consummate appealing grace and polish, with a fine precision. It's a comparatively cheerful piece composed of 7 dance movements; the 2nd movement Loure being "a slow subspecies of French jig", not overtly heavy in feel. The final Gigue is fashioned in the Italian style, quick and sprightly.
Shaham, one of the foremost violinists of our time, combines exceptional technique with a demonstrably high-spirited presentation; his playing was a delight.
– Jean Sibelius Symphony No. 1 in E minor, Op. 39, 1898
 Storgårds is  well known for his prowess with the work of Jean Sibelius, a composer renowned for producing sumptuous symphonies with luxurious harmonies, rich timbres and moving melodies.
The 1st movement begins with a prolonged timpanic roll accompanied by a clarinet solo, which returns to open the 4th movement as well. The 2nd through 4th movements include violin, viola and cello solos, the 4th being also infused with cymbals. The work is scored on a large scale- it includes tuba and harp- and consists of a veritable deluge of remarkable and sometimes sad melodies, strong brass portions, and a sense of urgency. Under the determined baton of Storgårds, the Chicago Symphony Orchestra achieved a memorably vigorous rendition.
For information and tickets to all the great programming of the Chicago Symphony Orchestra, go to cso website
All photos by Todd Rosenberg