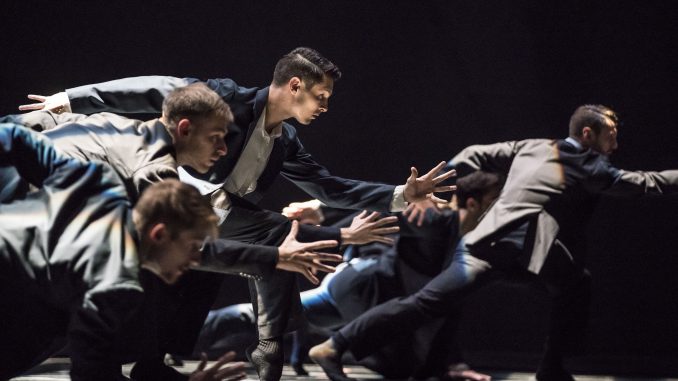 I first fell in love with Crystal Pite's choreography back in August, when a solo excerpt of her piece, A Picture of You Falling, was performed at Dance for Life by retiring Hubbard Street dancer, Jason Hortin.  I was entranced by Mr. Hortin's performance, as well as Ms. Pite's electrifying study of movement. The spoken soundscape only added to the work and I was left wanting to see a lot more.  Luckily, that want was fulfilled this past weekend as Hubbard Street Dance Chicago performed an evening length's worth of Pite's creations at the Harris Theater for Music and Dance.  The program featured the full length A Picture of You Falling, as well as two Hubbard Street premieres; Grace Engine, and The Other You.
A Picture of You Falling was the first piece of the evening and I was a bit surprised to discover that it is a duet when in its full length.  The dancers for this performance were the powerfully exquisite Jacqueline Burnett and Elliot Hammans.  The eighteen minute work explores the way narrative resides within our bodies, and how the body illustrates those stories, to ourselves and others.  The repetitive nature of the vocals and movement cast a harsh light on the kinds of things we take for granted and both dancers did an excellent job of making it all look fluid and weightless.  The dance was accompanied by the vocals of Kate Strong reading original text by Crystal Pite. A Picture of You Falling features costumes by Linda Chow, lighting by Robert Sondergaard and music by Owen Belton, all of whom have worked closely with Pite and her company, which became clear as the second and third pieces of the evening were unveiled.  
The second dance of the evening, The Other You, originally debuted as part of The You Show performed by Pite's company, Kidd Pivot, in 2010, and it was incredible. The piece, also a duet, but with two men, explores the relationship between self and others via contrasting images of the human condition. Much of the piece was spent with a dancer manipulating his own movement or that of the other dancer, and the control and razor sharp preciseness of  Andrew Murdock and Michael Gross was mesmerizing.  Like A Picture of You Falling, the set was bare and the costumes and lighting stark and simple.
The final piece of the evening, Grace Engine, is a full company work originally premiered by Cedar Lake Contemporary Ballet several years ago. The electronic score composed by Owen Belton, simple and clean costuming and dramatic lighting serve to highlight the contrasts in movement and pacing. As in the first two pieces, the choreography was fast, startling and beautiful to watch.  I left the theatre happy to have seen Ms. Pite in the flesh, however briefly, and thinking how wonderful it would be to observe Ms. Pite as she creates a piece; what an experience that would be!
About Crystal Pite
Born in Terrace, British Columbia and raised on the Canadian west coast, choreographer and performer Crystal Pite is a former company member of Ballet British Columbia and William Forsythe's Ballett Frankfurt. Pite's professional choreographic debut was in 1990, at Ballet British Columbia; since then, she has created more than 40 works for companies all over the globe. In 2002, Pite formed the company Kidd Pivot, which integrates movement, original music, text and rich visual design, balancing sharp exactitude with irreverence and risk. Kidd Pivot tours nationally and internationally, performing critically acclaimed works including Dark Matters, Lost Action, The You Show and The Tempest Replica.  Visit kiddpivot.org to learn more.