At opening night of The New Colony's world premiere production of The Light, directed by Toma Langston, outgoing New Colony co-artistic directors Andrew Hobgood and Evan Linder introduced the play by saying that while it wasn't originally part of the company's ninth season, they simply had to produce it right now, at this very moment, and sought out the financial sponsorship necessary to do it. In an artistic culture where everything that even brushes on a contemporary "issue" is immediately slapped with the now all-but-meaningless label "more relevant now than ever," I am skeptical of any such claims that a given work must be produced right this second.
But in this case, Hobgood and Linder are absolutely, 100% correct. The cultural moment to which The Light, a play that deals with the intersection of race, rape culture, and interpersonal relationships, speaks is so specific that I was able to connect the material onstage to the events of the Golden Globe Awards the night before. Not only is this piece devastatingly timely, but it also re-centers the conversation on sexual assault to include women of color, who are far too often pushed to the sidelines in social justice movements. The #MeToo movement, while incredibly powerful and an important step forward for our culture, too often puts the spotlight on privileged white women, leaving out marginalized women who many times have the greatest burdens to bear. Webb's play, which explores the specific experience of black women being assaulted by black men, sheds light on a part of the conversation about sexual assault that desperately needs to be made visible.
Not to mention, it's just a damn good play. The characters are incredibly charming, both individually and as a couple, though they're not without their flaws. As my boyfriend pointed out to me after the show, their issues with communication are hinted at early on; even the many fun, playful moments in the first part of the show contain an undercurrent of the conflict that will later explode. Webb's exposition is whip-smart, establishing not only the characters and their relationship but also the issues of race, gender, and the failure to connect across those lines that will become central to the rest of the storyline.
Genesis and Rashad are a sweet couple in their thirties, a school principal and firefighter respectively, who get engaged on the night of their second anniversary. What starts as a beautiful evening quickly goes south, however, as Rashad has arranged backstage tickets to a concert featuring their favorite artist—but also an artist that Genesis knows is a rapist and refuses to support. In the ensuing series of conversations, Rashad reveals viewpoints that Genesis finds horrifying, and their entire relationship hangs in the balance as they hash out the exact nature of what each of them believes about gender, race, and sexual assault and, more importantly, how those beliefs affect their choices. Webb is master of the well-timed revelation, and several moments had me gasping audibly.
Actors Jeffery Owen Freelon, Jr. and Tiffany Oglesby are nothing short of phenomenal. The success of the text in this two-person show hinges so much on the dynamic between the two actors, and they have a chemistry that moves them from the lightest, funniest moments to the darkest, most painful ones with a grace and naturalness that is rare onstage. Freelon's compassionate, nuanced treatment of the charismatic but troubled Rashad makes it possible for even a devoted feminist like me to empathize with his character's point of view. And Oglesby is an absolute powerhouse as Genesis, revealing vulnerability and depth of emotion that is so deeply moving that most of the audience was in tears by the end of the performance.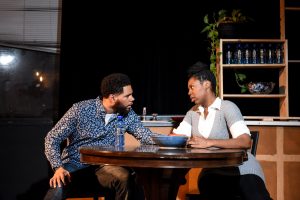 The Light is such an essential piece of work for our current cultural moment. It's one thing to talk in abstraction about the effects of sexual assault on women; it's another to grapple with those big ideas in a personal, intimate, and messy way, and that's exactly what Webb has done with this masterpiece of a play. I cannot recommend this production highly enough.
Ticket Information
Location: The Den Theatre (2B), 1333 N. Milwaukee Ave., Chicago
Dates: Thursday, January 11 – Sunday, February 4, 2018
Curtain times: Thursdays, Fridays and Saturdays at 7:30 pm; Sundays at 3 pm
Industry Night: Monday, January 29 at 7:30 pm
Tickets: $20. Students/seniors: 25% off. Tickets are on sale now at the New Colony website.
All photos by Evan Hanover.