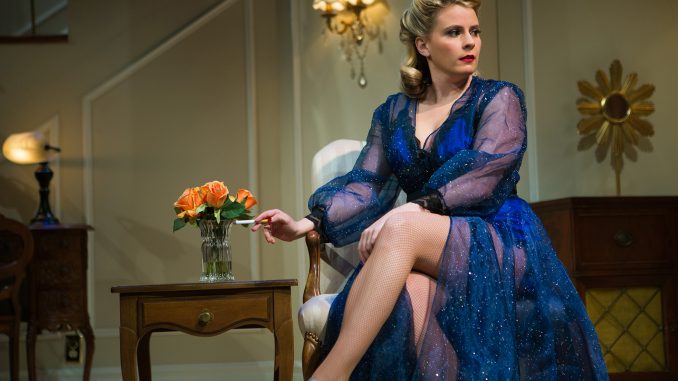 Opening night for Born Yesterday was a huge success at San Francisco Playhouse as a theater filled audience came to watch the timeless play written by Garson Kanin.  Born Yesterday first premiered in 1946 on Broadway. 70 years later Born Yesterday has not lost its touch when it comes to uncovering politics, wealth, power,  and integrity.  Producing Director Susi Damilano took interest in the play as she states, " the timeless story of integrity triumphing over political self-interest feels as relevant as ever…and, I hope, will provide us with an opportunity to reflect on our own human nature."
Born Yesterday is a play about Harry Brock, a ruthless, controlling, overbearing millionaire with his sassy showgirl fiance, Billie Dawn. Harry goes to Washington to bribe Senator Norval Hedges and enrich his business interests.  Harry soon hires a reporter Paul Verrall to change Billie's image so she can be better suited for a political crowd. Harry's plan back fires when Billie's world begins to awaken to a world full of possibilities. She begins to feel confident and questions the corruption of the life and to all around her. The cast of Born Yesterday featured Millie Brooks (Billie), Michael Torres (Harry), Jason Kapoor (Paul), Louis Parnell, Gabriel Montoya, Terry Bamberger, Casey Robert Spiegel, Marty Lee Jones, and Melissa Quine.
The cast did an excellent job incorporating humor and balancing intense scenes around  persuasion, bullying, and crookedness.  Billie's witty personality kept the audience entertained and laughing. For example, when the Senator and his wife came to visit Harry and Billie at their hotel, they asked Billie where she had visited in Washington. Billie responded, "I've heard the Supreme Court is a good place to see."  Harry's intensity also kept the adrenaline pumping in the theater as he engaged the audience with his unpredictable loud personality.  Lastly, the charming reporter Paul remained mysterious as he empowered Billie and investigated Harry's motives.  Born Yesterday told a story about empowerment, education, and courage.  Billie's character showed that one has the ability to make a difference if they are willing to question what is happening around them. The entire cast complimented the play and created a modern experience without compromising the essence of a 70 year old play.
For more information and tickets, go to the San Franscisco Playhouse website
Photos: Courtesy of San Francisco Playhouse