by Judith Singer
Opera critics live to hurl big, impressive words at computer screens in an effort to describe an experience that can't be communicated fully without sight and sound. We probably also do it to sound erudite and cultured enough to seem credible to an audience familiar with the repertoire, artists, and venues.  In the case of this year's production of L'Elisir d'Amore (The Elixir of Love) by New York's Metropolitan Opera, I find my vocabulary veering toward the grandiose.  When experienced affordably in the nearby comfort of a state-of-the-art movie theater, I am in danger of genuinely gushing. I intend to employ terms like "luminous", "shimmering", "soulful", "enthralling" and "sublime", so buckle up and get ready to buy some movie tickets to enjoy the rest of this first-tier opera company's season in your hometown as easily as you'd arrange for an outing to see the latest superhero blockbuster.
Enthralling
Donizetti's bouncy, bubbly score does more than justice to Romani's libretto; it elevates and celebrates the romantic, scheming, clever and celebratory elements of its story. At its heart, Elixir is a rom-com, complete with the stock figures: pining man, unattainable beauty, dashing rival, scheming interloper and nosy but friendly neighbors.  And, also like rom-com, it ultimately finagles its happy ending out of predictable twists. The beauty is in the ecstatic bel canto score that alternatively challenges and highlights the singers' nimble voices. What makes it enthralling is how every element of the production is elevated by the exceptionally skilled acting of all five principals, adept musical direction by conductor Domingo Hindoyan in his Met debut, and Bartlett Sher's staging, which allows ensemble members to seem more like a village of individuals than an unmoving wall of sound. This is no Park and Bark production; the cast is in almost constant but sensible motion, bringing to life the feel of a rural Italian village during the fall harvest and energized by the arrival of a transparently quackish but entertaining huckster.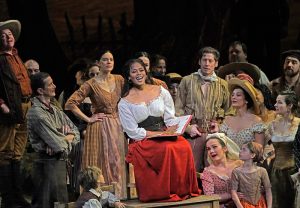 Luminous, Shimmering
South African soprano Pretty Yende is no stranger to the Met's stage, or to the music of Donizetti, and her experience and enjoyment of the role shows in her portrayal of Adina, the beautiful, wealthy landowner who has – to her temporary dismay – captured the heart of poor villager Nemorino. She moves with purpose and an almost constant, brilliant smile, and sings some of the most difficult music of the genre with clarity, warmth, and strength. Her Adina knows herself, takes joy where she will, and comes to discover she's just a little deeper than she'd thought. Yende's voice and dimply smile are equally beautiful, and she gives the audience an unreserved share of both.
Soulful
American tenor Matthew Polenzani once again takes on the role of Nemorino, the impoverished villager besotted with Adina. Polenzani gives a master class on Donizetti here, with his warm, natural and expressive tenor voice and keen understanding of the character's emotions. Where others might showboat on an aria as well known and perfectly written as Una furtiva lagrima, Polenzani keeps Nemorino front and center instead of himself, coupling his interpretation of Nemorino's epiphany with exquisite pianissimo and a poignant forte warmth. His beautiful, seemingly effortless tenor makes spectating a decidedly stress-free experience for the audience; instead of wondering whether he'll manage to Do The Thing, he simply does it with relaxed ease and a consistently gorgeous tone that never breaks the fourth wall to remind us he is A Great Tenor. He is always firmly Nemorino. The Met has graciously provided a video of the entire aria for everyone to enjoy on their website.
Sublime
Handsome Italian baritone Davide Luciano celebrates his Met debut as Belcore with a clear, strong voice, crisp swagger, and convincing machismo. During the intermission, Met soprano Susanna Phillips interviewed Luciano about his take on Belcore, and his explanation demonstrated his experience and understanding of the best dry comic roles: play it straight and the inherent humor of the situation will earn a laugh. Play it too silly and it comes off clownish. Luciano indeed struck just the right balance between roguish poses and heartfelt emotion. Oh, and that cleft chin is for real.
Italian bass Ildebrando D'Arcangelo breathes delightfully smarmy life into Dulcamara, the patent medicine hawker who inspires the actions to come with his promise of a love potion that turns out to prove the old scientific adage that correlation is not causation. He claims credit for the happy ending anyway. D'Arcangelo is charismatic and funny, with strong features, wild gesticulations and the rare skill of snapping off patter bass lines comprehensibly while never letting you forget his character is a charlatan. His second act Barcarolle duet with Adina, Io son ricco e tu sei bella, is at turns silly, deliberately showy and still vocally lovely.
Icelandic soprano Dísella Lárusdóttir brought friendly, mildly scheming, musically divine life to Adina's friend, Gianetta. Her song with the women's chorus in scene 4 of the second act was especially delightful; equal helpings of playful gossip and friendly social climbing, delivered in a lilting, lyrical pizzicato.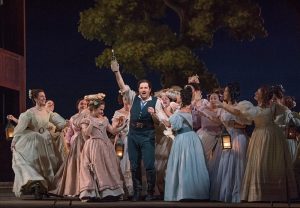 Watching the Opera at a Movie Theater
FATHOM Events are experts in delivering grand simulcast events at movie theaters around the globe. Every broadcast has its own unique quirks; some will run a custom pre-show worth an early arrival, others create and use custom apps to allow audiences to participate realtime. The Met's take on satellite simulcasts includes a rich and lengthy backstage pass during the intermissions. It's worth hurrying that bathroom break to watch one of their star singers roam around behind the fire curtain to interview the cast and crew, and to watch intricate set changes as they happen. The tradeoff for not being able to attend in person and to add your own "Bravo!" to the enthusiastic audience is to have an insider's view of the production, excellent audio reproduction, clever and creative camera direction – including closeups only available to remote viewers – and all the conveniences of a movie outing. Watching a first-tier opera house production for under $25 per ticket – frequently under $20 for some productions at many theaters – while stretching out in a reserved leather recliner with armrests that don't require a wrestling match to enjoy, as well as a place to put that drink and even the bulkiest winter coat seems like more than ample compensation for living in another city.  As dearly as I love our own Chicago Lyric Opera, and to be able to witness their frequently magnificent productions as they happen, the old, uncomfortable, cramped seating, buckling floors and questionable line of sight on the main floor make the movie theater option increasingly appealing.
One caveat to audiences: be sure to keep an eye on the clock, especially for live events. There are still some theaters that haven't mastered their FATHOM game, and I've had to hunt down a manager to get someone to turn on the feed as frequently as I've been able to simply sit back and enjoy the show. Don't be afraid to ask, and if they mess up to the point where your experience is sufficiently compromised, request a refund or unrestricted free pass as compensation.
Tickets for the rest of the Met's season are available through FATHOM Events here.
Images by Ken Howard and Karen Almond/Metropolitan Opera