By Kathy Carpenter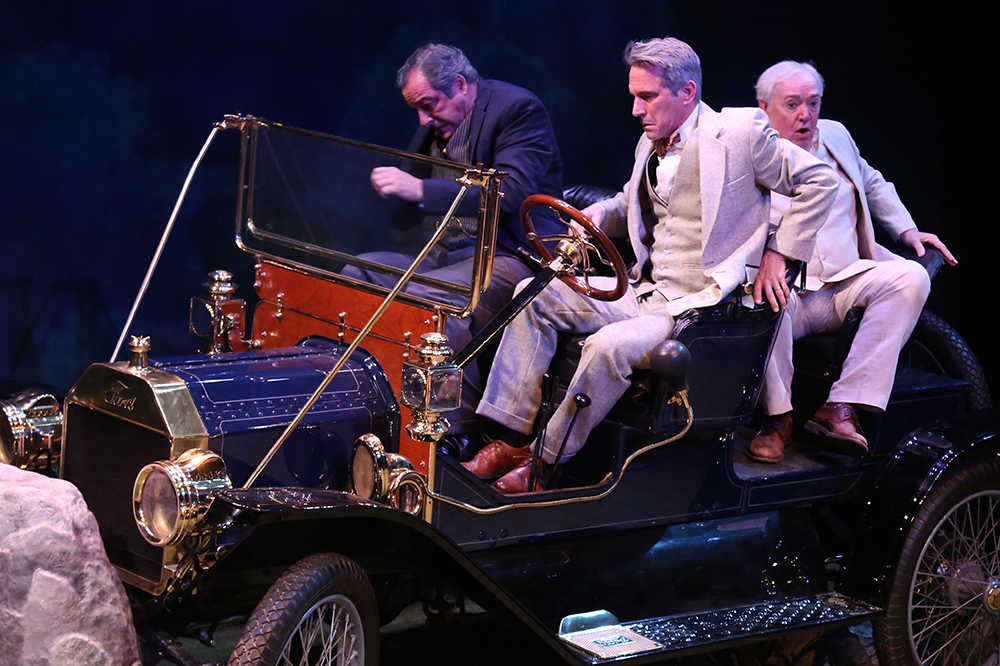 The San Diego Premiere of Camping with Henry & Tom, by Mark St. Germain, an interesting historical fancification, done with Lambs usual flare. Heartfelt laughter combined with great acting 
Playing at the Lambs Players Theatre in Coronado. 
When I was in school I loved history. I still love going to period pictures and watching some television histories. But not many people will take time to read about history. Who has the time? Going to live theatre with a historical bent, lets you experience history. somewhere there is a grain of truth, in this case Henry Ford and Thomas Edison did go camping every year.
In this play, 1921, they take along president Warren G. Harding. The story is a what if scenario. No would know if this happened or not. But so much fun to watch the three diverse personalities play out. Set in a small clearing in the woods outside Licking Creek, Maryland. On the road 
the camp Ford hits a deer, and the Model T 
is stuck. It's already evening and the conflict begins.
to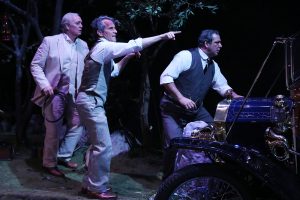 My favorite of the three was President Harding, played by Manny Fernandes, ans his crazy whatever attitude. Brilliant. Thomas Alva Edison, was played by Robert Smyth. Husband of director Deborah Gilmour Smyth. What a team. The third man Henry Ford, played by Francis Gercke, brought his own flare to the team. One more person brought the show to life, secret service man, Jordan Miller, he played the role just as you would expect to see.
One of my favorites scenes is when Ford puts on the phonograph, (invented by Edison), and he and Harding dance around, cutting loose and having a good time. The show has some great lines. Keeping you laughing throughout, while actually having serious undertones. 
The stage is set with some bushes, trees, dirt, sticks, a slight incline, and the Model T, looking like a rustic campsite.
Come camping without the discomfort.
The hit show joyous celebration "Smoke on the Mountain," which did a double run – is now moving to The Avo Playhouse in Vista, with the same fabulous cast. If you love Gospel DO NOT MISS THIS SHOW.
Camping With Henry & Tom plays through March 25th, 2018.
For one night only March 17, 2018 you can get your Irish fix with the "Voices of Ireland," Write Out Loud presents and evening of Irish 
Next up this season the tony award winner Once The Musical April 6 -July 22, 2018.
The Season continues with A Jewel in The Crown City and Jane Austen's Persuasion.