While the Las Vegas strip is full of bright lights, glorious hotels, decadent restaurants and so much more, the truth is, the strip is not for everyone. In fact, even if the strip is for you, there are just certain times when you don't want to deal with all that goes with it. The question is, how do you get all the pleasure of the Vegas strip while avoiding all of the pain? The answer is the M Resort, and that answer might be so glorious, you may just never head back to the Vegas strip ever again.
The M Resort is about 15 minutes outside of Las Vegas, and if you are driving in from California, you will actually hit the M first, making that drive a little shorter than usual. With that being said, even if you are staying on the Las Vegas strip, stopping at the M first is always a good idea. There are so many reasons to come to Las Vegas: gambling, breathtaking and relaxing rooms, pools (including an adult version), a relaxing spa, customer service that makes you feel like you are the only person there, and, of course, food that is not only delicious, but over-the-top creative and like nothing you will find at home. If you are looking for some or all of those as well as some nightlife, the M Resort is your new Las Vegas landing spot.
The M Resort is closing in on a decade since they opened, and if you didn't know that and you walked through the front doors, you would think that they had just opened for the very first time. The M was certainly designed with the beautiful and decadent look that everyone has come to expect in Las Vegas. When you enter the front doors, you are hit by the most beautiful aroma, as if you are entering a flower garden that has just peaked. The dark browns and subtle lighting that is carried through consistently from the casino to the rooms is not only gloriously beautiful, but provides a very relaxed feel. The M is very stand alone, but you will fall in love with it immediately and will not have a probably spending your vacation in this one spot.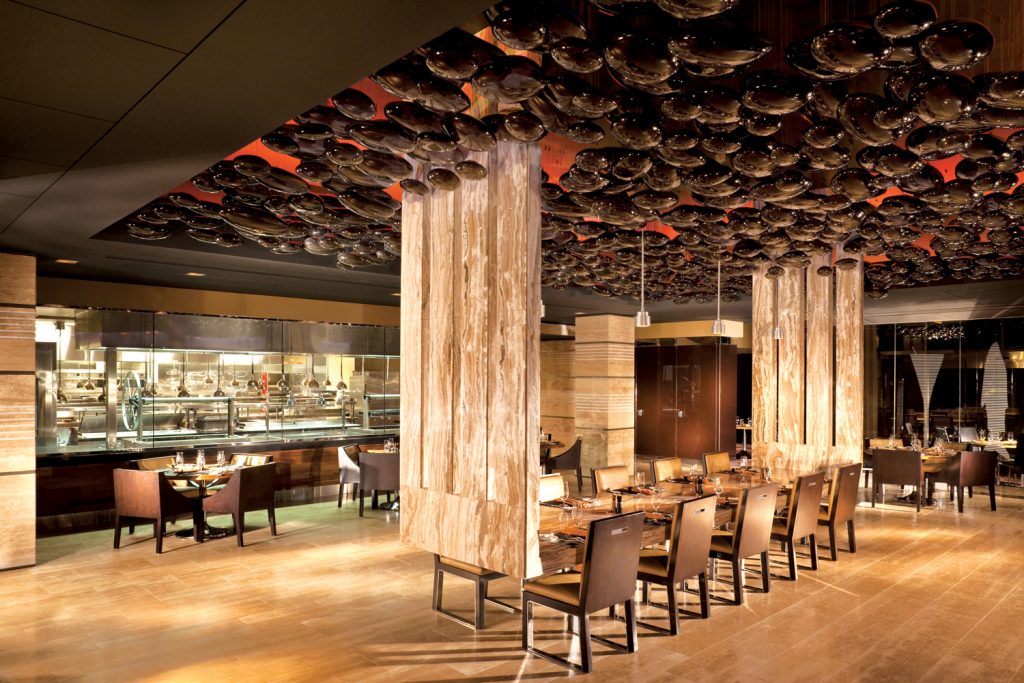 One reason to visit the M Resort or why you might never leave once you are there, is the food. Executive Chef Michael Demers, who has been with the M since its incepetion, is the man to thank for all of the goodness that you can find every restaurant in the M. From what is simply one of the best buffets in all of Las Vegas to Jayde Fuzion, Anthony's Steakhouse and his latest creation, Burgers & Brews, Chef Michael not only makes sure the ingredients are simply the best, but he is always looking for ways to bring in new flavors and keep the menus fresh and current.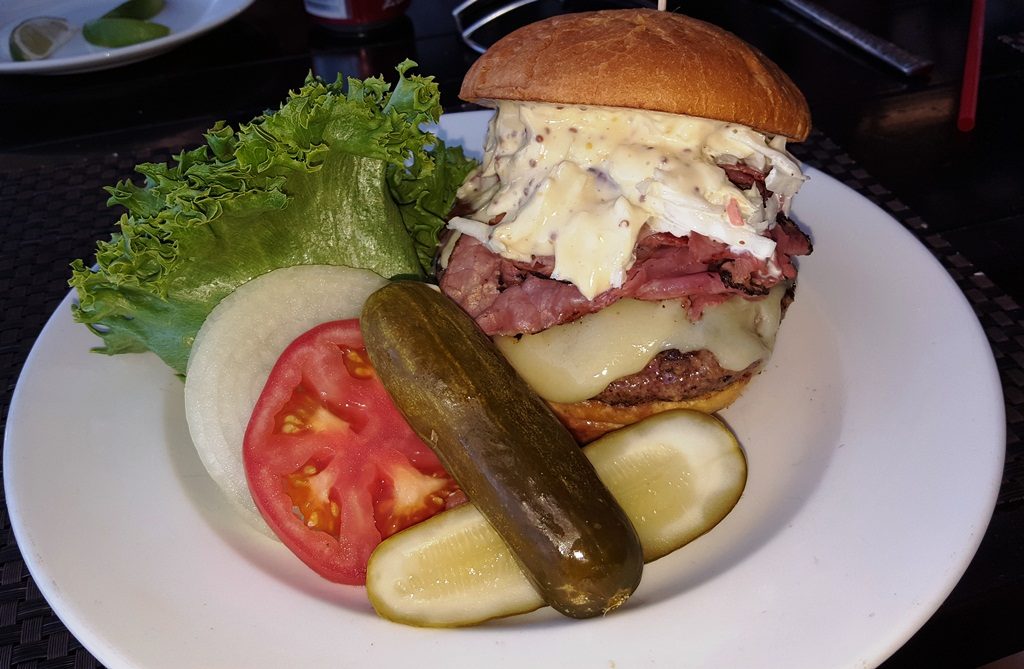 Burgers & Brews is a perfect example of thoughtfulness when it comes to quality and creativity. The name sounds simple, but the burgers are anything but simple, as they all have a beer inspired theme. You might not make your way past the first burger on the menu, the porter burger. This has everything you could possibly want in a burger. The porter inspiration comes in the form of the thinly sliced pastarmi that is poached a porter beer. That is topped on what Chef Michael tasted and tested to find a very specific black angus for Burgers & Brews and literally a bun that had to fight through a March Madness type competition to make it on the menu. You are also going to find burgers inspired by beers such as; an IPA, a stout, a pilsner and if you are really looking to go outside of the box, give the red ale "bison" burger a try or you can experience the hefeweizen chicken sandwich. The other half of the name lives up to its billing as well, as they offer some wonderfully unique beers that you aren't going to find everywhere and they also offer one beer special weekly that is almost too good to be true. Recently you could get a bottle of Leinenkugel's Snowdrift Vanilla Porter for only three dollars, you will not find a better deal in all of Las Vegas. If those were not enough reasons to visit Burger & Brews, the shakes are so decadent and delicious that they will entice to leave any other restaurant just to come in and have one of the varities on the menu for dessert. Sometimes words simply can't do something justice and this is one of those times. The shakes are truly a work of art, beginning with just what is a great shake but then if you order the salted caramel-toffee variety you will get a glass that rimmed with chocolate pearls and topped with bruleed marshmallows, a chocolate-salted toffee dipped pretzel stick as well as a chocolate fan to go with salted caramel sauce and whipped cream. I would recommend bringing a friend to share this and takes lots of pictures. You can also try the oreo cookie, peanut butter banana or coconut pineapple varieties. Burgers & Brews are in the name, but there is so much to this restaurant than what is in the name.
Anthony's Steakhouse is simply everything you would want in a steakhouse, a wonderfully classic setting, a fantastic wine and cocktail list and steak done your way and in so many ways there is no possible way you can't be happy. Anthony's has prime, dry aged and wet aged and the quality of beef is always as good as you find anywhere in all of Las Vegas. If you are looking for a recommendation, it is simply tough not to go with the prime bone-in rib-eye. It cuts like butter, has that slight fattiness to give it extra flavor and medium rare just makes it stand-alone perfection. There are plenty of other great options including; a dover sole, blackened tuna with a truffle scented farro risotto and kurobuta pork chop just to name a few. Marinelli's is a great choice if you are craving Italian food, as they make made to order pasta and also prepare a delicate and flaky branzino among their plethora of menu choices. You might have to stay an extra night to experience all of the restaurants, but Jayde Fuzion is worth the stay. They offer all-you-can-eat sushi rolls & nigiri and a seemingly endless menu of other choices for any taste or appetite.
"It has evolved many times over the years to what it is now, we are giving more of an emphasis to vegan, gluten-free and organic options, ancient grains, there is no one else who does a whole stuffed pig every day on a carving station, we are just trying to up the bar a little more and there are other people in town who do a great job and we are just trying to stay one step ahead," Chef Michael said regarding the buffet at the M Resort. "We do have a lot of repeat customers, from local people to people coming in from California so it is nice to see that we can change up the majority of the dishes every several months and we can keep it fresh and exciting."
When it comes to gambling the M Resort has everything covered from table games to slots to video poker as well as a fantastic sports book in that wonderful M setting. If you venture over to the sports book, make sure to stop at the 32 Degrees brew bar that features an amazing 96 beers on tap. This might be the only casino that you can find a beer such as Dragon's Milk from New Holland Brewing on tap. As with the rest of the staff at the M, the bartenders and servers at 32 Degrees are as good as it gets, by your second day there they are likely to be calling you by your name and that is with no player's card needed for reference.
M Pool is simply just a great pool that is family-friendly to relax and enjoy the sun and fun of a typical Las Vegas summer day and if you are look for a more upbeat and lively adult experience, the Daydream Pool Club is for you. You will get music from top local DJs, exclusive VIP seating, and hand-crafted cocktails. Finally when it comes to nightlife you will find an assortment of music and DJs as well as bigger name acts throughout the year, such as performers like Bush, who will be at the M on June 2nd, 2018. If you are looking to venture to the Las Vegas strip, the M does offer a shuttle that departs hourly.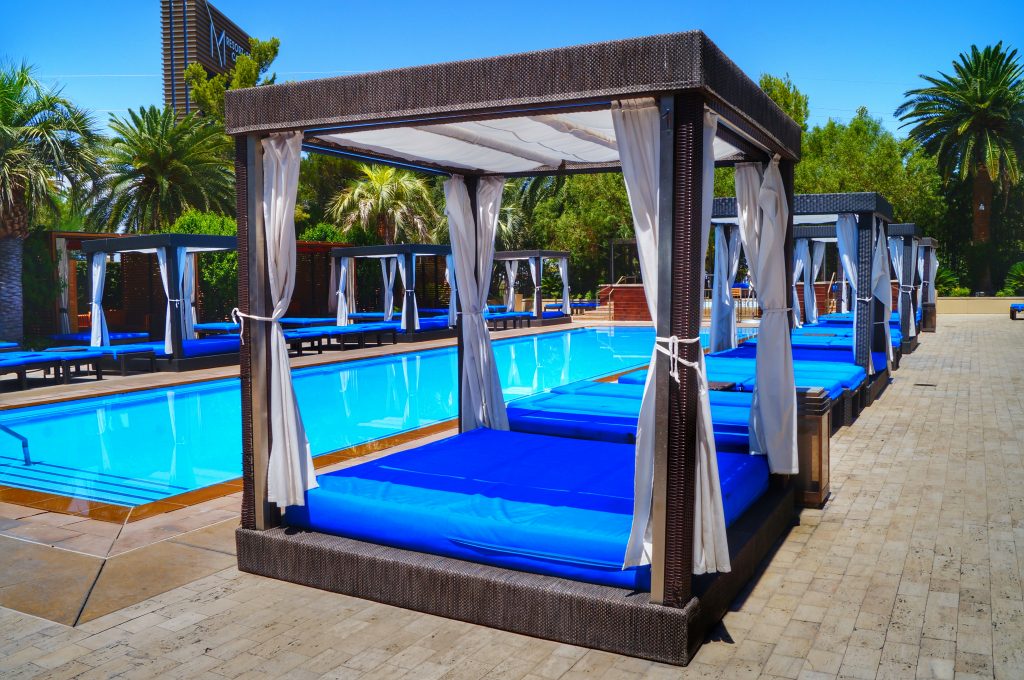 Finally, the M does have one of the best views of Las Vegas, and offers up a great destination if you are looking to get married. The 16th floor, 400 feet above Las Vegas, will give you a truly memorable wedding experience. Between 390 rooms, an award-winning spa and everything else the M has to offer, this makes for one magical setting.
The M Resort has taken all the allure of Las Vegas and nudged it to the edge of town, providing gamblers with a more relaxed and intimate feel while still giving you all the beauty that you expect from a Las Vegas resort. Gambling, glamour, glitz and everything you would expect in a Las Vegas experience is here. If someone simply asked where they could just shuttle in from the airport or park their car and never have to leave the premises, and would leave at the end of their trip saying, "That was truly a great Las Vegas vacation," I would say stay at the M Resort.
For more information, visit: M Resort