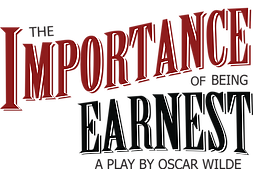 The 413 Project presents The Importance of Being Earnest performing March 8-25, 2018 at the Grand Tea Room located in historic Escondido. Since 2016, Louisa Magoon, the owner of the Grand Tea Room, has partnered with the 413 Project to combine history, happiness and high tea using the wonderful method of dinner theater. This partnership's first production (also Oscar Wilde's The Importance of Being Earnest) was such a hit that it has since been followed by the Complete Works of Shakespeare Abridged, Pride and Prejudice, Emma, and Anne of Green Gables.
The 413 Project always does an amazing job. The actors are true professionals who are able to act in the midst of tea tables; tuning out the fact that an entire room of tea drinkers surrounds them. The women seated by me were first time attendees and totally loved both the tea and play- a feeling you too will certainly feel once you discover one of their performances.
The story of Earnest is filled with wonderful characters. Audience favorites included adorable dandy Algernon Moncrieff, played by Daniel Robinson, who has a true talent for being a rascal. Another amazing performance was by Dean Nygaard in the role of Lady Bracknell. His performance was so convincing that during the first scene I could not even tell he was a man – even his hair looked real! My mother as well as the woman next to me were also similarly surprised to find out Lady Bracknell was in fact a drag act. He rocked his role!
Adam Lightfoot in the role of Jack Worthing added a charming touch with his authentic Newcastle English accent. Caitlyn Buckwalter as the spoiled Gwendolyn Fairfax brought the stage to life. Hannah Dorss made a great naive Cecily Cardew, always trying to manage her life through diary writing. Amy Dell as the suppressed Miss Prism continued to impress me with her talent in yet another play.. Rounding out the tight knit cast was Jeffrey Duncan as the canonical Dr. Chasuble, and audience favorite Jacob Painter as butlers Lane and Merriman.
Director Chelsea Robinson, reprising her roles both as Gwendolyn and director) jumped at the chance to direct this collaboration once again and she has certainly done Oscar Wilde proud.
The 413 Project from its modest beginnings five years ago continues to grow and build in now both the San Diego and Los Angeles areas. What makes them unique is the use of strategic performing spaces and partnerships such as with Louisa Magoon and The Grand Tea Room.
In life we need to make memories and the custom of tea if one of relaxation and spending time with family and friends. Why not book a treat for your mom, daughter, sister, or friend? This event is the perfect one everyone will love. Come to tea this Spring!
Check out the Grand Tea Room and operating hours at thegrandtearoom website and/ or The 413 Project at the413project website Their next production will be Jane Austen's Sense and Sensibility in September. Don't miss it!
]