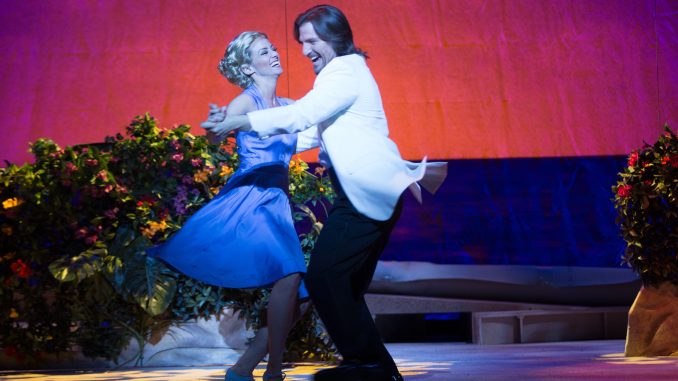 There probably isn't anyone in the U.S. who isn't familiar with SOUTH PACIFIC, one of America's favorite musicals. With music by Richard Rodgers and lyrics by Oscar Hammerstein, SOUTH PACIFIC premiered way back in 1949 and became an immediate Broadway smash hit. Starring Mary Martin and Ezio Pinza, this musical wormed its way into the hearts of every audience to become the second longest-running production on Broadway at the time (1,925 performances). SOUTH PACIFIC went on to win the Pulitzer Prize for drama in 1950 and ten Tony Awards for best musical, best score, best libretto, and all four acting categories.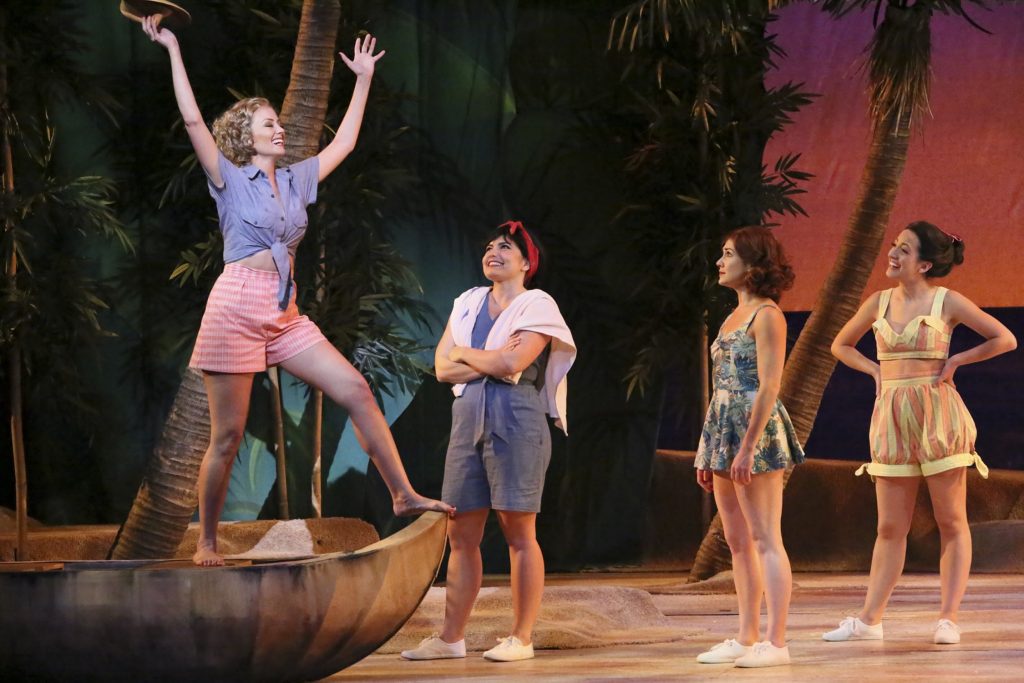 The musical is based on author James Michener's 1948 Pulitzer Prize winner for fiction, "Tales of the South Pacific" and enabled him to quit his day job and devote full time to writing (going on to pen multiple bestsellers). Since Hammerstein was never in the military, he called on veteran Joshua Logan to assist in writing the book; Logan went on to direct the popular 1958 film starring Mitzi Gaynor and Rossano Brazzi. SOUTH PACIFIC has seen multiple revivals and television adaptations. Clearly, the iconic musical touched a memorable chord in every viewer. Besides, almost every song in the musical became a favorite and went on to be recorded over and over. Who hasn't heard "Bali Ha'i," "Younger than Springtime," or "Some Enchanted Evening?"
La Mirada Theatre for the Performing Arts is currently presenting SOUTH PACIFIC to the delight of enthusiastic audiences. For this is a story of love and war, set in a lush tropical island far off in the South Pacific. Navy nurse Nellie Forbush (Stephanie Renee Wall) is stationed on this verdant isle, right at a pivotal spot where Japanese and American troops are at a military stand-off. What will happen when small-town Nellie meets the handsome, wealthy, and sophisticated Frenchman Emile de Becque (John Cudia), owner of a large plantation sharing space with the Navy base on this island? Their story is intertwined with the gentle love story of Lt. Joseph Cable (Matt Rosell) and Liat (Hajin Cho), a Tonkinese beauty and daughter of Bloody Mary (Jodi Kimura), an entrepreneur extraordinaire who runs the souvenir concession on the island – with comic relief provided by the Navy's primary entrepreneur, Seaman Luther Billis (Jeff Skowron).
But this is more than a series of love stories and funny moments. Each relationship is tainted by something dark brought to the island paradise by the American visitors – deep-rooted and "carefully taught" prejudices. Frenchman de Becque has fathered two children by a Polynesian woman who later died – and Nellie would naturally be expected to embrace the children as her own. Society "mainline" member and Princeton graduate Lt. Cable might have some misgivings about bringing his Tonkinese girlfriend to meet his mother. And, meanwhile, the war rages on all around them.
Director Glenn Casale and musical director Brent Crayon are clearly right in their element bringing this enchanting musical to the stage, ably assisted by choreographer Peggy Hickey. The talented ensemble cast seems to be having the time of their lives reviving this iconic play. Robert Kovach's set design has carried on the tradition of "lap" changes – with actors coming up in the next scene already on a darkened stage with no interruption in the musical by scene changes. The entire production team deserves kudos for a job well done. If you're a fan of big musicals from the heyday of Rodgers and Hammerstein, you're sure to enjoy this production.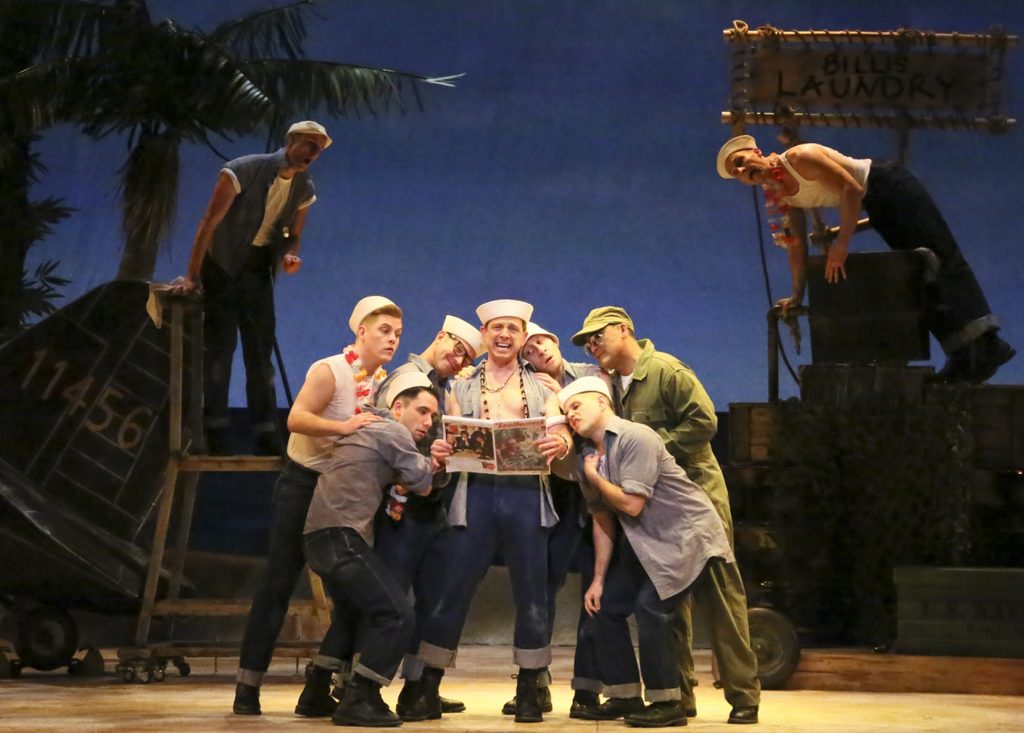 SOUTH PACIFIC runs through May 13, 2018, with performances at 7:30 p.m. on Wednesday and Thursdays, at 8 p.m. on Fridays, at 2 p.m. and 8 p.m. on Saturdays, and at 2 p.m. on Sundays. La Mirada Theatre for the Performing Arts is located at 14900 La Mirada Blvd., La Mirada, CA 90638. Tickets range from $20 to $70. For information and reservations, call 562-944-9801 or go online.