Eric Dash is an American singer/songwriter, Los Angeles based and has worked with many Grammy award winning talents. On April 28, 2018 Eric performed live with his bass player Alex Balderson at the historical Hotel Cafe in Hollywood located at 1623 1/2 Cahuenga Boulevard.
Hotel Cafe is a popular venue and home to many upcoming and main stream singer-songwiters showcasing their material. It's the perfect nightclub setting for artists located right in the heart of Hollywood, California.  On this night, Eric dug deep into his 'piggybank of songs" visiting material written when he was just 18 years old.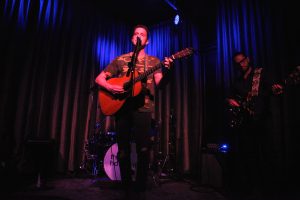 Eric's closer was his newest single release "Freedom", which has gone viral reaching over 1 Million views on YouTube and is currently featured on numerous popular Spotify playlists. Freedom, produced by Jack Joseph Puig, John/Mayer/Black Crowes has been performed all over Los Angeles – including for the United Nations "Girl Up" Campaign and the Leukemia and Lymphoma Society's Sofitel Fundraiser.
Eric will be dropping his new EP in the summer of 2018. No newbie to the recording scene, Eric has been singing, songwriting and playing the piano since the age of 8 after his parents took him to his first concert. At the age of 13, he picked up the guitar and began performing live with various South Jersey rock bands.  Eric began his solo career at the age of 16.
As a maturing artist, Eric's songs are now influenced by UK based pop/rock and 90's/00's pop/rock artists.  The track "One Day at A Time," to be released this summer, was inspired by Florence and The Machine.
When asked about the history of the song Eric says "Jack Joseph Puig was the original producer on this but I made changes. I love this composition and I think it's one of my best songs by far because of Jack's involvement.  I'm Not sure how to fill those shoes so I'm not trying to – I'm just taking it one day at a time…Just as the song suggests," added Eric.  My personal favorite of the the night was a song titled "One Word Bomb", it was fun and upbeat and I can't wait to download it from iTunes.
Follow Eric Dash on Instagram/YouTube/Facebook @EricDash. Click link to view gallery on PRphotos.  All photos by Gisele/Partyby5.