Southern hospitality, along with that authentic, home-cooking flavor that goes with it, is not something that usually comes to mind as you are venturing through Los Angeles. But now that has changed: not only can you imagine it, but you can taste and experience everything about southern cuisine at the recently opened Yardbird Southern Table & Bar.
If you really want to get a true measuring stick of just how well Yardbird does southern food, three foods come to mind: biscuits, grits and fried chicken. I would certainly defer to anyone who was raised in the south, but having lived in that region for a few years I feel I have enough knowledge of what to look for. The biscuit looks and seems so simple, but it truly tells you a lot about what else is to come. You have to really know the biscuit, and come to love making it, because to do it right takes time and effort that, well you don't find most places –it's usually just an afterthought. The Yardbird biscuit is soft, light and just slightly flaky: prepared and so cooked to perfection that your bite into it is as smooth as a hot knife cutting through butter. You can do a number of things to the biscuit at Yardbird, or top it with in-house made jam, but why mess with perfection, simply eat it as is.

The fried chicken almost needs no description. You just need to walk into Yardbird and see that the majority of guests in the restaurant have some variety of the fried chicken on their plate. Yardbird created exactly what you want in a piece of fried chicken: a tender, juicy piece of chicken, and that perfect crunch from the breading, while avoiding that being the focal point just by being greasy and simply way too much. Pair that chicken with a cheesy waffle (one that takes cheesy waffle to a whole new level) and you have one fabulous dish. The waffle is cheesy to start with and then it is covered on both sides with a slice of cheddar cheese before it hits the waffle maker. This dish is then complimented by the refreshing spicy watermelon.
The sides are all plentiful, and the grits are a great starting point. The standard grits on the menu are so velvety smooth they lean toward a really nice mashed potato that has a rich  Vermont sharp cheddar cheese rolled into it. If you are familiar with grits, you will love this version; if you have never tried them, I would recommend trying them as they will satisfy you regardless. To let you know just how good the grits are, Yardbird created a shrimp version that is loaded with seared shrimp, roasted tomatoes, country ham and red onions, all brought together with a veal jus.
Yardbird proved that they could do Southern cooking as well as anyone, regardless of the state you are in, but they hardly stopped there. Yardbird did get a little playful with the menu, and nothing says that quite like the fried green tomato blt. The focal point of the blt is the thick slab of house-smoked pork belly that is complimented by a rich, melted equally thick slice of pimento cheese and a smoky tomato jam. The other item on the appetizer menu that is a must try are the deviled eggs. The deviled eggs look like a work of art when they come out, whipped to perfection and just the right amount of dill and chives to bring the eggs to life and then the topper is the smoked trout roe that tops the eggs. Both of these are simply rich and indulgent and must order appetizers.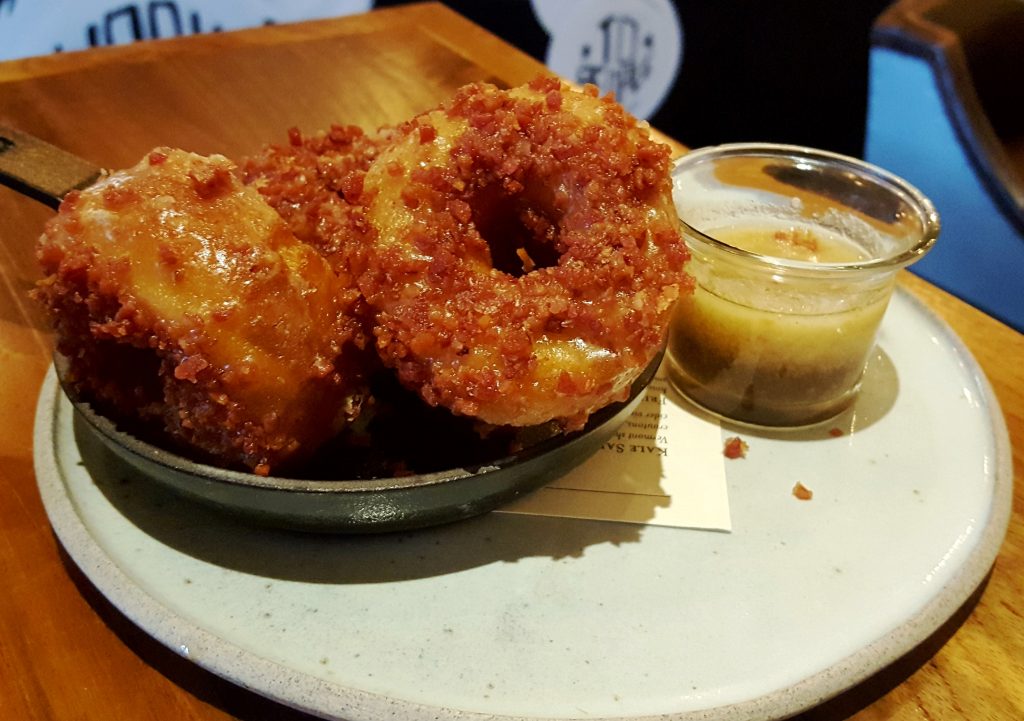 A real treat for any weekend brunch or celebration is the sweet and savory aspect of that menu. If you aren't in the mood for pancakes or donuts, you will be when you see them come out of the kitchen. The maple glazed bacon donuts are, well, truly as decadent as they sound, so maybe share this one with the table. You get fresh donuts that are dipped in a wonderful maple glaze and then topped off with so many crunchy bacon bits that you will lose sight of the donut. The rest of the brunch menu is equally amazing as you can choose from: peach cobbler; scones or salted caramel waffles, both gluten free; panna cotta or pancakes. Also on the brunch menu, Yardbird did their own take on huevos rancheros and it is truly spectacular. The plate begins with what looks like a moutain of their slow smoked brisket that is fall apart good and then it is topped with sunnyside up eggs, local avocado and then the plate is surrounded by what is very much like a mole sauce. This is a flavorful and hearty dish that brings everything you could want for brunch into one plate.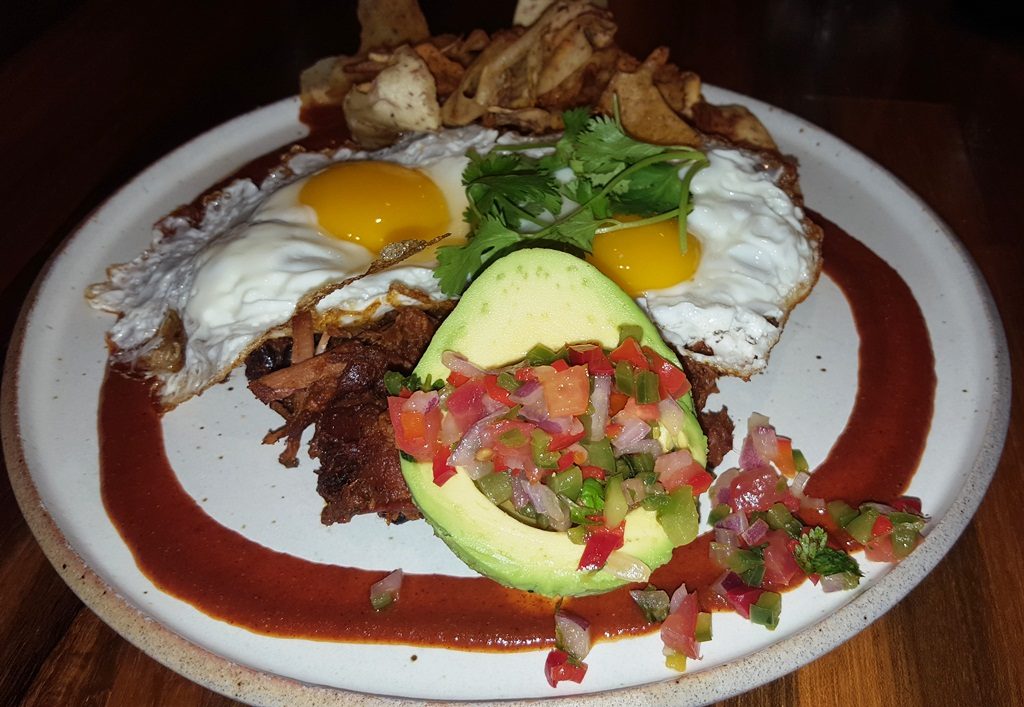 And lastly, the cocktail menu is as inventive as the regular menu, with a beer lineup that is equally as impressive to pair with your food. The blackberry bourbon lemonade conjures up thoughts of a warm southern day down south, sitting on the porch on a swing or rocking chair, just a good ole classic sweet punch that gives you a nice blend of blackberry puree and fresh lemon to go along with Wild Turkey Bourbon. It is tough to say after all of those over-the-top items that we saved the best for last, but we did. Quite possibly the best version of the old fashioned you will find is the Yardbird Old Fashioned. You get the classic feel, along with orange bitters and a little maple syrup, but what brings this cocktail to a new definition of smooth is the porkbelly infused Wild Turkey 81. This bourbon strikes you with vanilla and some spiciness, but the smokey flavor of the pork belly really shines through, and brings down the sometimes overpowering aspect of bourbon and allows you to enjoy all of the nuances in this old fashioned.
If you want a true southern experience, there is no need to go to the south, Yardbird has all of the familiarity of the south and they brought it west. While the menu screams southern cooking, it certainly will appease any appetite. Yardbird magically brings it all together, from the hospitality to the creative venue, and of course the food that will leave you full and satisfied and feeling fully southern.
For more information, visit: Yardbird
In addition to Los Angeles, Yardbird has locations in: Las Vegas, Miami and Singapore.