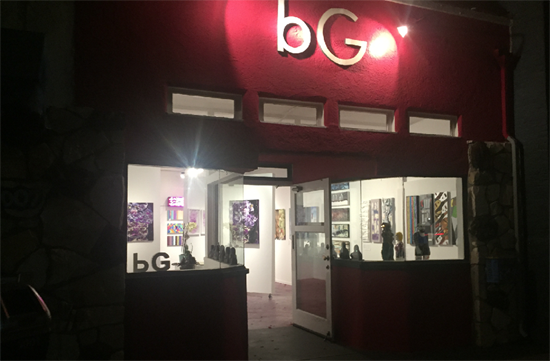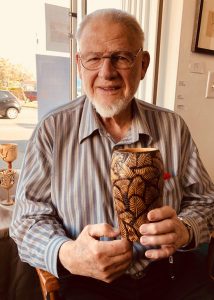 "It's a calling," said Ray Ford a 90-year old artist who still creates every day. The artist will be exhibiting his wood sculptures in a group show entitled "Circular" presented by Gestalt Projects and bG Gallery.
Photo courtesy of Ray Ford
Ford will be exhibiting ten of his round wood sculptures as part of the "Circular" show. "I do a lot of work on the lathe so those pieces are circular, at least in one dimension." Ford said one of his favorite things to do is create circular works on the lathe and then enhance them with intricate designs. "The most fun is to make the leaves after it is turned," said the artist. These exquisite one-of-a-kind sculptures are what Ford is known for. In addition to being a talented wood carver, he has done quite a bit of drawing and painting in his lifetime, but wood carving remains his main focus.
He has exhibited at Santa Monica Art Studios, Blue 7 Gallery, FAB Gallery, The Hängar and Ivan Gallery. Find out more about Ray Ford and his sculptures on his website at hrayford website
Photo courtesy of Jill Stoll, An Unhealthy Obsession with Geography (Canyon Valley)
Artist Jill Stoll has one work in the group show. The title of the work is An Unhealthy Obsession with Geography (Canyon Valley). "Who said that art has to be square or rectangular? Airom (the curator) is asking the audience to reconsider their assumptions about art and what to expect from a gallery, one that is forward thinking and risk-taking," said Stoll.  Find out more about her art on http://jillstoll.com
Pamela Mower-Conner has participated in over five group shows at bG Gallery. The circular theme works well for Mower-Conner.
Photo courtesy of Pamela Mower-Conner, Vintage Circus, mixed media sphere, 8″ diameter, 2016
"It is a perfect fit for my work on globes." The artist has been painting on spheres since 2000.
See pamelamower-conner  for more info about the artist.
Maria Bouquet will be exhibiting a round LED light geometric sculpture. Bouquet explains her work…"The Light Art series is inspired on geometrical patterns found in nature. It is a series of dynamic and three-dimensional body of works that play with the view of the observer."
Photo courtesy of  Maria Bouquet, Frequencies,      Multicolor Led Light, thread & PVC 50cm diameter. Remote control RGB 15 Colors, 5 light sequences & graduations of color.
Visit Bouquet's website for additional info mariabouquet website
J. Renee Tanner will have one piece featured. She works in series of installations comprised of multiple pieces and parts that are adaptable and portable and responsive to a variety of temporary environments.
Photo courtesy of J. Renee Tanner, Magnetism, 2017, 20in. diam., Installation of vintage compass cards and gears attached to steel plate with magnets
These vintage compass cards were salvaged from an industrial environment now a contemporary studio space. The magnets facilitate archival protection and allow endless composition, exploration, and possibilities for taking these relics into the future. jreneetanner website
Additional artists taking part in the exhibitions are:
Steph Fonteyn, Jordann Wine, Nick Douillard, Frank Venadas, Jessalin Beutler, Kerstin Lanette, John Grunwell,  Nancy Larrew, Ingrid April, Perry Johnson, Ryan Leitner, Andreea Bianca Velcsov, Phyllis Gorsen, Alessandra Pierelli, Megan  R Curran, Rhiannon Valenti, Marcy Sperry, Mike Goldberg, S.P Harper, Cherie Harte, Janelle W.  Anderson, Brian Huber, Heather Lowe, Imogene Drummond, Eva Asquith Wilson, Blair Martin Cahill, Helen Werner Cox, Ronit Kristal, Paula Craioveanu, Donny Nie, Carragh Amos, Karin Swildens, and many more.
"Circular" opens on Saturday, May 26th, 2018 from 6-8pm and will run through June 10th, 2018. bG Gallery is located at 3009 Ocean Park Blvd., Santa Monica CA. bgartgalleries website