The "who's who" list of chefs in Las Vegas is staggering, and so long that your reservation list can be booked for quite some time before you have to eat the same chef's dishes twice. And, while there is quite the variety, one chef has turned Vegas into his own personal playground: Gordon Ramsey. Hell's Kitchen at Caesars Palace is his latest creation, and while he does have many other great restaurants, this one not only offers fantastic food, it also makes you feel as if you are on the set of the famous show the restaurant is named after.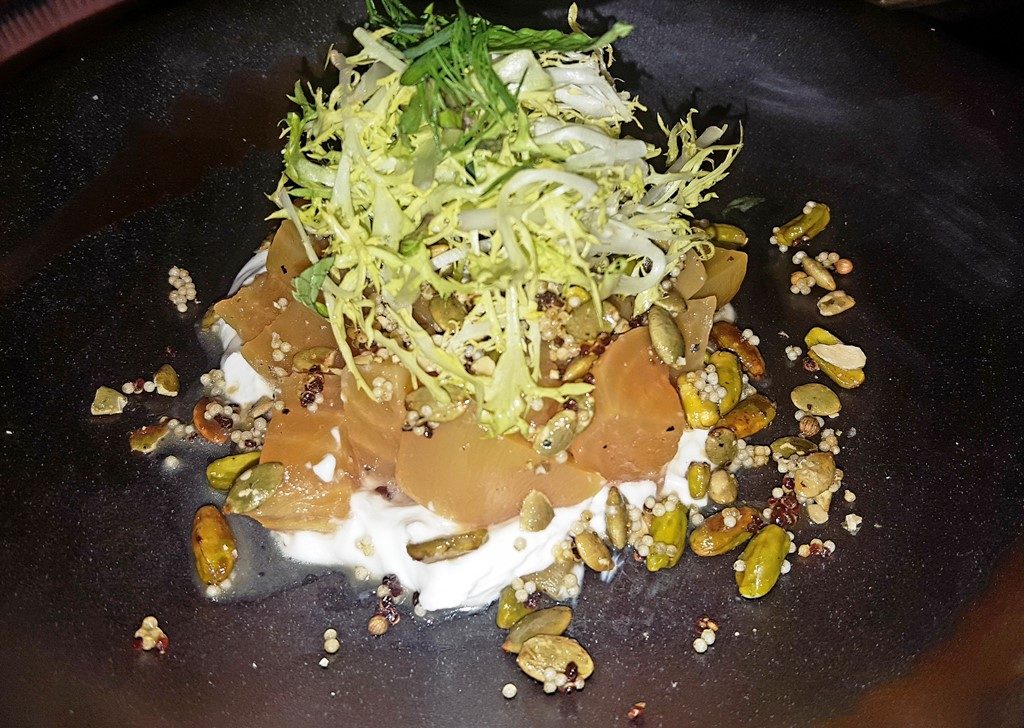 Hell's Kitchen presents you with an open kitchen that is almost perfectly replicated from the television show, but in this case you have executive chef Michelle Tribble running the show from the front, albeit in a much more calming fashion than you would get from Chef Ramsey. Dining in Las Vegas is as much the experience as it is the food and Hell's Kitchen does not dissapoint on either aspect.
It isn't often that you are going to find a beet salad as the can't-miss dish on a menu, but that is exactly the case at Hell's Kitchen when it comes to the golden beet salad. The gold beet while being visually beautiful on the plate, also comes across more subtle, less earthy and with a hint of sweetness as opposed to the red beet. This salad seems to have been created with the Las Vegas heat in mind as it comes across light and refreshing with the beats being paired with greek yogurt, pistachio granola and white balsamic vinegar. While it is refreshing the true pleasure of this salad comes in the blend of flavors that play off of each other, giving you not only a uniqueness, but it is simply one of the best salads you will ever experience.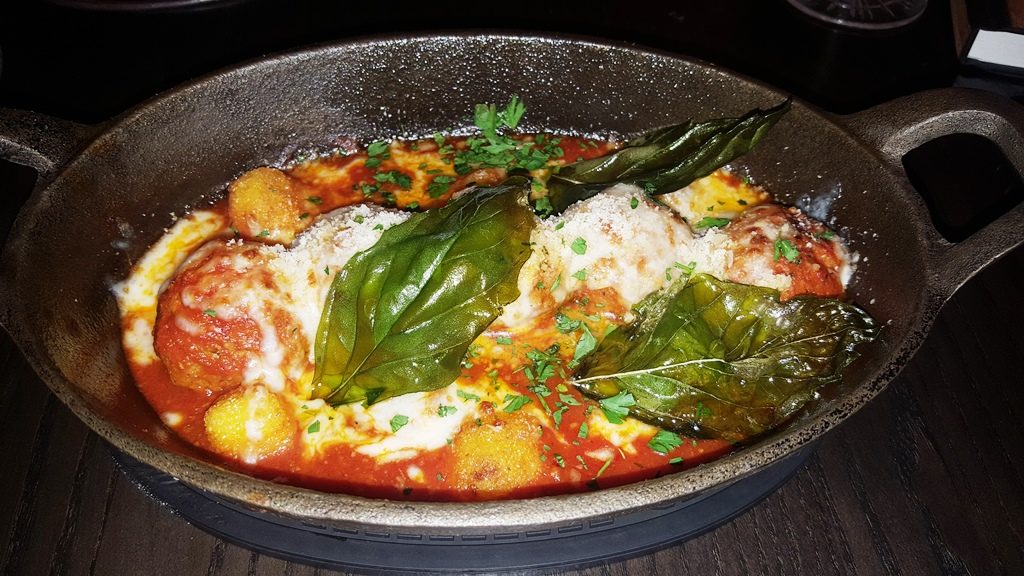 If you are looking for a little heartier appetizer, the wagyu meatballs or the pan seared scallops are wonderful choices. When you see wagyu and meatballs brought together you would think that would take over the dish, but that is not the case. The meatballs are simply cooked to perfection and the wagyu takes them over the top but the creativity to create crouton made from polenta and then marrying the two in a bowl of rich and thick tomato sauce will make you forget about needing pasta. This dish brings Italian flavors to life. The scallops are seared with that slightly crispy edge to it and then it is given an bit of richness with braised bacon lardons and that is all balanced with the sweetness of a vibrant English pea puree that the scallops are served on.
Entrees range from beef wellington, dinner only, crispy skin salmon, flatbread pizza and braised short rib just to get your imagination started. Whatever you order, make sure to get a side of the potato puree. These potatoes are taken down to a level of smoothness you probably don't know existed in a potato, leaving you with just a smooth, creamy, buttery and delicous dish that will spoil you for every other potato you might try moving forward.
The menu is also filled with creative cocktails, highlight by the Chef's Stew, a gin cocktail that certainly appears stew-like and comes out smoking from the dry ice. This is a wonderfully refreshing and strong cocktail that is berrycentric and that also comes with rosemary. Chef's Stew is a cocktail that must be experienced while at Hell's Kitchen. The Pitchfork is wealth of flavors beginning with Bulleit Bourbon and mixed with lemon and egg white along with Fonseca 10 Year Old Tawny, giving you everything you could want in a cocktail.
The only way to finish off your meal is with the sticky toffee pudding that is paired with speculoos ice cream, a play off of a butter cookie. This is 100% dessert and should be paired with Chef Ramsey's favorite beer, the oak aged Innis & Gunn from Scotland.
Hell's Kitchen is a restaurant that you will come in for the experience of Gordon Ramsey and the acclaimed television show, but the food will keep you coming back again and again.
For more information, visit: Hell's Kitchen