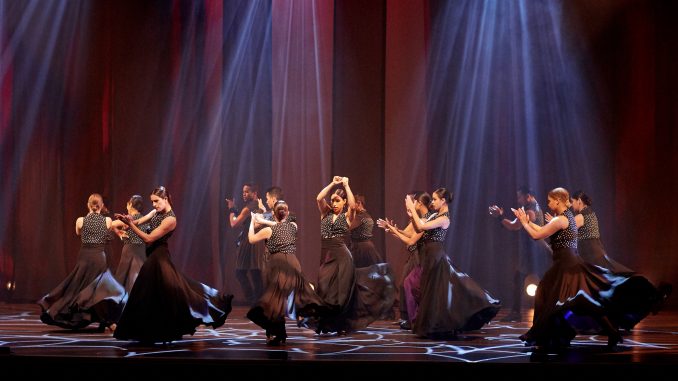 On Friday evening, June 15th, 2018, Ensemble Español Spanish Dance Theater returned to the North Shore Center for the Performing Arts, University, 9501 Skokie Blvd., Skokie, with a program entitled Flamenco Passion: A Tribute To José Greco's 100th Anniversary, to be repeated June 16thand 17th. This evening was given over both to a commemoration of the life's work of legendary Spanish dancer José Greco and to debut a remarkable new world premiere, Mar de Fuego (Sea of Fire), by Carlos Rodriguez.
A company referred to as made up of "extraordinarily beautiful, passionate, superbly skilled dancers", and "exciting, sensual, and breathtaking", the troupe, led by Dame Libby Komaiko, resident at Northeastern Illinois University, put on a program that blends Flamenco, classical, contemporary, and traditional forms of dance.
The entire 1st Act, part of the company's 2018  American Spanish Dance and Music Festival, now in it's 42nd year, explored the theme "José Greco: An American Immigrant in Spain". In point of fact, Greco was born in Italy and raised in Brooklyn from the age of 10 and Komaiko herself became a part of his Company in her late teens. Directed by Juan Mata, including 5 works choreographed by Greco himself, and featuring intriguing video clips of Greco, this portion of the program starred 3 of Greco's own children, Carmela, José II, and Lola Greco; his 3rd wife, Ana Borger-Greco was present in the audience. The back and forth glimpses of Greco on film; the taped segments introducing Greco and his work; the virtuosity and sense of continuity the Greco children displayed, coupled with the playful, elegant, percussive drama of the Ensemble Español dancers, all set to the harmonious and vivid accompanying music was a heady and delightful mix.
The Spanish art form of Flamenco is comprised of guitar playing, song and dance. Although it originated in the southern Spanish regions, it's believed to be influenced by many world cultural traditions, and Latin American, Cuban and even Jewish traditional arts are apparent when you view this wonderfully exciting music and dance combination. The dance form itself is romantic, sentimental, deeply stirring and emotional. The dancers express their feelings in body movements and facial expressions, as well as by kicking their feet and clapping; many snap castanets. The costumes run the gamut from black to vivid colors, ruffled and formal, tight and dramatic.
However, Flamenco is by no means the only form of Spanish dancing; that art boasts a wide variety of styles, originating in different regions, including Fandango, Jota Aragonesa, Sardana Catalonia, Sevillanas, Muñeira Galicia, Zarzuela, and of course, ballet. Greco was master of virtually all of the major forms. In the show-stopping work Bolero, choreographed by Dame Libby Komaiko, which closed the first half of the program, set to the unmistakable strains of Maurice Ravel's haunting tune of the same name, this thrilling full Company piece embodied as many different forms of dance as the music's famous 16-note melody. With gorgeous costumes in red and black, and tossing cape work, before a background of projections of the drawings and paintings of Pablo Picasso, the moving light effects brought the piece to a flashing, turning, sensational conclusion.
The 2nd Act world premiere was a wonderful modern ballet, featuring grey, black and white costumes and a character in a nylon bank-robbers mask who was a combination of Svengali and the Devil's muse. Consisting of 9 movements, performed to the music of 9 musicians, dressed by 7 costume designers, the piece was comprised of terrific solos, duets and group efforts. It came together in a scene centered upon a zigzag pyramid of light, around which the dancers grasped a shining red thread; the symbolism here reflects "the belief that we are destined to connect with one another via a magical red cord from the lunar gods regardless of place, time, or circumstances".
The program was sweeping in its scope, fulfilling and exceeding expectations in the beguiling imagery and the dynamic  presentation. Kudos to the entire production team of lighting, sound, projection and costume designers.
More information about Ensemble Español Spanish Dance Theater