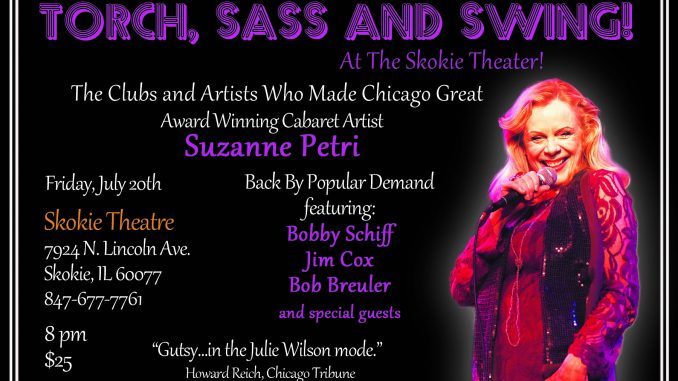 Coming to the Skokie Theatre for one night only, Friday, July 20 at 8 p.m. is an unforgettable evening of torch songs, smoky clubs and great music by four of Chicago's greatest talents. In "Torch, Sass and Swing," award-winning performer Suzanne Petri joins with Robert Breuler as guide, Bobby Schiff, musical director and Jim Cox (bassist) to share fantastic stories of the great Chicago clubs such as Mr. Kelly's, The London House, Chez Paree and The Happy Medium.
Enjoy the music of the 50's, 60's and 70's and the artists who played them: Ella, Sarah, Barbra, Sophie Tucker, Bette Midler, Oscar Brown Jr., Nat "King" Cole and a special tribute to the one and only Julie Wilson. The show will feature the Great American Songbook of Rodgers and Hart, Porter, Gershwin, Billy Strayhorn, Oscar Brown Jr., Hoagy Carmichael and more.
Here what the critics have to say:
"… the fervor of Petri's delivery, the color of Breuler's reading and the atmospheric jazz accompaniment of pianist Bobby Schiff and bassist Jim Cox conjure an era. "
Howard Reich, Chicago Tribune
"One of Chicago's greatest singers"  Rick Kogan
"There is nobody better…the finest voice going" Michael Roberts
"Suzanne Petri happens to be the exception that proves the rule, her work at once dramatically penetrating and musically evocative and formidable actor-narrator Robert Breuler."
Howard Reich, Chicago Tribune
About the Artists:
Suzanne Petri – From stage to TV, from nightclubs to concert halls such as New York's Jazz at Lincoln Center, Suzanne has established herself as one of the Windy City's premier entertainers. Suzanne has performed to SRO crowds at some of the Chicago area's top stages including Pritzker Pavilion Millennium Park, Park West, Drury Lane Water Tower, Davenport's, Maxim's, Katerina's and Toulouse on the Park. The nationally recognized cabaret diva, Suzanne has been featured at the Chicago Humanities Festival and the Mabel Mercer Foundation's Cabaret Conventions in New York City and Chicago. Suzanne has released her critically acclaimed debut studio CD Das Grand Tour and 2 live CD's, "A Marvelous Party!" and "Marlene Muzik Live At The Skokie Theatre." Her recordings are available online from CD Baby.com, Suzanne's website, as well as digitally at itunes.com and more.
Robert Breuler – One of Chicago's most respected actors joins Suzanne in one of their many collaborations, including their 30-year marriage and SuzBo Productions' "Duo: 1 is 1, 2 is Math" their original musical, recently presented at Steppenwolf Theatre. From his first role at Joe Papp's New York Public Theatre where he played Kress in David Rabe's The Basic Training of Pavlo Hummel to Mornings at Seven at Drury Lane Water Tower, he has played over one hundred roles, including Big Daddy in Cat on a Hot Tin Roof; Moe in Riverview and Dean Strauss in Spinning Into Butter, at the Goodman. Bob is a member of the Steppenwolf acting ensemble where he has performed in over 40 roles in 31 years. Jr. Films include The Crucible, Trial by Jury, The Company, Love and Action in Chicago, Miles from Home, A Piece of Eden, and Suspended Animation. He recently performed at Millennium Park where he was in Studs Terkel's Will the Circle be Unbroken? On Broadway he has been in The Grapes of Wrath, The Song of Jacob Zulu, Carousel and Death of a Salesman.
Bobby Schiff, Musical Director – On the Chicago and Los Angeles music scenes for over 35 years, Bobby Schiff has led orchestras and bands, performed on piano and keyboards, directed, composed and arranged for and with the best. Mel Torme, Peggy Lee and Bobby Rydell, are just a few of the premiere entertainers and musicians he's worked within the U.S. and internationally. On a daily basis, Bobby works primarily in Chicago as one of the nation's premier vocal arrangers and accompanists.
Jim Cox (Bass) has performed with numerous notable jazz artists, including Judy Roberts, Red Rodney, Randy Brecker, Louie Bellson, Rosemary Clooney, Eliane Elias and famed pianist Marian McPartland. Jim's extensive discography includes projects across a wide range of musical styles: jazz, bluegrass, klezmer, folk, and New Age. He teaches string bass at three Chicago area colleges as well.
Skokie Theatre is located at 7924 Lincoln Ave in Skokie. Call (847) 677-7761 for tickets, $25 skokietheatre,Petri website
Photos by Jennifer Girard