Las Vegas beckons with the sounds of slot machines hitting the jackpot, upscale dining, world-class entertainment, unique shopping and over-the-top nightlife that goes 24/7. Yes, Las Vegas is all of this and more. But there are many other ways to enjoy this desert hot spot, especially if you have kids in tow,  and they don't involve gambling.
ONE makes Michael Jackson come alive at Cirque du Soleil
Our "wow" moment began the moment we walked into the jaw-dropping, awesome theatre at Mandalay Bay Resort and Casino. It enveloped us in a visual feast of lights, even before the show began. We sat back in plush seats and once the show started, the music was emanating from the speakers…in our seats!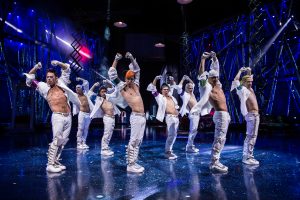 The show takes off with an electrifying fusion of acrobatics, dance, and visuals that reflects the inimitable showmanship of the King of Pop. Using the latest state-of-the-art technology, the audience becomes surrounded by the music and spirit of Michael Jackson. The pinnacle of entertainment, the show is a heartfelt tribute to his work as well as a look back at his amazing career and influence on pop culture.
ONE truly captured the legacy of Michael Jackson and it makes you wonder what kind of music Michael Jackson would have created today. Michael Jackson ONE performs Fridays to Tuesdays at 7:00 pm and 9:30 pm. Cirque du Soleil offers seven spectacular shows throughout Las Vegas. For information on their full line up, visit cirquedusoleil lasvegas website.
Mmmm good…Lip Smacking Foodie Tours
Prepare to try some delicious nibbles from some of the hottest new restaurants in town. Lip Smacking Foodie Tours provides an opportunity to try a variety of gourmet dishes and discover new restaurants we wanted to enjoy again.
"With our local expertise, we've cherry-picked the best restaurants and showcase 3-4 signature dishes at each one," said Don Contursi, president of LSFT. He continued, "Our VIP dining tour lets guests experience many of Vegas' best restaurants in one outing and try multiple signature dishes from each one. Guests enjoy VIP immediate seating with signature food and drink set down immediately, while chefs offer greetings and cocktails are prepared tableside," said Contursi. "We are rated the Number One Food Tour in Las Vegas."
In addition, the experience provides guests with a guided tour filled with the backstory on Las Vegas and sights along the way. Contursi recommends doing a tour at the start of your vacation for an overview of Las Vegas and return to some of your favorite restaurants featured on their tour. There are a range of tours to choose from including the Lip Smacking Boozy Brunch (weekends), Afternoon Culinary Adventures, Savors of the Strip and Savory Bites and Neon Lights, which even includes a Maverick Helicopter Flight over the bright lights of Las Vegas.
We joined the Downtown Lipsmacking Tour which showed us the urban oasis of Fremont Street. We learned about downtown's historic past as we dined at Carson Kitchen (loved the chicken skins,) Therapy (Red Velvet Waffle Sliders were divine) and 7th & Carson (couldn't get enough of the artisan bread with dips). We also walked through the unique Container Park, where shipping containers have been converted into swank boutiques, bustling restaurants and a playground. In between bites, we stopped at Inspire's rooftop lounge for a cocktail and the best views of Fremont Street. What a great way to taste your way through Vegas! For more information, go to vegasfoodietour.com or call 1-888-681-4388.
Beat the Heat at Wet 'n' Wild 
We spent the day at Wet 'n' Wild Las Vegas, Nevada's premier water park, located about 15 minutes from the Strip. More than 25 slides and attractions awaited our group and everyone had an amazing time. Daredevils will want to try thrill rides like the Tornado, a premier slide that catapults riders to a zero gravity experience or the Constrictor, an extreme water slide featuring some of the tightest turns.
Those wanting a more relaxed experience can head to Paradise Falls, the interactive children's area with kid-friendly slides, giant dumping bucket and the Red Rock Bay wave pool. I spent most of the afternoon in the lazy river and floated around the park in pure bliss. I also opted for a private cabana and enjoyed being taken care of by our cabana host who served us pizza and sandwiches. If you forget sunscreen, don't worry. There's a free sunscreen station to keep you protected. Spend the day here…and bring your flip flops! wetnwildlasvegas website
                                          Riders on the Royal Flush. Photo courtesy of Wet 'n' Wild Las Vegas
Enjoy a sweet treat at M&M World
Head on into one of the cutest places on the Strip and it's free. See the funny little flick and then shop to your heart's content with everything M&M.
Learning fun at DISCOVERY Children's Museum
Three-stories of interactive hands-on exhibits awaited us at the DISCOVERY Children's Museum. With a group of four kids of varying ages, everyone loved it and found something to do from Toddler World to music to technology to Young at Art. discoverykidslv website
For more information, go to visitlasvegas website.