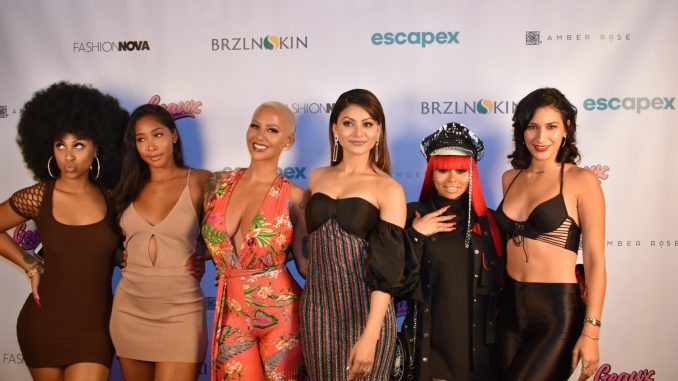 Last night influencers joined beauty mogul Amber Rose at the chic Peppermint Club in Beverly Hills for the launch of her app, Amber Rose Official. The app will help support fans in the launch of their very own business endeavors.
"I wanted it to be very personal so it's going to be full of content you can't find on any of my other platforms," she said in a news release. "I also know how amazing my fans are, so this gives me the opportunity to show them I see and hear them. I want to give back and build a tight-knit community in which they can all feel empowered to be themselves with the support of other members of the amazing Amber Rose community."
The app, made by Escapex, is using special technology to identify Rose's biggest fans, which will help determine who will receive her contributions. "Amber will be funding these projects on her own as she wants to support the individuals who have been supporting her along the way," the rep told Page Six.
Rose is a huge feminist and this isn't the first time the model has been outspoken about helping the community and feminism worldwide. She also rallies her massive social media following to help produce "The Amber Rose SlutWalk," which has drawn more than 10,000 people to stand beside her in support of gender equality. The nonprofit event plays a monumental role in the movement towards victim blaming, slut and body shaming and other social injustice issues as well.
Celeb friends such as: 
Blac Chyna, Apryl Jones, DC Young Fly, William The Baddest and Rich the Kid joined in on the celebration and of course to support her endeavors and mission. 
The entrepreneur herself, Rose, will have complete creative control of the app, ensuring her Rosebuds have exclusive Muva content that no one else can see. The app also allows her to spread a message of female empowerment and motivation – causes which are very dear to her. 
Download the Amber Rose official at now the
Apple Store
and
Google Play