Wednesday night, August 29th, was a night of wonderful contrasts in Chicago's Millennium Park.  The Chicago Jazz Philharmonic (CJP) gave their final concert as part of their Millennium Park Summer Series – however the performance  was also the opening concert for the 40th Annual Chicago Jazz Festival.  The Jazz Fest is expanded this year with shows in Millennium Park, the Chicago Cultural Center, and various venues all across Chicago.  Check out the Department of Cultural Affairs and Special Events website for all the details.
The other blissful contrast on Wednesday night had to do with the theme for the CJP's concert, which was entitled Legends and Lions.  Not only was the 60+ member CJP on stage, but just about every song featured a Chicago's jazz legend performing alongside an up-and-coming musician – or "lion". There were so many guests joining the CJP on stage that their leader, Orbert Davis, joked that he felt like Ed Sullivan introducing a variety show.
There was also one extra bit of significance to this performance as the The Chicago Jazz Philharmonic was created when Orbert Davis was asked to headline the Chicago Jazz Festival back in 2004. Davis hold the honor as the first Chicago resident to headline the Chicago Jazz Festival in its history.  For the 2004 performance, Davis decided to step it up and brought a 55-piece jazz orchestra on stage with him that night.  That orchestra went on to become the Chicago Jazz Philharmonic!
The highlights of Legends and Lions were:
Three Men and their Saxophones
Young Lion Kevin King, who learned to play the saxophone in CJP's Jazz Academy, was joined on stage by Pat Pallinger and Chicago jazz legend Ari Brown.  The three of them performed Cottontail by Duke Ellington.  The way the three musicians traded lines and played together made it seem that they have been playing together for years; despite the fact that Brown started his career decades before King was even born.  It was true expertise on display.
Vibe-brations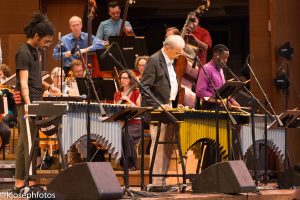 The ultimate vibraphone showdown pitied lions Thaddeus Tukes and Joel Ross with legend Stu Katz.  To be clear, for this performance they wheeled three vibraphones on stage for these guys to jam on.  If you have never heard a vibraphone showdown, put it on your bucket list.  At times the sounds were so ethereal that they made you feel as if you were in space; while at other times you were smiling so big because the swing of the music was so infectious.
All Out Trumpet Jam
Orbert Davis, himself a trumpet legend, invited his two mentors on stage:   Bobby Lewis and Art Hoyle.  Orbert spoke about growing up listening to these two legends and being lucky enough to play with them later in life.  Both Lewis and Hoyle delivered masterful solos, but then all three legends were joined by the CJP's trumpet section for a six man trumpet jam.  The all took turns improvising like the true jazz masters they are and when they all came together it was magical.
Divas!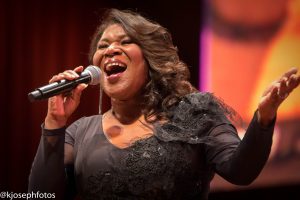 Divas?  Did someone say Divas?  No great night of jazz is complete without some powerful female vocals.  And the Chicago Jazz Orchestra provided both a legend and a lion.  First up was lion Sarah Marie Young who Davis discovered via Facebook, of all places.  It took awhile, but Young finally returned Davis's message (she says she didn't have her messenger turned on).  Lucky for us because her version of Come Fly With Me was mesmerizing.  After that, Tammy McCann came on stage and showed why she is a legend.  She ended the night with an authoritative version of Like Someone in Love that brought the house down.
Seeing the legends and lions on stage gave the audience a sense of hope for the future.  If the legends can successfully pass down their knowledge to the lions, then by the time the lions become legends they can find a new crop of lions to pass their knowledge to.  The future is bright!
Photos by K. Joseph Fotos