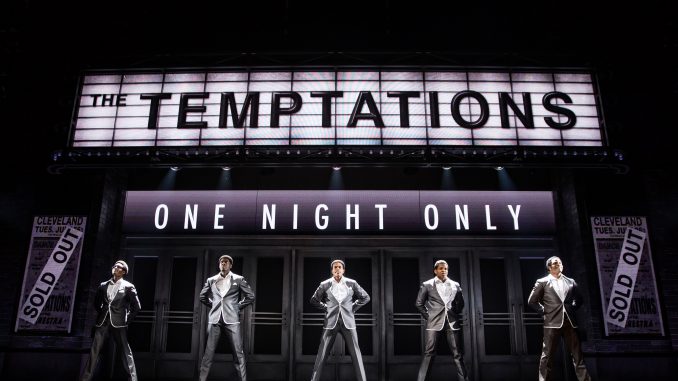 Center Stage With….
Lady Beverly Cohn
Editor-at-Large
There are opening nights, and then there are Opening Nights! There are musical reviews, and then there are Musical Reviews!  There are outstanding talented ensembles, and then there are Outstanding Talented Ensembles!  There are enthusiastic audiences, and then there are Enthusiastic Audiences!  There are long, standing ovations, and then there are Long, Standing Ovations!  My point?  The opening night performance of "Ain't Too Proud – The Life and Times of The Temptations," transcended the ordinary theatrical opening and morphed into a "happening" – very seldom experienced in the theatrical world.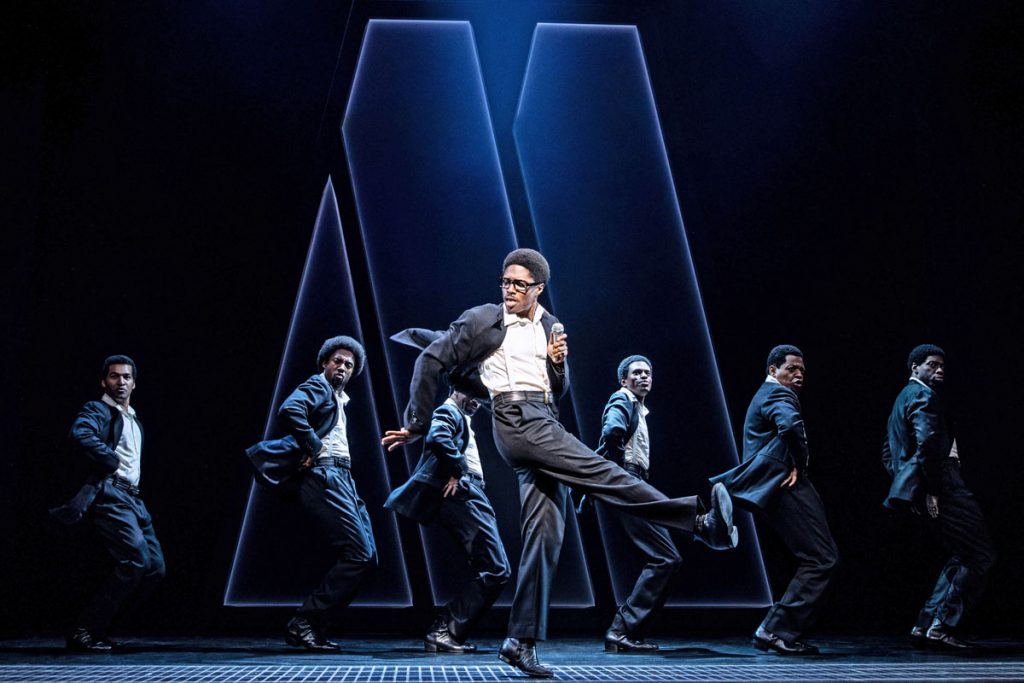 With book by Dominique Morisseau based on "The Temptations by Otis Williams with Patricia Romanowski and music and lyrics from The Legendary Motown Catalog, under the magical, dazzling direction of Des McAnuff, with astounding, razor sharp choreography by Sergio Trujillo, what unfolded on Ahmanson Theatre stage was nothing short of a theatrical miracle into the life and times of The Temptations.  Told through the prism of Otis Williams, founding member of this iconic group, Derrick Baskin as Williams gives a brilliant performance as both the narrator of the group's odyssey, as well as his participation in the explosive song and dance routines. What is particularly outstanding is that this is truly an incredibly talented ensemble with each and every performer on that stage delivering knockout song and dance numbers.
The story begins in Detroit where Otis is living in a city housing project.   As was common back then, he and his talented friends, Paul Williams (James Harkness,) Melvin Franklin (Jawan M. Jackson,) Eddie Kendricks (Jeremy Pope,) and David Ruffin (Ephraim Sykes,) use to hang out either in front of the their building or on the street and harmonize which would become their unique signature sound later in their careers.  I'm sure in their wildest imaginations they couldn't conceive of what lay ahead for them; that with their unique song and almost militaristic dance moves, they would become the greatest R&B group of all time.  Their career would span 55 years, creating 42 Top Ten Hits, 14 #1 songs, three Grammys, induction into the Rock & Roll Hall of Fame and over the years, 24 different group members.
One of the first groups to inspire Otis was The Cadillacs who he saw on stage at Detroit's Fox Theatre.  The different locations in which the story takes place are illuminated both by Robert Brill's amazing rotating scenic design and Peter Nigrini's creative projection design, which is used throughout the play depicting the different settings.
After a brief incarceration, Otis vows never go to jail again and pursues his music in earnest.  He suggests the name of the group be The Otis Williams Band but the other singers didn't respond positively and they came up with the name of The Elgins. After bouncing around for a while, they meet Berry Gordy, played by Jahi Kearse, who captures the iron fist in a velvet glove demeanor.  Gordy has just formed a new label called Motown, and signs The Elgins, assigning Smokey Robinson (Christian Thompson) for "quality control" and to write songs for this new group renamed "The Temptations."   In one of the many amusing scenes, Otis is on a street running after Melvin to talk to him.  He needs a deep bass, but Melvin keeps eluding him until he finally gets tired and stops.  Otis asks him, "Why were you running away from me?" Melvin replies, "I thought you were going to rob me."
The Temptations begins to get second billing under such groups as "The Contours" and "The Velvettes."  Their rise to fame was not meteoric, as their first 24 singles did not hit the charts until "My Girl," which went to #1.  Otis asks Gordy if he could write some songs, but he says no as he just wants him to concentrate on singing and dancing.  Time passes and The Temptations still have second billing, this time after The Supremes.  A little romance sweetens the story as Melvin develops a crush on Mary Wilson and Otis falls in love with Josephine, wonderfully acted and sung by Rashidra Scott.  Eventually they marry and have a son named Lamont, played by Shawn Bowers.  Cracks begin to develop in the marriage because her husband is away for weeks and sometimes months and she wants him off the road.
Gordy decides the group needs a manager and he introduces the guys to Shelly Berger, well played by Joshua Morgan.  A particularly funny moment is when the guys do a double take, as Berger is Caucasian.  With his guidance, the group is now appearing on such programs as American Bandstand, singing some of their hits including, "My Girl," "Just My Imagination (Running Away With Me,)" "I Can't Get Next to You," "Papa Was a Rollin' Stone" and the song which is the show's title, "Ain't Too Proud to Beg."
The backdrop during this time period is civil unrest in the country, including riots in Detroit, and despite their fame, their bus is fired upon with nasty racial epitaphs shouted at them by white nationalists.  There are also drug problems that develop within the group.  David Ruffin falls victim to drug use causing him to become vocally challenged and bitter.  The group also looses Eddie to lung cancer.
On a lighter note, during a recording session, one of the Temps doesn't want to sing "Papa Was a Rollin' Stone.  He thinks the song is stupid and doesn't like the opening line which refers to the Third of September, his daddy's birthday.  So during the session, he deliberately spits out the first two lines, which is quite funny.
Under McAnuff's crisp, dazzling direction, the show is perfectly paced and we are treated to hearing some of The Temptations iconic hits such as, "For Once in My Life," "I Can't Get Next to You," "(I Know) I'm Losing You," "I Wish It Would Rain," "If You Don't Know Me By Now," "In the Still of the Night," "Just My Imagination (Running Away with Me," "My Girl,"  "The Way You Do the Things You Do." At the end of each number, the audience response was deafening.  As for me?  I smiled throughout the evening.
Along with the rest of the production team, which consists of Howell Binkley's Lighting Design, Paul Tazewell's authentic period Costume Design, and Steve Canyon Kennedy's Sound Design, other members of this talented musical cast include, Esther Antoine, Shawn Bowers, E. Clayton Cornelious, Rodney Earl Jackson Jr., Taylor Symone Jackson, Jahi Kearse, Jarvis B. Manning Jr., Joshua Morgan, Saint Aubyn, Nasia Thomas, Christian Thompson, Curtis Wiley and Candice Marie Woods.
When the last note played, 2,000 people leapt to their feet, whistling, hollering, and applauding for a very long time.  The outpouring of love emanating from the audience visibly moved some of the cast members.  Adding to the festive ending, Derrick Baskin stepped forward to announce that some special people were in the audience.  One by one he introduced none other than Berry Gordy, followed by Mary Wilson, one of the original members of The Supremes, Shelly Berger, and the crowning touch, the originator of The Temptations, Otis Williams.  This, indeed, was a night to remember.  If you don't see another play this season, you owe it to yourself to not miss this astounding theatrical "happening."
"Ain't Too Proud—The Life and Times of The Temptations"
Book by Dominique Morisseau
Based on the book: The Temptations by Otis Williams
Music & Lyrics from The Legendary Motown Catalog
Choreographed by Sergio Trujillo
Directed by Des McAnuff
Ahmanson Theatre
135 N. Grand Avenue
Los Angeles, CA 90012
Run: Tuesday – Friday:  8:00 pm
Saturday:    2:00 pm & 8:00 pm
Sunday:       1:00 pm & 6:30 pm
Tickets: $30 – $160
Closing: Sunday, September 30, 2018
Running Time:  2 hours & 30 minutes
Reservations:  (213) 972-4400 or
Groups: (213) 972-7231.
Deaf community: CenterTheatreGroup.org/ACCESS