If you are traveling to San Francisco, California, it can sometimes be overwhelming when trying to fit in as much as you can during your trip. What if you cannot decide on a day sampling wine in Napa Valley, or putting time aside for a hiking adventure in California's beautiful state parks like Yosemite? Just kill two birds with one stone, and choose a day group tour while saving big time by booking through Viator.com.
Viator is the leader in online tours and activities, and the world's leading resource for researching, finding and booking tours and travel experiences worldwide. The company has been online since 1999, and has sold more than 3 million tours and travel experiences. Viator offers top-rated adventure activities, city tours, day trips, shore excursions, family-friendly activities, theme park and show tickets, and city passes in more then 450 destinations worldwide. Viator also stands out due to its cancellation policy. If something comes up and you need to change a date, add an extra person, or make a change to your itinerary, Viator's customer care team is available 24 hours a day, 7 days a week to assist you.
Viator, Inc. sells tours and activities through the award-winning Viator.com website, ten local-language sites serving North and South American, European and Japanese markets, five fully optimized mobile sites and more than 3,000 affiliate sites that include major hotel chains and airlines, online travel agencies, city-specific sites and more. Viator even offers a lowest price guarantee, free cancellation up to 24 hours in advance, no fee to change your dates, unbiased reviews/ratings, as well as hand-picked tours & experiences. The company highly understands the need for a trusted resource you can rely on to help you find, research and book the world's best travel experiences. For over 15 years, Viator has curated the largest and most diverse selection of worldwide tours and activities, from traditional sightseeing tours to unique once-in-a-lifetime experiences, all provided by local tour operators pre-screened for quality, value and service.
When I traveled to San Francisco this past August, I only had five precious days to fit in everything I wanted see and experience. It had been twenty years since I had set foot in the city, and I was excited to make the most of my stay! I was determined to enjoy some kind of hiking/nature adventure, as well as experience Wine Country in Napa and Sonoma Valley for my very first time. This was how I found Viator.com. The company and website were effortless to navigate and it was easy to decide on the best group tour that took me where I wanted to go. When I loaded the website, I found a wide variety of various tours, tickets, activities, and things to do while traveling. Each tour listed has a title, description of what to expect, pricing, timed duration of the tour, and customer reviews.
I finally found the perfect tour – the San Francisco Super Saver Muir Woods And Wine Country Tour, which offered an eleven hour bus tour, which took my group and me to experience a one hour self–exploration of beautiful Muir Woods State Park, all included tours and wine tastings to three different Napa and Sonoma Valley wineries, and an optional gourmet lunch when stopping in Sonoma Plaza. The entire tour package, offered by Extranomical Tours Company, only cost $126 dollars, which I thought was a fantastic deal!
I was picked up at the hotel where I was staying by a ViatorTours bus and a smiling and bubbly tour guide, Samantha. The bus was extremely comfortable and my group and I had an amazing view when looking out our windows as we first drove to Muir Woods. Samantha provided us all with bottles of water and snacks while we listened to her knowledgeable commentary as she drove us through Marin County, on our way to Muir woods. I also really liked how diverse my tour group was! It was a melting pot of people from the US, Canada, Australia, Japan, Denmark, Spain, and Sweden.
The first bus stop was an hour long walk through Muir Woods National Monument Park, where California 's famous giant redwood trees tower over you. I would look up at them and feel very small, while also in awe of their majestic height and beauty. Many of the trees there are over 600 years old and have survived fires, floods, and avoided intense logging that took so many other redwoods. Muir Woods was tranquil and serene, with beautiful scenery everywhere I looked. I immediately remembered walking on the paths through this area 20 years ago, but I had forgotten how amazing it is to actually be there, and take everything in with all your senses.
After we finished up at Muir Woods, we all climbed back onto the bus and Samantha started driving us towards Sonoma Valley. Our first stop was the Mayo Family Winery (website), a small family owned winery located in the heart of beautiful Sonoma Valley. Since the 1990s, Mayo has specialized in producing small batches  of artisan wines, while also making over 20 different types of wine each year. They specialize in sparkling wines, chardonnay, dessert wines, and more unique types such as Grenache and Gewurtztraminer.
While the tour at Mayo Winery was only 45 minutes, we experienced a lovely tour and sampled three different kinds of wine: 2016 Chardonnay "Estate," 2015 Gewurtztraminer, and 2013 Zinfandel, The Barnstormer. The second was my favorite –semisweet with a lovely acidity in the tongue. Along with the wine samples, our tour group was given a form with all the wines we tasted, their prices, and special offers for Extranomical Tour groups, along with the option to have your purchases shipped home.
Mayo Winery also had a beautiful, private outdoor patio with shady trees and picnic benches all fenced around us. We ran out of time to sit down outside and enjoy the scenery, when Samantha whisked us all away on the bus to Sonoma Plaza, where we had an hour and a half to stroll around the historical town, shop, and eat lunch at the plaza's amazing cafes and eateries. People who had paid extra for the gourmet lunch went one way, while the rest of the group were all off in different directions.
I walked by the beautiful outdoor park and visited the plaza's historical site, which included a Mexican military outpost, which was originally a Spanish mission village. Sonoma Plaza is named the happiest place in California, and the number one attraction to visit while in Sonoma Valley. I could definitely see why. The plaza offers a picture-perfect start (and end) to your adventures in Sonoma Valley. It is a pedestrian paradise and offers restaurants, hotels, tasting rooms, cafes, artisan boutiques, galleries—even a vintage movie house. Then there is the tranquil Plaza itself, whose vast green stretches of lawn and trees to create the perfect place for picnics, cultural activities and weekly farmers markets.
I ate lunch at the cozy and relaxing Sunflower Café, which offers several vegan and vegetarian options on its menu. I consumed a heavenly potato and sweet corn omelet with a green tomatillo sauce, while seated outside the café in a serene and sunny back courtyard complete with flowers and a fountain.
After Sonoma Plaza, our tour bus stopped for our second Sonoma Valley winery tour at Cline Family Cellars (website), another family owned and operated winery, since 1982. They specialize in Zinfandel and French Rhone-style wines. The surrounding grounds of the vineyard are breathtaking with amazing views of roses growing everywhere, an outdoor courtyard with tables and yellow umbrellas to sit underneath, next to a huge fountain. I also noticed turtles swimming in the water!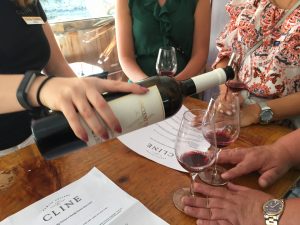 My group sampled roses, whites, and red wines. My absolute favorite was the 2016 Cashmere Black Magic, which boasted everything I cherish in a nice red wine: dryness, berries, and chocolate with a berry finish. It was a blend of five different wines.
Our last tour stop was in Napa Valley at Kieu Hoang Winery (website), which used to be owned by the distinguished Mondavi Family of Napa Valley. Mr. Keiu Hoang has 38 years of experience in sophisticated wine fermentation, PH adjustments, and cold stabilization, and offers an exclusive line of red and white wines.
The winery itself was located next to a gorgeous vineyard with rows of grape bushes. Visitorswere able to sip wine samples while strolling through the grape vines, which was a very pleasant experience while outside in the warm sun. It was a great experience getting up close and personal with behind the scenes, by having a winery employee give us a tour among the vines, while also pouring us more wine samples.
The inside of the winery was just as lovely, which boasted a modern décor with art and photography covering the walls. Outside, there was a wraparound porch where visitors were sitting back and leisurely enjoying glasses of wine and small bites. I was a bit jealous of this group, as my own tour group was running out of time on our tour.
We finally boarded the tour bus again and Samantha drove us all back to our hotel drop off locations. It had been a long day hiking in Muir Woods and visiting several wineries and drinking wine. I was very tired but was very content and satisfied, as I had experienced so any wonderful things in California in just one tour. If you have a day or two for some incredible experiences in San Francisco for a great price, then I highly recommend booking an Extranomical tour on Viator.com!

Photos: Jennifer Lunz
For more information on booking an Extranomical Tour, you can call or visit the Viator website.    
For information on Muir Woods, visit this website.
For information on the mentioned wineries, see the above links.