Once known as the "Comeback City," Detroit wants you to know…those days are long gone! Located on the Detroit River within clear view of the Ambassador Bridge that crosses over to Windsor, Ontario, Detroit offers two new transit systems — the Qline and People Mover — that make it even easier to get around. Based on its roots as an industrialist city, Detroit has risen to a higher level with a whole new energy, new districts and a new campaign that welcomes you with, "Detroit: It's Go Time." Come explore what's new in the Motor City and why you should visit now.
Check in to former Firehouse, The Foundation
Built in 1929, the Detroit Foundation Hotel was once the fire department headquarters. Now repurposed with an industrial, luxury design, this 100-room hotel offers spaces designed for socializing, eating, drinking and just chilling. Well-appointed rooms feature modern luxury with iconic design and plush furnishings. No wheels? An all-new Lincoln Continental provides complimentary car service within a 3-mile radius.
For chic dining, try the Apparatus Room. The restaurant blends iconic New American cuisine with Midwestern ingredients, enhanced with unique cocktails. The tasting menu is curated daily by Chef Thomas Lents and is served family style, including 8-10 dishes.
Visit the beach – No water required
Smack dab in the middle of Detroit's Campus Martius Park is an urban beach, filled with sand, lounge chairs and beach balls. Make a delicious choice from the nearby food trucks and you've got a great lunch break. (Detroit boasts several other urban beaches, including Atwater Beach with floating barge to open in 2019.)
For more sophisticated dining, the award-winning Parc was recently named the coveted, "Hour of Detroit 2018 Restaurant of the Year." Here you'll enjoy local and Midwest flavors combined with Detroit's French and Mediterranean influences from the past. Enjoy salads, sandwiches, pasta and more as Parc demonstrates an innovative approach to metro dining. I recommend the Roast Chicken Pesto Panini or the Parc Grain Bowl.
Do the "D" with City Tour Detroit
To get an overview of Detroit, let City Tour Detroit take you around. Led by knowledgeable owner Karin Risko, you'll see Detroit attractions, art, architecture, legendary landmarks and more. Walking, bus and dine around tasting tours. 734-642-5712
The Detroit Institute of Arts
No visit to Detroit is complete without a visit to the DIA, ranking among the top 10 museums in the country. The museum features over 100 galleries representing art from ancient to modern times. But the piece de resistance are the larger-than-life Detroit Industry Murals by Diego Rivera that detail labor and management at the Ford Motor Company. You can spend hours looking at all of the images, symbolic of the company's history.
Where to Eat
The Grille Room inside the Detroit Club
This Detroit tradition has been totally renovated and is now open to the public for lunch and dinner. Established in 1882, the member-only Detroit Club is one of the oldest private clubs in the U.S. Enjoy a chophouse-style menu with steaks, chops, and seafood.
Dine at Lumen
Lumen means light and this new restaurant certainly shines a bright new light on Detroit dining. Located next to Beacon Park, this LEED-certified building features both indoor and outdoor dining, serving contemporary American cuisine. Farmer's Market Bowl was an ideal starter. Loved the Gardens & Grains as well as the healthful menu. Cream puff with Sander's Hot Fudge was to die for!
What to See
Meadow Brook Hall, Rochester 
Take a guided tour through this National Historic Landmark, the home of automotive aristocracy's most remarkable woman. Matilda Dodge Wilson was the widow of automobile pioneer John Dodge. She and her second husband, Alfred Wilson, built this house in the 1920s for $4 million, one of the finest examples of Tudor-revival architecture in the U.S. Walk through the expansive grounds and lovely gardens. Today, Meadow Brook is part of Oakland University.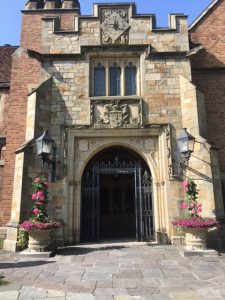 In the suburbs….
Check in the Townsend Hotel
You'll know you've reached the epitome of luxury when you walk into the Townsend Hotel in nearby Birmingham. This four-star hotel provides luxury accommodations, world-class service and upscale dining in the Zagat-rated Rugby Grille. Join them for Afternoon Tea and relax with their delicious scones and fine selection of fruit teas. TRAVEL + LEISURE Magazine named The Townsend Hotel among the "World's Best Hotels". I couldn't agree more.
Dine at Merrill 220
Housed in the "Old Detroit Edison" building, Merrill 220 has been Birmingham's gathering place for over 15 years. With new owners since 2014, the menu features contemporary American cuisine with a twist of innovation. Try the prime aged short rib that practically falls off the bone with truffle fries.
For a weekend getaway or an exciting vacation destination, it's go time in Detroit! Download a Visitor's Guide.