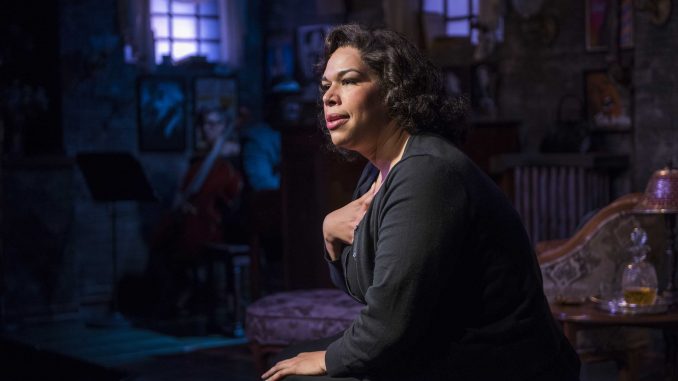 Songs for Nobodies presents a veritable feast for the right performer: it is part tribute to great women singers of the mid-20th century; part one-woman show about how those singers directly or indirectly impacted the lives of ordinary women; and part think piece about what an "ordinary woman" is when all ten of the women at the heart of the story are all striving and loving and struggling and triumphing. But the nearly two-hour show is also a monumental ask–not only does a single performer have to cover multiple genres of music, she is asked to embody the famous singers, perform their music and convincingly portray five very different women of various nationalities and socioeconomic backgrounds. Therefore, the "right" performer has to be one in a million.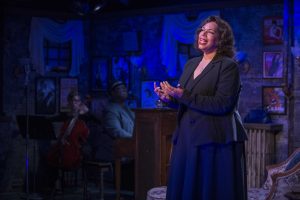 When the Milwaukee Rep calls her "the incomparable Bethany Thomas," that is no hyperbole.
The magic of her performance is not in her musical performances, though they are, each and every one, divine. The real beauty is in how she invites the audience in to each monologue of the "nobodies," her tone conversational each time, though the personalities she embodies are very different. As the first character, Bea Appleton, speaks about the dissolution of her unhappy marriage, Thomas' fights tears, a moment of silence where her face is so open and wounded, it nearly compels the audience to extend a hand across the stage to comfort her. When her final character, an Irish nanny named Orla, arrives, seated on the fainting couch with a knowing smolder and a self-possessed stare worthy of Sargent's Lady Agnew of Lochnaw, the audience peals with laughter, as though already well aware of their friend and her brushes with the ill-behaved rich and famous.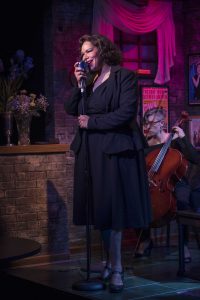 Without Thomas' ability to create well-defined, real women, the direct or indirect interactions with the iconic women performers–Judy Garland, Patsy Cline, Edith Piaf, Billie Holiday, and Maria Callas–would have no emotional heft. Without Thomas' ability to compel, the time would pass interminably, as many one-performer shows have in less capable hands. In particular, her portrait of self-aware, self-deprecating, achingly lonely English librarian Edie Delamore is marvelous. I almost wanted a separate show dedicated to her stories about grocery store visits, her childhood, and her nagging doubts about life and happiness.
And oh, the music… Accompanied on piano by music director Abdul Hamid and Alicia Storin on cello, who seem to perform an unbelievable music sleight-of-hand, sounding at times as though they are a full band, Thomas moves seamlessly between honky-tonk, jazz, opera, and more. Her rendering of Billie Holiday's "Strange Fruit" was quite literally stunning, moving the opening night audience to a solemn silence. I admitted, on the car ride back to Chicago from Milwaukee, that the moment I'd be talking about for days was during the final number as Callas, performing "Vissi d'arte" from Puccini's Tosca. As Thomas reached the final repetition of "Why, why, O Lord," her voice soared so poignantly, words tragic and tone divine, it pushed me back in my chair as though a strong gust of wind had blown through the newly renovated, cozy but elegant space.
While the Chicagoland area has its own wide, wonderful variety of shows this fall, I can't recommend this experience enough. It's singular and extraordinary… and if the promise of a compelling, expertly performed night of music and theater isn't enough to coax you for a drive up 94, the Stackner Cabaret features a robust menu, including the intriguing-sounding Brandy Old Fashioned ice cream from nearby Purple Door Ice Cream.
Songs  for Nobodies runs  September  7 – November  4 in the newly  renovated Stackner  Cabaret. To purchase tickets,  go to www.MilwaukeeRep.com or  call 414-224-9490.