One of the most exciting times every year for TV fans and celebs alike is Emmy Award Season. There's anticipation in the air as everyone wonders which of their favorite stars will go home with the coveted trophies. Another reason it's fun for the stars, whether they're nominated or not, is that they go to glorious gifting suites that take place the week before the Emmys, where they get showered with the newest, most awesome products, clothes and accessories.  What could be more fun than going to a fabulous restaurant and getting fabulous gifts to take home!
If there was an award for "Best Gifting Suite" – it would surely go to Doris Bergman's Ninth Annual Style Lounge and Party. Her elegant and congenial affair was held Thursday, Sept 13, 2018 at the newly renovated Fig & Olive restaurant on Melrose Place. This Hollywood favorite offered a scrumptious lunch and divine libations for the VIP and celebrity guests, as they joined in the celebration of the season, getting ready for the 70thAnnual Primetime Emmy Awards.
Hosted by Green HoriZen and presented by Precious Vodka, the gifting suite was a chance for everyone to visit various sponsors and check out some of their coolest items.
What woman in Hollywood – or anywhere – doesn't like jewelry?  Well, this was the place for it, with several delightfully different and unique brands. Guests tried on a myriad of wonderful chains, bracelets and necklaces at Twisted Silver, designed by the talented and beautiful owner, Debra Mitchell.  She uses recycled chains, reclaimed materials, and up-cycled treasures that are truly distinctive and special.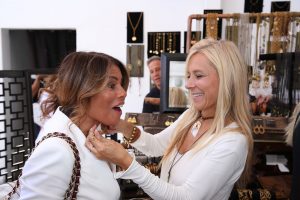 Diamond Veneer offered bling that looked like real diamonds. This jewelry line is "sparkle-licious" whether you're someone on a budget or a millionaire who wants to travel without needing a security guard! They presented all kinds of dazzling rings, pendants and bracelets that any woman would be thrilled to wear.
My Saint My Hero is a more casual brand that offers handmade wearable blessings – with the mission of "bringing faith, hope and purpose into everyday life."
Unlike everyday life, award shows are extra special occasions when part of the fun is watching to see what glamorous gowns the actresses will be wearing.  Designer Sue Wong has dressed throngs of Hollywood actresses and celebrities for gala events throughout the years, including Taylor Swift, Jessica Biel, Minnie Driver, Jane Seymour and Anne Hathaway. Sue was glowing all day as she showed some of her magnificent couture fashions as well as her line of Sue Wong fragrances.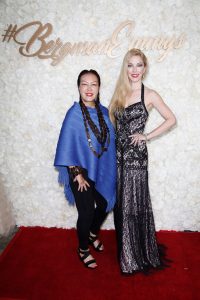 PortoVino had purses and totes that were not only stylish, but oh-so-useful, especially if you like wine. These fashionable bags are made to hold the liquid from two bottles of vino – or you can fill them with other beverages of your choice. These are great for travel, picnics, or partying with your favorite friends, who will think you're not only chic as hell – you also "give great pour!"
If you want to know what wine to fill your tote with – you need to check out Buywine.com.  A returning sponsor for the suite, Buywine.com is an online resource designed to bring the consumer to the wine industry while showcasing wineries around the world. They offered samples of several delectable wines, from Cabernet to Pinot Noir to Pinot Grigio and more.  If you've got a thirst for knowledge about wine, you should visit Buywine.com soon and often!
Adding to the festive scene was a booth where guests could decorate cupcakes themselves. Let's Cake is a deliciously fun way to make your next event or party super memorable. They specialize in setting up "Do It Yourself" Cake or Cupcake Decorating Stations. It provides an activity as well providing a way to send your guests home with a sweet treat to savor after the party is over.
Speaking of sweet treats, Lollies and Lace Boutique offered adorable apparel and accessories for little girls in sizes that range from 6 months to 8 years. The owner Nicole is a mom who raised four boys and then, when she had a daughter, started designing clothes for her. After getting compliments from friends and strangers, too, Nicole decided to start her own brand. Seeing the cute designs at the event, I could understand why everyone wanted to order the sassy dresses, shorties, bloomers, tees and accessories for their own sweet little bundles of joy.
With all the gifts and goodies, there were smiles galore. And in Hollywood, who doesn't want the whitest smile all the time?!  Mobile White is an advanced teeth whitening system to get a brighter and whiter smile.  It was developed by Dr. Bill Dorfman, the leading dental expert in tooth whitening who has won all kinds of awards for his breakthroughs and innovations through the years.
Other sponsors included Goldinger's Print Tees, with great designs on terrific shirts; KamShield, that made personalized covers for the guests to shield them from prying eyes on the "other side" of their computers' cameras; and Beauty Kitchen that featured Heather Mariana's organic beauty products.
We also visited with Sunder Sparkling Beverages; Hint Water; MindInSole insole foot massage; Nourish Modern Wellness Skin Care; and Chef John of Emporium Thai who offered tasty samples of Thai food from his Westwood eatery.
Of course, what makes a party great is the people who attend. Our celebrity sightings included 2018 Emmy Nominees Kelly Jenrette ("The Handmaid's Tale"), Lee Garlington ("Broken"), Miles Tagtmeyer ("Broken"), Melvin Jackson, Jr. ("This Eddie Murphy Role is Mine, Not Yours"), Naomi Grossman ("Control Alt Delete"), Sam Sokolov (Executive Producer "Genius:  Picasso"), former Emmy Winners Kim Estes (Best Actor "Dicks" 2017) and Patrika Darbo (Best Actress "Acting Dead" 2016).
Other guests cruising the aisles were former Emmy Nominees Kelsey Scott and Khandi Alexander, Grammy Winning Bonnie & Anita Pointer ("Pointer Sisters"), Lou Ferrigno ("The Hulk"), Michael Irby ("Mayans M.C."), Michael Campion ("Fuller House"), Gleb Savchenko ("Dancing With The Stars"), Diego Tinoco ("On My Block"), Joely Fisher, Khandi Alexander, John Brotherton ("Fuller House"), Matt Cedeno ("Power"), Lisa Vidal ("Being Mary Jane"), and Michele Weaver ("Love Is"), just to name a few.
In the spirit of giving back, guests and sponsors made monetary donations and/or donated unwrapped gifts for young adults (ages 13-18) for a Pre-Holiday Gift Drive benefiting 'Wednesday's Child' – a weekly segment airing on KTTV FOX 11 News, Los Angeles, with Anchor Christine Devine.  'Wednesday's Child' highlights 'harder to place' young adults in the LA County foster care system who are in need of adoptive families. The caring and gracious hostess Doris Bergman always invites at least two foster children to join in on the festivities and experience what it feels like to be treated as a VIP.
Finally, no Hollywood party would be complete without Swag Bags! Upon returning to their homes, guests could delve inside and discover additional gifts and goodies: Emmy's Hope Dog Accessories; Rhonda Shear Aah Bras; Rock Your Hair; Zangu Language App; Bitmar Streaming Subscriptions; Filam Luxury Coffee; Junkless Granola Bars; "Shark Tank" Winning BeatBox Portable Party Punch; Planet Beauty; Popsockets phone accessories; The Hollywood Trinity; and Popcornopolis. The VIP Gift Bags were provided by Emmy's Hope & KamShield.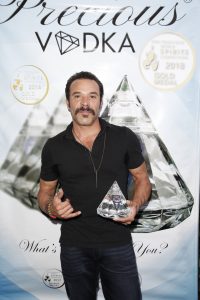 Thanks to Doris Bergman and all the wonderful and generous sponsors for creating a joyful and exceptional event for #Emmys2018.
Photos courtesy of Doris Bergman Public Relations.