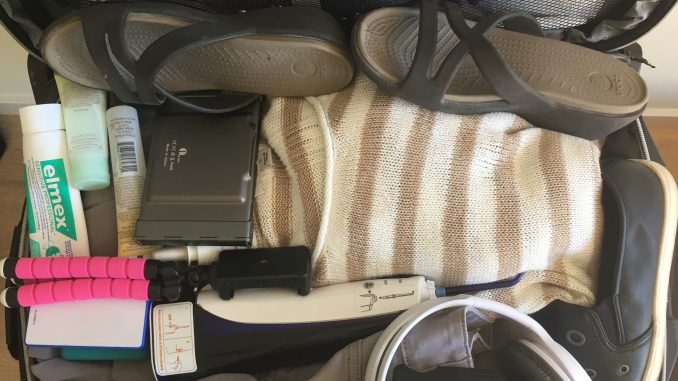 Stop! Do not buy travel items to pack for your trip to Europe. Okay, maybe the pillow you'll use on the plane or one adapter for the moment you arrive. But don't buy those cargo pants or extra batteries or a paperback guidebook here if you won't need your first day there. Why? Because you can order it through Amazon Prime and have it delivered to a local store that doubles as an Amazon pickup depot. Find one near the place you'll be staying and then order a week ahead of departure on the Amazon website for the country of your destination. You'll lighten your luggage during the always tiring process of getting there and find it waiting for you on arrival instead.
It may take a bit of fiddling with your Amazon preferences, but a few minutes of typing can save your tired back and possibly overweight fees as well. First, when you log in to Prime, you will see a delivery location in the upper left hand corner of the toolbar. Click it and you can select "Delivery outside the US" and that gives you a menu to check the country. Once you get to checkout, you can look for a delivery location near the address of the place you'll be staying. 

I travel a lot, but I didn't figure this out until I went to France for a month this spring. I lugged my Waterpik and charger, a new pair of walking shoes, a new bathing suit and pool wrap, extra batteries, and bpa free water bottle. I also bought the more expensive travel size contact lens fluid, toothpaste, mouthwash, shampoo, soap, sunscreen, eating utensils, and insect repellent. After I arrived, I found I'd forgotten my camera charger, so I looked online for a store. When French Amazon came up, I saw I was automatically logged in to my Prime account. I was staying in an AirBnB and there was no place secure to have packages delivered there. That's when I saw the option for delivery to a store nearby. It was a revelation. I didn't need to find a discount camera or electronics store and bother with comparative shopping in unfamiliar territory. I could go online and let Amazon handle the hassle for me. 

A week later I received notification that my delivery had arrived. I walked ten minutes and got my package. (And yes, I had ordered a few more things. Shopping online is always tempting, but then again, the place I was staying had no sharp knives at all, and no coffee maker. I spent about $15 extra and had three weeks of home-brewed caffeine when I wanted it and I could cook much more easily. ) 
So when you plan your trip, and when you have to decide what to buy and what to pack, remember: delivery at your destination is an option. Amazon isn't the only internet company with delivery options outside the US, but if you already have a Prime account in the US, you can get it shipped to you there for free and to a delivery depot a few minute's walk from wherever you'll be staying. 
(Note: Amazon did not ask me to write this and I am not writing this in affiliation with Amazon in any way. I discovered this and so am promoting it because it made me so happy at the time. )
all photos by Susan diRende
more on Instagram @susandirende