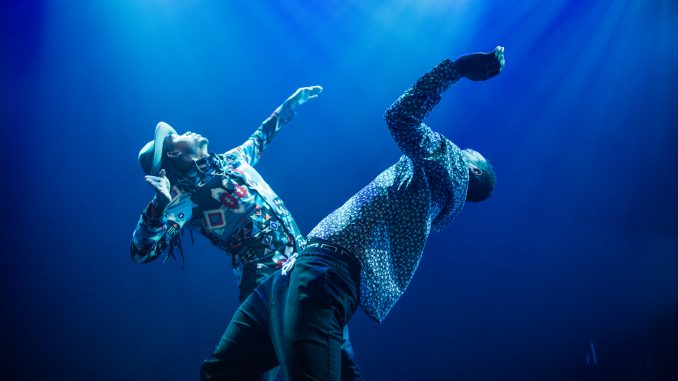 Hubbard Street's Season 41 Fall Series, a collaboration with Third Coast Percussion, Lil Buck and Jon Boogz, and Emma Portner
The Fall Series joins Hubbard Street Dance Chicago, one of the country's leading contemporary dance companies, new music by Devonté Hynes, performed by Chicago's own Grammy award-winning Third Coast Percussion musical group, and three groundbreaking choreographers who are redefining what it means to make dance today on September 27, 29 & 30, 2018 at the Harris Theater For Music and Dance, 205 E. Randolph Drive, Chicago.
Emma Portner is famous for her imaginative viral dance videos; the founder of New York dance company Emma Portner and Artists, she teaches contemporary jazz at the Broadway Dance Center.
Lil Buck is a proponent of "jookin", an urban/street dance style originating in Memphis. He gained popularity after director Spike Jonz used his cell phone to record an interpretive performance of "The Dying Swan" by Lil Buck and world-renowned cellist Yo Yo Ma. Jonze uploaded the video to YouTube in April, 2011 and as of November 2015 it had amassed over three million views.
Jon Boogz is a movement artist/ director/choreographer known for his blend of popping dance style and conceptual art films who seeks to push the evolution of what dance can be, to share with audiences of all backgrounds and experience levels an appreciation of art forms, while simultaneously inspiring an awareness of social issues.
Lil Buck and Jon Boogz together are co-founders of Movement Art Is.
The 75 minute (sans intermission) evening length work in 3 "movements" is set to new art music by producer Devonté Hynes (aka Blood Orange), a British singer, songwriter, composer, producer, dancer and director and features Third Coast Percussion, masters of rhythm and nuance, performing live on stage.
Glenn Edgerton, Artistic Director, Hubbard Street Dance, described the Season 41 Fall Series, September 27, 29 & 30, 2018 at the Harris Theater as the introduction to the 2018-19 season, replete with world premieres, choreographic innovation, and international collaborations. Edgerton, a thoughtful and well-spoken ambassador for the transformative power of art, admitted, "I am the curator of this program in the general sense. It came together serendipitously."
Edgerton spoke about how his interest in the various participants drew them into the project. "I kept hearing about Emma Portner, researched her, and her level of imagination jumped out from her videos. Speaking with Emma, I heard about Devonté Hynes and came to be intrigued with his spatial, ethereal sounds. And, of course, I have always been talking about 'what's next' with Third Coast Percussion. Finally, Lil Buck has been on my radar for years, since I saw the famous video of Lil Buck and Yo Yo Ma."
Edgerton noted, "There's an affinity between all these imaginative creators through which the program came together. It has culminated in a multi-layered flow, a melding of art forms to shed light on social issues."
Edgerton looked up and commented, "What excites me is bringing together artists of like minds that are collaborative; the people involved here are relinquishing their sense of ownership to form a united project that is innovative, interesting and valuable".
The new program's focus is on connectivity and socio-political sustainability, and celebrates inclusiveness, bringing diverse artistic influences together in a sophisticated and intricate mélange. There Was Nothing by Movement Art Is retells the Mother Earth creation myth through movement and text based on a narrative from the Standing Rock protest in North Dakota. For All Its Fury by Emma Portner explores the restoration of our ecosystem. A musical interlude with Third Coast Percussion alone separates the two dances. The engagement features lighting by Jim French, including strobe effects, and costumes by Hogan McLaughlin.
This reviewer attended a double rehearsal with half of Hubbard Street Dance's company working on the Portner piece together with Third Coast Percussion in the studio. It was a first time try-out with mocked-up costumes, and remarkable for the mutual symbiosis of the dancers, rehearsal coaches and musicians.
At one side of the studio, the extraordinary musicians, surrounded by a vibraphone, a marimba, a table of metal pipes, a piece of a xylophone, a circle of keys, and other complex percussive objects, are blowing on tuned wine bottles to suggest wind. They were engaged in their own fascinating interpretive dance with the instrumentation; the sounds make your hair stand up- but they are also deeply evocative.
On the other side of the studio, the dancers negotiate the complex choreography that ties them together in a profound and literal manner; as I watched, they perfected intricate bonds of expressiveness. The enormously talented Hubbard Street performers worked intimately with each other and the coach from Emma Portner's studio, rising, reaching, twisting, relying on each other's bodies, coalescing in- and seemingly despite-space and time.
In an interview with Hubbard Street dancer Rena Butler just days before the opening, she expressed great enthusiasm for the upcoming Fall program, for its experimental fearlessness, for the willingness of Hubbard Street Dance to embrace new and diverse forms and artists. "The meaningful directives in our mission statement have actually infiltrated into the work itself", she mused.
Butler appeared to be enthralled with the conception of the two dance pieces, the imaginative boundaries of the choreographers, and the sheer exuberant fun of the dance process involved. "Emma is great at spontaneous prompts", she said. "She gives artists the agency to play, to conceive new shapes, to find a way, and inside the piece her 'way' is beautifully refined". Asked to describe the upcoming program as a whole, she stated, "It is challenging in a way that keeps us all going with a wealth of inspirational and improvisational freedom".
September 27th, 29th, and 30th, 2018 at 7:30 pm Harris Theater for Music and Dance, 205 E. Randolph Drive, Chicago
For information and tickets, go to www.hubbardstreetdance.org