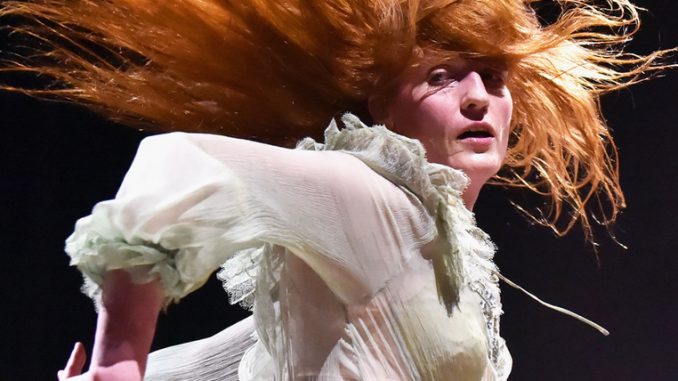 Day two of Life Is Beautiful was even bigger than the previous, if that is even possible. The crowds easily doubled and there was more to be seen on the festival grounds! 
The day truly got started with a high energy DJ set by Sam Feldt! Tons of attendees gathered under the Fremont Stage to catch the live set which set the tone for the remainder of the day.

About mid-day attendees rushed to The Kicker stage for a quick break from the heat and to get some laughs in with a couple of comedians, one being Michelle Wolf. Not new to the industry, Wolf lightly discussed politics, her views on animal porn, and of course sexism. Her hilarious delivery was very much needed to round out what was set to be the perfect day at the fest!
St. Vincent, all around bad ass delivered a epic set full of body positivity and lasers and a full digital show on the monitor behind her. Wearing thigh-high red latex boots and her guitar commanded attention. Anyone that has ever seen her perform can attest her skills are impeccable and worth seeing again and again. 
"The bohemian fashion icon yet again proved that she's the master of the pioneer-woman staple, prairie dresses"as mentioned by Vogue, Florence Welch of Florence and the Machine is the absolute queen! It's difficult to not get out in a trance as she glides around the stage belting out high notes effortlessly. There is something truly magical about her, it's outer-worldly. Her ability to connect with her audience is touching and simply unreal.

It wasn't long into her set where the crowd rushed over to see Travis Scott on the Bacardi Sound of Rum Stage. His headliner-worthy set was nothing short of amazing! Kylie Jenner's beau and father to Stormi played banger after banger. With so many hits he took a second to pay tribute to the victims of the Route 91 festival.  
"Before we continue, I'd like to give my condolences to the families who suffered on October 1," he says. "Las Vegas is a great city and it's an honor to come out here and play for you." 
Scott has proven he is an undeniable force in the game and his evolution as an artist is remarkable. Before transitioning into SZA's 
Love Galore, 
he paid a quick tribute to Mac Miller, the  recent loss that truly impacted the industry. Scott 
free-styled a quick verse dedicated to Mac. "This is Superstar Boy / Malcolm that's my boy / Mac Miller I love you, always be my boy." 
He closed out his set with tons of fire works and gets into his latest banger, Sicko Mode, which quickly transcends the audience into full on beast mode. 
Day two is a wrap! Life is Beautiful will return for its final day, Sunday, which will bring acts like: Tyler the Creator, Odesza, Arcade Fire, DJ Snake, Santigold, and more!