This is the first time in twenty years that the Met has staged Samson et Dalila and this new production takes the idea of biblical spectacle very seriously.  You can see how it was informed by the lush films of the 1950s but has added a truly modern sensibility which is all the more glorious in the Fathom Events HD broadcast.  This production is exceptional in both its singing and design.
In addition to having one of the most swoon-worthy mezzo arias in all of opera, Camille Saint-Saens' lush score is full of exceptional choral moments made truly wonderful in this production by the Met's able performers led by Donald Palumbo. The opera begins with a gorgeous and sad hymn to God sung by the captive Hebrews, who have been enslaved by the Philistines. The chorus parts throughout are outstanding and nuanced. As they are on stage a lot, this is very much worth noting.  The singing is amazing and in HD, you can see how they're all acting their parts with enthusiasm.
It doesn't hurt that the first act is performed in front of the see-through towers designed by Alexander Dodge, who is most famous for his work on Broadway in the Tony Award-Winning A Gentleman's Guide to Love and Murder, in fact, this is the same team as he is joined by Costume Designer Linda Cho and Director Darko Tresnjak. Everything from proscenium to towers is built on a circle and Dodge mentioned in the interview portions that the design was inspired by an old photograph of actress Gloria Swanson looking at the crowd through a lace veil.  You can see the see-through idea again and again from the scrim full of grabbing hands to the perforations in every tower so that you can see what is going on "behind the scenes" so to speak. It works perfectly for a story of hidden motives and betrayal.
The curves are both graceful and grand, and there's a great deal of the design that is also informed by knowledge of ancient architecture of the near east, so it feels like the myth of Gaza ought to, when the Philistines were the great power in the region and the Jews had just got done wandering in the desert. Quite a contrast to the bombed-out ruins and flipped power-structure of today.
Roberto Alagna is a wonderfully compelling Samson.  His uncrushable faith and simple optimism is a wonderful contrast to the Jews chorus of downtrodden self-pity. You believe in his faith. You believe he believes that he can rescue them all.  And his voice soars in the score.  I don't understand the design of his costume, however. Why is he wearing boots and trousers? It's 5,000 B.C. He looks here much more like someone playing Seigfried in Wagner or that he should be fronting a really pretentious metal band than playing Samson in a biblical epic.  Perhaps costume designer Linda Cho just couldn't imagine a hero clad in the simple tunic of a slave.
The one thing here that really bothered me was Cho's decision to put all the Hebrews in shades of gray.  Yes, we get that they are sad.  But I have seen this same idea used again and again in various productions both at the Met and elsewhere in recent years including productions of Norma, Die Walkure, Les Troyens and more until I am bored to death of it.  Find another color.  Maybe try to be sad and not monochrome. It's a lazy visual shorthand that is overused.  And color coding the Philistines in red is precisely the same kind of tired, though every other detail of their costuming was exceptional and clearly inspired by museum pieces of the contemporary era. The lush fabrics and construction and use of jewelry were truly outstanding in every respect. They really looked splendid, but did they all have to be red?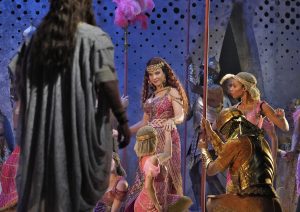 Elīna Garanča as Dalila said in her interview that she was trying to find the nuances in the character, and her voice is really full of emotion and color. Sadly, though she was trying for subtlety, it didn't make it out onto the stage so much. She's fighting the writing here, where Dalila is a one-note honey-trap for Samson when she could really be played as a self-sacrificing patriot like any of the women in history who slept with the enemy to aid their allies.  There were brief glimpses of her softening toward him when he was being his most compelling, but we never really saw her inner struggle until act three when she confronts his blindness and is horrified.
Laurent Naouri as the High Priest of Dagon was just a superbly charming presence. Because he and Garanča worked so well as a team, you really found yourself sort of on Team Philistines because there were two of them and only one Samson. Naouri is so utterly interesting as a singer that while he's not quite as scene-stealing as say Alan Rickman in Robin Hood Prince of Thieves, it's one of those kinds of delightful performances where you're really glad to see him every time he's on stage.  You're rooting for the villain.
In the interview portions we learn that Saint-Saens originally thought of doing the story as an oratorio, as he was greatly impressed by those of Handel and Mendelssohn but his librettist, the husband of a young cousin, convinced him that the story was better suited to opera.  He immediately began composing the famed Act II in Dalila's pavilion.  And what an act it is!
A
ct One, being all set-up, is rather slow-moving until Dalila and her women show up.  The glorious female chorus number here is another shimmering highlight in this show. They sing of spring and wear pink and look and sound glorious.  Another reason to love the Philistines.
The main issue here is that the blocking was lacking. You don't see how Samson is utterly gobsmacked by her and why he is willing to throw out his vow to follow her.  Garanča looks lovely. Everyone sounds amazing.  But the blocking is all pageant and no intimacy, which is what is required for seduction.  You don't get the beginning of their relationship very well. That's on Tony-winning director Darko Tresnjak.  This looks gorgeous, but the central relationships are somehow missing.
Act Two is a bit better that way, seeing you only have two people interacting at a time.  Garanča does a superb job with the showstopper "Mon coeur s'ouvre à ta voix" and Agagna acts his butt off as Samson.  Naouri is wonderfully diabolical. The see-through set is used to great effect to show the lurking Philistines ready to carry Samson away.  You can here a bit of it here at the Met's website –Mon coeur s'ouvre a ta voix.
Act Three's Temple of Dagon is one of the coolest sets I've ever seen. I don't want to spoil it by describing it here, but Dodge really outdid himself, continuing with the see-through idea but using it for even more interesting effect. Tresnjak falls down a little by not giving the Philistines in the chorus much of interest to do during their revels, but the Bacchanale ballet, which can be horribly tedious, was one of the hands-down best opera ballets I have ever seen. It actually moved the story along. Choreographer Austin McCormick and the entire ballet ensemble should be incredibly proud of themselves.
One note on it here, however.  Not only was the dancing here supposed to represent the licentiousness of the Philistines, but there was a huge amount of homoeroticism in it.  And it is difficult in 2018 to make that pearls-clutching without also coming off a bit homophobic. Contextually here, seeing we are all supposed to be horrified with the Philistines and view them as the bad guys and the enemy it is reading in a problematic way. Like it's the boy on boy and girl on girl action that's supposed to somehow prove the decadence and need to destroy the Philistines.  And the dancing was so awesome and exceptional that I found it a bit upsetting even while I was enjoying it immensely. The last thing gay folks need today is another thing saying they need to be destroyed.  But it's super hard to subvert a text as strong as the Bible, so this production doesn't do that.
On the whole, though, it is immensely strong in every respect and delightful to watch. From opening chorus to closing revels and destruction this version of Samson et Dalila is one to pay attention to.
Once again, the interviews and previews of the costumes for the upcoming production of Marnie and singing from the upcoming production of La Fanciulla del West were wonderful additions to the intermission portions.  And you still have enough time to use the restroom or get a snack.  Fathom Events and the Met have really made it a pleasure to see opera in the cinema.
All photographs provided by the Metropolitan Opera.