It's been a quarter of a century since I first saw MISS SAIGON at Chicago's glorious Auditorium Theatre.  I was in high school and I still remember many things about that night:  My dad took me to see it, a real rarity in those days.  We sat in one of the balconies, stage left.  I was blown away by the color and spectacle of the show's first number, "The Heat Is On In Saigon."  I didn't much like the voice of the actor who played Chris.  I could feel the sound of the helicopter in my bones.  I became aware of Lea Salonga, the originator of the lead role, Kim, and have adored her ever since.
Now, the show's 2014 West End and Broadway revival is finally on its North American tour.  Not to worry – the helicopter and convertible makes their appearances.  CAMERON MACKINTOSH, the show's legendary producer, said "It's hard to believe that it has been over 27 years since MISS SAIGON first opened in North America but, if anything, the tragic love story at the heart of the show has become even more relevant today with innocent people being torn apart by war all over the world."  I can't agree more, as our country separates children from their families, and many support this brutality.  This beautiful new production takes a grittier, more realistic approach that magnifies the power and epic sweep of its tremendous score.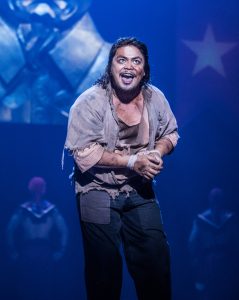 The cast was brilliant with nary a weak vocal performance to be heard.  EMILY BAUTISTA is a seemingly fragile and vulnerable slip of a young woman when we meet her and then convincingly transforms into a war damaged woman with the protectiveness and tenacity of a mama bear.  ANTHONY FESTA'S Chris is tremendous as a conflicted soldier trying to move on after the war, but is haunted by dreams of the love and passion of his brief time with Kim, even after marrying an American woman, Ellen, played by STACIE BONO.  RED CONCEPCIÒN as The Engineer is amazing as the scuzzy yet lovable man with an obsessive dream of making it to America, the land of dreams.  Not to worry – the helicopter and convertible both make their appearances with great fanfare and incredible technical ingenuity.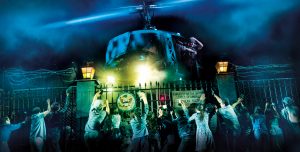 I gave birth to the first of my three children in 2000, and watching Kim sacrificing herself for the future of her young child is heart-wrenching.  No woman should ever have to make a choice like that, yet it happens all too often.  One of the greatest and motivating take aways from this astonishing piece of theatre is that history is all too good at repeating itself, and it really is up to each one of us to help create a culture in which women aren't faced with the tragic dilemmas that Kim is faced with, no matter what.
MISS SAIGON has music by CLAUDE-MICHEL SCHÖNBERG with lyrics by RICHARD MALTBY JR. and ALAIN BOUBLIL, with additional lyrics by MICHAEL MAHLER. The new production is directed by LAURENCE CONNOR with musical staging by BOB AVIAN and additional choreography by GEOFFREY GARRATT. Production design is by TOTIE DRIVER and MATT KINLEY based on an original concept by ADRIAN VAUX costume design by ANDREANE NEOFITOU; lighting design by BRUNO POET; projections by LUKE HALLS; sound design by MICK POTTER; and orchestrations by WILLIAM DAVID BROHN.
The full backstage story of how the new production was created, The Heat Is Back On, is now available on DVD by Universal and rental on Amazon and ; I watched it and it's awesome.
Official show site: https://www.miss-saigon.com/
Facebook: https://www.facebook.com/MissSaigonUS/
Twitter: https://twitter.com/MissSaigonUS
Instagram: https://www.instagram.com/MissSaigonUS
PERFORMANCE SCHEDULE
Tuesdays at 7:30PM Wednesdays at 2:00PM & 7:30PM (no matinee on Nov. 14), Thursdays at 7:30PM (no performance on Nov. 22), Fridays at 7:30PM (added 2:00PM matinee on Nov. 23), Saturdays at 2:00PM & 8:00PM
Sundays at 2:00PM (added 7:30PM evening performance on Nov. 18)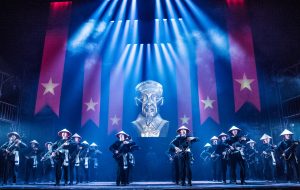 TICKET INFORMATION
Individual tickets are currently on-sale to the public with a select number of premium seats available. Tickets are
available now for groups of 10 or more by calling Broadway In Chicago Group Sales at (312) 977-1710 or emailing
Gr********@Br***************.com. For more information, visit