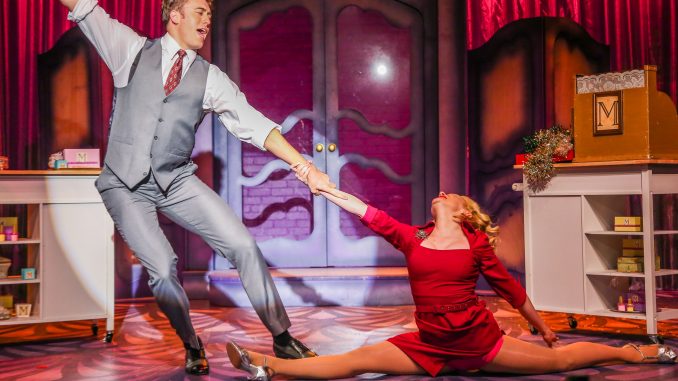 When Hungarian playwright Miklos Laszlo penned "Perfumerie" in 1937, he had no idea that his clever idea would make its mark in musical comedy and cinematic history. Three films owe a debt to "Perfumerie," including "Shop around the Corner" (James Stewart and Margaret Sullivan in 1940), "In the Good Old Summertime" (Judy Garland and Van Johnson in 1949), and "You've Got Mail" (Tom Hanks and Meg Ryan in 1998). At the moment when music was woven into Laszlo's romance, "Perfumerie" became Broadway's SHE LOVES ME, premiering in 1963 and introducing the hit song, "She Loves Me." Quite a journey, and one resulting in winners carrying home awards like the Tony, Drama Desk, Laurence Olivier, Outer Critics Circle, and Astaire. This enchanting musical is currently being revived at the Actors Co-op in Hollywood.
The time is 1934 and the place is in Budapest at the perfumerie, an elegant boutique where the well-healed Madame can find all her beauty needs – and then some. Mr. Maraczek (Greg Martin) owns the shoppe, while Georg Nowack (Kevin Shewey) manages it. A happy crew work there, including Arpad Laszlo (understudy Tyler Joseph Ellis), Ilona Ritter (Avrielle Corti), Steven Kodaly (Darren Bluestone), and Ladislav Sipos (Tim Hodgin) – each with his own story. Enter Amalia Balash (Claire Adams), an eager job-hunter who cleverly figures out a sure-fire way to get hired. Unfortunately, as soon as she comes on board, Georg and Amalia blend like oil and water – and soon they despise each other. Or so it seems.
The secret under it all? Both Georg and Amalia joined a lonely hearts club and have been writing to their "dear friend" for months. Of course, they never met the perfect letter-writers – but each is sure that love has blossomed. When the chance to meet in person looms, suddenly the possible encounter seems frightening, romantic, and enticing – all at the same time.
Under the astute guidance of director/choreographer Cate Caplin and musical director Anthony Lucca, the ensemble cast does a superb job of singing, dancing, and making merry. Kudos to understudies Tyler Joseph Ellis and Michael Marchak, who stepped right in and seemed to have played their roles forever. The audience just can't help smiling throughout. This is a feel-good musical which brings old-fashioned romance back to the stage while tickling the audience's funny bone. Stephen Gifford's convertible set allows for quick scene changes, while Michael Mullen's costumes capture the era to a tee. Luke Moyer's lighting and Adam R. Macias' sound complete this charming profile of secret love – which, of course, never runs smoothly.
SPLASH SELECTTION
SHE LOVES ME runs through December 16, 2018, with performances at 8 p.m. Fridays and Saturdays and at 2:30 p.m. on Sundays. Special Saturday 2:30 p.m. matinees have been added on November 10 and 17; there are no shows on Thanksgiving weekend (November 23-25). The David Schall Theatre is located at 1760 N. Gower Street, Hollywood, CA 90028. Tickets are $39 (seniors $35, students $30, special group rates for 6 or more). For information and reservations, call 323-462-8460 or go online.