It's possible that The Santaland Diaries hasn't aged well.
The marketing for The Goodman Theatre's current production of Joe Mantello's script, adapted from the David Sedaris essay of the same name, describes the show as "perfect for those who prefer their eggnog spiked." However, raunchy Christmas shows are hardly groundbreaking these days, with a Nutcracker burlesque called The Buttcracker and a drag-queen version of Elf called Barney the Elf on the slate of Chicago holiday shows for this year and a parody version of A Christmas Carol called Twist Your Dickens running at the Goodman alongside the original for several previous holiday seasons. Irreverent Christmas stories are a subgenre, not a subversion, of the usual holiday lineup.
"The Santaland Diaries" (the essay, not the play) launched David Sedaris' career over 25 years ago when he read it on NPR, and for its role in bringing Sedaris' work into the public consciousness, I salute it. And it's a funny essay. But, aside from perhaps getting to enjoy the design—a oversized winter wonderland of a set designed by Kevin Dipnet, glittering holiday lights by Mike Durst, and a Christmas soundtrack running the gamut from traditional tunes to eerie reinterpretations by Christopher Kriz—there's not much reason to go to the theatre and watch the story performed live instead of staying in your house with a cup of hot chocolate and a copy of either Barrel Fever or Holidays on Ice.
Matt Crowle does a perfectly fine job as Crumpet, the play's narrator and sole character. But the script is a pretty straightforward adaptation of the text, and having read the essay a few days before seeing the show, I found myself accurately predicting which bits were coming next and even reciting punchlines in my head before they were said aloud. Even more troubling, a segment in which a group of people with mental disabilities are described as "retarded" is recited pretty much verbatim from the 1992 essay. Language is always changing, of course, and while such a term may have been acceptable in 1992, its unacceptability as either insult or literal descriptor is so ingrained in this 25-year-old that I was reeling at the giggles this bit produced from the audience. Crumpet might as well have described a black person as "colored." Not only is it an offensive word, it's also just out of date. Who says things like that anymore?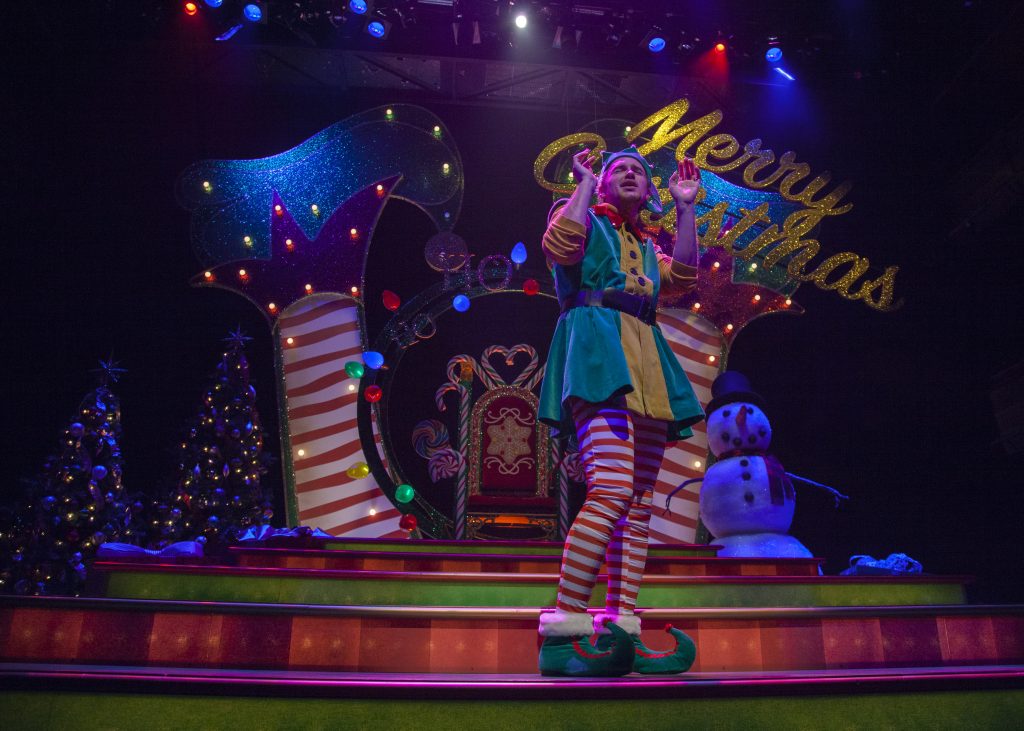 Look, I love David Sedaris as much as the next girl. Maybe more. And I love a funny, snarky holiday show. But The Santaland Diaries feels dated, much like a shag carpet or olive green refrigerator. It'll get the job done, but there are probably better, more modern options out there. Let's give poor Crumpet a break and find something fresher to entertain us next holiday season.
Ticket Information
Location: The Owen Theatre, The Goodman, 170 N. Dearborn, Chicago
Dates: November 30 – December 30, 2018
Tickets: $15-45 (subject to change). Tickets are available by telephone 312.443.3800, online at The Goodman Theatre website or at the Box Office(170 N. Dearborn).
All photos by Erik Scanlon.