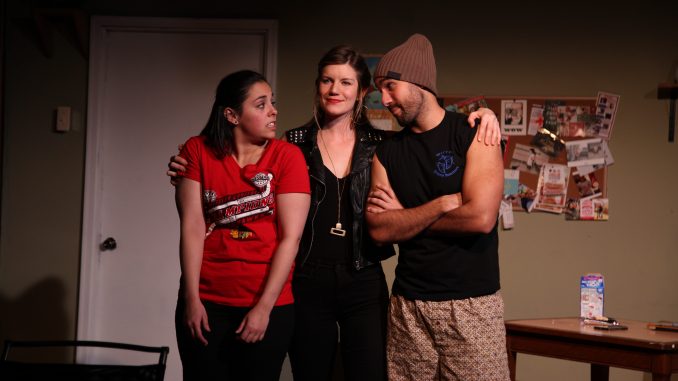 Here's the truth of the matter: most fictional gay love stories are tragic. Here's another truth: when it's just snowed six inches and your car is buried in snow and you know you're going to have to excavate it to get to the theater, it's easy to wonder, is this show really worth it? After all, every piece of theatre we attend, in addition to the monetary expense, takes time and energy, time and energy not spent on something else like dishes or laundry or napping.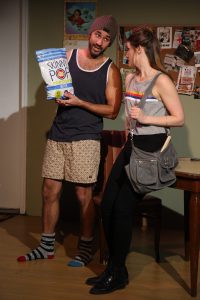 So when I headed over to The Den Theatre for the world premiere of Jillian Leff's Missed Opportunities, I must admit it already had two strikes against it in my book: I was cold and I would rather be at home. However, "queer," "women," and "romance" are three words that together are enough to get me out of the house under even the nastiest of circumstances. Fortunately for me, this a play worth driving through snow and ice and misery for.
Written by Jillian Leff and produced by the The Cuckoo's Theater Project, Missed Opportunities turns the traditional romcom on its head, mixing in a little bit of Shakespearean comedy-of-errors and a whole lot of queerness. Protagonist Max, short for Maxine, has been madly in love with Nate since college, so naturally he shows up at her favorite coffee shop one day having moved in on the third floor of her building. Max quickly learns that he's under the false impression that she's a lesbian. Nate's lesbian roommate Jenna cooks up a scheme worthy of any 90s romcom or any Shakespeare comedy: she'll pretend to date Jenna to get closer to Nate and to get Nate off Jenna's back about getting "back out there" after a bad breakup. Of course, what seems like a perfect scheme starts to go wrong quickly, and Max is left to face some hard questions.
What appeals to me most about this play is the dimensionality of the queer characters onstage. Yes, the female protagonist has a gay best friend, but he's not a Gay Best Friend™. Adam is a nuanced person with a secret fantasy of being a spy, an obsession with snack foods, and his own traumas and issues with men, separate from Max's troubles. And then there's Jenna, who's an out lesbian but who ticks none of the supposed "lesbian checkboxes" that Max does: wearing plaid, enjoying hockey, and using a boy's name. Jenna dresses fairly femininely and might pass for straight if she weren't so into dating exclusively women.
The play challenges stereotypes left and right and allows Max to find the gray spaces in what she once thought was her very solid heterosexuality. There's also a distinct millennial vibe infused throughout the show, from the general broke-ness of all of the characters to the references they make (Go Kim Possible!) to the rapid-fire speed at which they throw out their dark and cynical jokes.
Scenic and props design by Charlotte Lastra and blocking by director Lexi Saunders make clever use of limited space to create multiple locations. Sound design by Xavier Lagunas sets the tone for the show with such a bops as Janelle Monáe's "Make Me Feel" serving as transition music.
Unlike most romcoms, there's no pretty little bow on the end of the show; there's no clearly defined happy ending. But there is hope. In that way it's more realistic than most romcoms, and more honest. Jillian Leff has created something unique and beautiful with this show, a queer love story that isn't tragic and isn't all about coming out. It's worth slogging through the snow to see such a lovely story, one that can make you laugh and make you smile and do everything a proper romcom does, plus a hundred other things besides.
Ticket Information
Location: The Den Theatre, 1331 N Milwaukee Ave, Chicago, IL 60622
Dates: January 17 – February 16, 2019
Times: Thursdays, Fridays, and Saturdays at 8pm, and Sundays at 3pm. There will be an additional matinee on Saturday, February 16th at 3pm.
Tickets: $5-$30, pay what you can. Available now at The Cuckoo's Theater Project website.
All photos by Zen Orchid Photography.