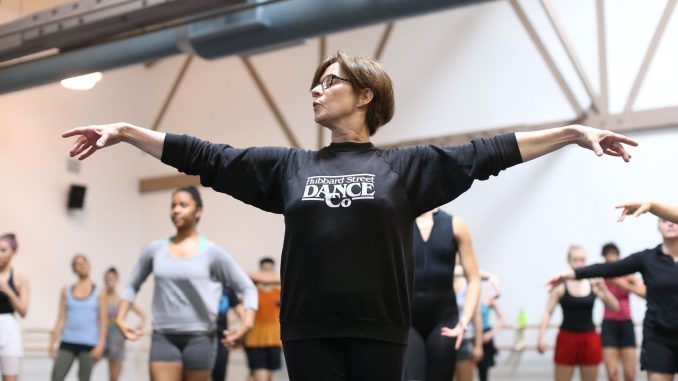 The Hubbard Street Dance Chicago (HSDC) family, as well as the Chicagoland Dance Community and many dance professionals throughout the world are mourning the passing of founding company member Claire Anne Bataille, 66, who died Dec. 30, 2018 at her home in Oak Park following a battle with pancreatic cancer.
Born in Elmhurst in 1952, Bataille began dancing with Hubbard Street Dance Company (as it was then known) in 1977, when it was a four- woman troupe doing lecture-demonstrations in the city`s senior citizen centers. She danced with the company for 15 years, performing as a company member for the last time in 1992 in Twyla Tharp's The Golden Section, capping "15 stellar years as a Chicago dancer," according to then Chicago Tribune critic Richard Christiansen.
During her time dancing with HSDC she performed works created by Lou Conte, Twyla Tharp, Lynne Taylor-Corbett, Daniel Ezralow, John McFall and Margo Sappington, among others, dancing locally and touring nationally and internationally. She received the Ruth Page Award for Outstanding Dancer in 1992. From 1977-2001, Bataille also served the company as assistant artistic director, ballet mistress and rehearsal director. As a resident choreographer she created five works for HSDC between 1978 and 1985. She most recently served as director of the Lou Conte Dance Studio.
As a choreographer, Bataille created works for HSDC, Spectrum Dance Theater in Seattle, Akasha Dance Company in Chicago, and the Tennessee Children's Dance Ensemble, among others. In 1993, she conceived, choreographed and directed Lifetimes for the WTTW-TV production of Love in 4 Acts" featuring four Chicago choreographers. She also has restaged Lou Conte's works for companies and universities around the nation.
Bataille began teaching at the Lou Conte Dance Studio in 1975 and continued to teach dance until recently, serving on faculty of the Lou Conte Dance Studio and is a guest teacher for several Chicago companies. In 2003, she earned her certification in the Pilates Method in New York with Romana's Pilates. In September 2005, she was appointed associate director of the Lou Conte Dance Studio at the Hubbard Street Dance Center and in September 2008 she was promoted to director.
Hubbard Street's founder Lou Conte described Bataille as his "muse," saying their relationship was akin to the relationship between Bob Fosse and Gwen Verdon. He told Christiansen in 1992 "I always tell Claire-and I mean it-that my two favorite woman dancers are Natalia Makarova (the great Russian ballerina) and Claire Bataille, because they`re so secure and intelligent in the choice of every move they make… she set the style of the company."
"Claire's deep and unwavering commitment to the dance community of Chicago was truly amazing, said HSDC Executive Director David McDermott. "At the Lou Conte Dance Studio, Claire created a safe and nurturing space for burgeoning artists to train and for established artists to create great art. Her legacy lives on not only in Hubbard Street's seminal works, but also in the careers of dancers and choreographers across the world. I'm unbelievably proud to have worked alongside Claire."
"Claire was incredibly special to Hubbard Street," added Artistic Director Glenn Edgerton. "Her career spanned more than 40 years, first as a founding dancer of the company, and then for many years directing the Lou Conte Dance Studio. As an artist, she was a trailblazer, thrilling audiences with her dynamic performances. As a teacher, she was committed and passionate, mentoring thousands of young dancers. Onstage and off, honesty and generosity of spirit were her hallmarks. Her impact on dance and Hubbard Street will be forever remembered."
Choreographer Twyla Tharp said "I worked with Claire in many capacities: as a dancer, as a ballet mistress, as a friend. She was unsparing in her effort and her commitment. Her work was never other than excellent. Her presence will be missed but her contribution will continue."
Fellow former company member Robyn Mineko Williams said, "Claire defines the co-existence of exquisite grace and unwavering grit. Her essence and love will endure as a warm glow inside all of us."
In lieu of flowers, gifts may be sent to the Claire Bataille Memorial Fund at Hubbard Street Dance Chicago, 1147 W. Jackson, Chicago IL 60607. The fund will support free training for dancers between the ages of 17-23 who are on the cusp of professional careers. Recipients of these funds will also receive career counseling and mentorship from Hubbard Street dancers and staff.
Bataille is survived by family, friends, students, and a legion of dance community colleagues. She will be long and sorely missed.
A public memorial service will be held today at The Goodman Theater (The Albert), 170 N. Dearborn Street, Chicago, at 3:30 P.M.