After seeing Frank Wildhorn and Don Black's musical Bonnie and Clyde at Kokandy Productions a year and a half ago, I've become rather unapologetically obsessed with the music from the show, playing the original Broadway cast album on repeat for weeks on end and belting out the lyrics at random in my living room. There's something so utterly irresistible about the story of America's most famous outlaw couple, two young people as desperately in love as they are desperate to improve their financial situation, which in impoverished West Dallas during the Great Depression is a dismal situation indeed. And with such a delightful score, incorporating both upbeat rock musical-style tunes like "When I Drive" and gorgeous, emotionally rich ballads like "Dyin' Ain't So Bad," there's little not to love in this underappreciated musical gem.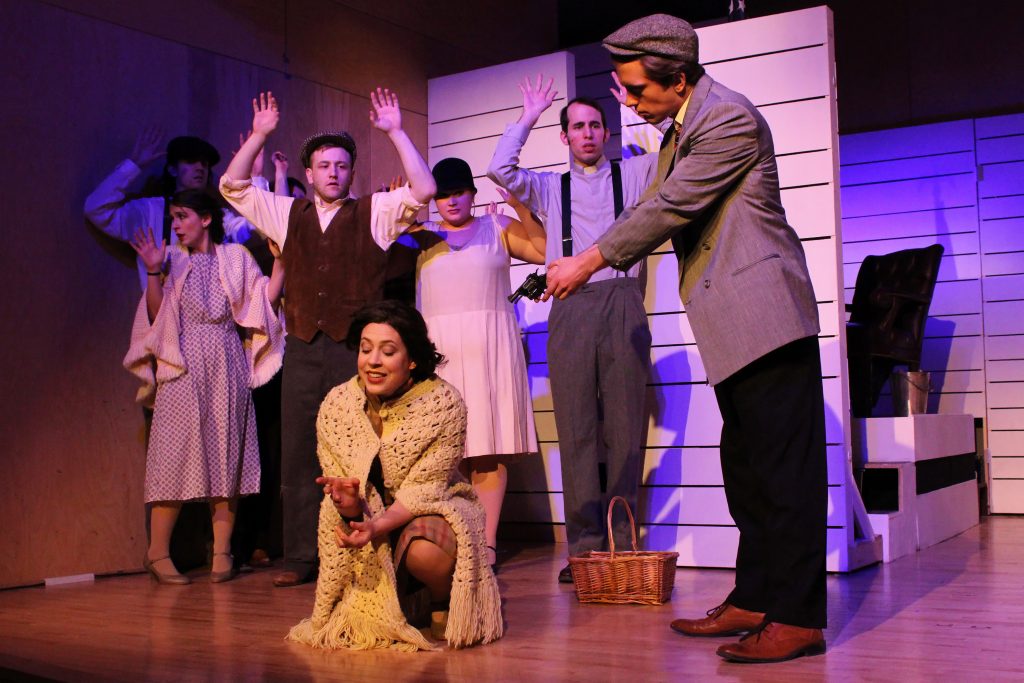 With my love of the musical itself firmly established, the question here became the execution by MadKap Productions, the resident production company of Skokie Theatre. Technically, the show's a bit all over the place. The spot op didn't seem quite sure where the spotlight was supposed to go, making shifts and adjustments during scenes, which was distracting. The orchestra, situated in another room because of a lack of pit, sounded lovely, although the tinny speakers their music was piped through dulled the effect of what would otherwise be beautiful playing. While Bonnie's ginger wig isn't intolerable, Blanche's black one just looks unnatural, although not nearly as unnatural as two false mustaches slapped onto actors playing multiple roles.

Scenic design by director Stephen M. Genovese is elegant and functional, and even if I don't see the connection between the white wood panels and the story of Bonnie and Clyde, it's still nice to look at and gets the job of establishing a bunch of locations done. Costumes by Beth Laske-Miller are probably the highlight of the design; despite never putting Bonnie in her iconic striped dress and suit jacket, Laske-Miller still does a great job of assembling period- and character-appropriate costumes that help establish the setting and tell the story.

Performance-wise, the women outshine the men. Nate Hall has a set of pipes on him for sure: he can hit Clyde's high notes, but only under what appears to be great strain, strain that takes away from his acting and leaves some of his more intense emotional moments feeling bland. Christopher Johnson is perfectly fine as Clyde's brother Buck, as is Sean Caron as Ted Hinton, the "nice guy" cop I find insufferable; at least Caron sings it well. Maeghan Looney, who plays Blanche, Buck's wife and Bonnie's foil, failed to wow me with her performance of the belted, sassy "You're Goin' Back to Jail," but shattered my heart with her sweet, clear-toned rendition of the soprano ballad "That's What You Call a Dream" and with her portrayal of grief toward the end of the show.
Claire Latourette as Bonnie, though. Wow. Wow wow wow. Every artistic choice I questioned, every cue that missed its mark, I was willing to completely forget whenever Latourette was onstage and especially when she sang. As soon as she opened her mouth at the top of the show I thought, Oh, she's going to kill it on 'Dyin' Ain't So Bad', my favorite song from the show, and I was 1,000% right. Latourette has a dynamite voice, big and bold and rich, and she's got the acting chops to match. Her charisma is such that it's impossible to look away from her onstage, even when someone else is supposed to be the focus. Latourette is an actor to watch, and if you have any interest in the Bonnie and Clyde musical, this production is worth the cost of admission for her performance alone.
Ticket Information
Location: Skokie Theatre, 7924 Lincoln Ave, Skokie, IL 60077
Dates: Feb 8 – Feb 24
Times: Fri/Sat at 7:30 pm, Sun at 2 pm and 7 pm
Tickets: $42. Seniors $36, Students $32. For tickets, visit The Skokie Theatre website.
All photos by Maeghan Looney unless otherwise indicated.