For their latest production, the Group Rep presents two one-act comedies by playwright James McLure. An American author from Louisiana, McLure penned numerous scripts for theater, screen, and television. The two spotlighted comedies were first presented in 1979 (LONE STAR) and 1980 (LAUNDRY AND BOURBON). Directed by Barbara Brownell, the pair seemed to be begging to be presented together – and the Group rep has answered the call to do just that. Both plays pursue the same timeline – the 1970's in Maynard, Texas, and let the audience get to know three quirky housewives and their errant husbands.
LAUNDRY AND BOURBON is the first one-actor to be presented and focuses on three small-town Texas ladies getting together for an afternoon of lots of gossip and a little bit of laundry – all the while sipping generous quantities of bourbon. Elizabeth (Savannah Schoenecker) is tidying up the homestead when friends Hattie (Kristin Towers-Rowles) and Amy Lee (Sarah Zuk) drop in for a few hours of silly chit-chat and catty observations about their world and the hapless people in it. Including, it seems, themselves as they slowly turn to boiling mode while folding Elizabeth's pristine laundry. Baring the soul has rarely been so much fun.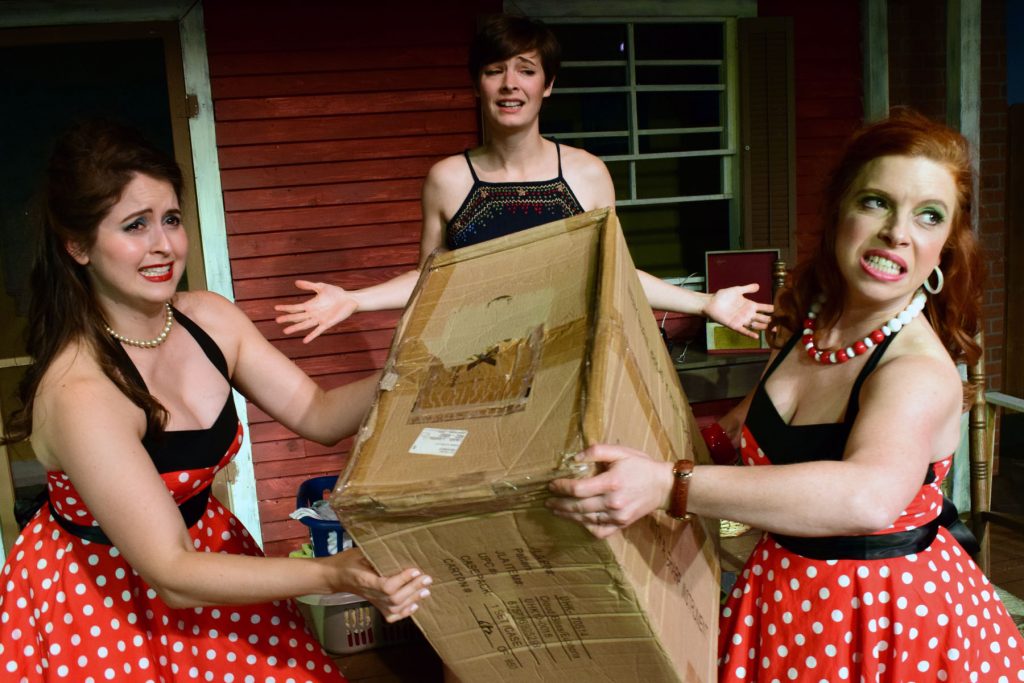 LONE STAR is presented after the intermission. We're still in Maynard, Texas; and it's still in the 1970's. In fact, it seems to be happening at pretty much the same time as the ladies, laundry, and hootch which preceded it. Only now we get to focus on each wife's spouse – and what they chat and brag about when there are no women present. Roy (Nick Paonessa), Ray (R. J. DeBard), and Cletis (Todd Andrew Ball) are spending some quiet time at the local watering hole discussing life, love, and whatever comes into the minds of these good ol' boys. Like their spouses noodling in Elizabeth's back yard, innocent and silly thoughts slowly ferment; and – little by little – secrets begin to emerge. What kinds of secrets? You'll have to see the show to find out.
Chris Winfield's set is utilitarian and rapidly morphs from a Texas back porch to a local hang-out bar. Angela M. Eads' costumes reflect the high points of style in the 1970's, especially for the girls, while the boys are in casual, less-than-trendy dress. The production team does a creditable job of bringing the audience to the era, with special kudos to fight choreographer Amanda Newman (yes, there is some fighting). The cast fits into the moment with gusto.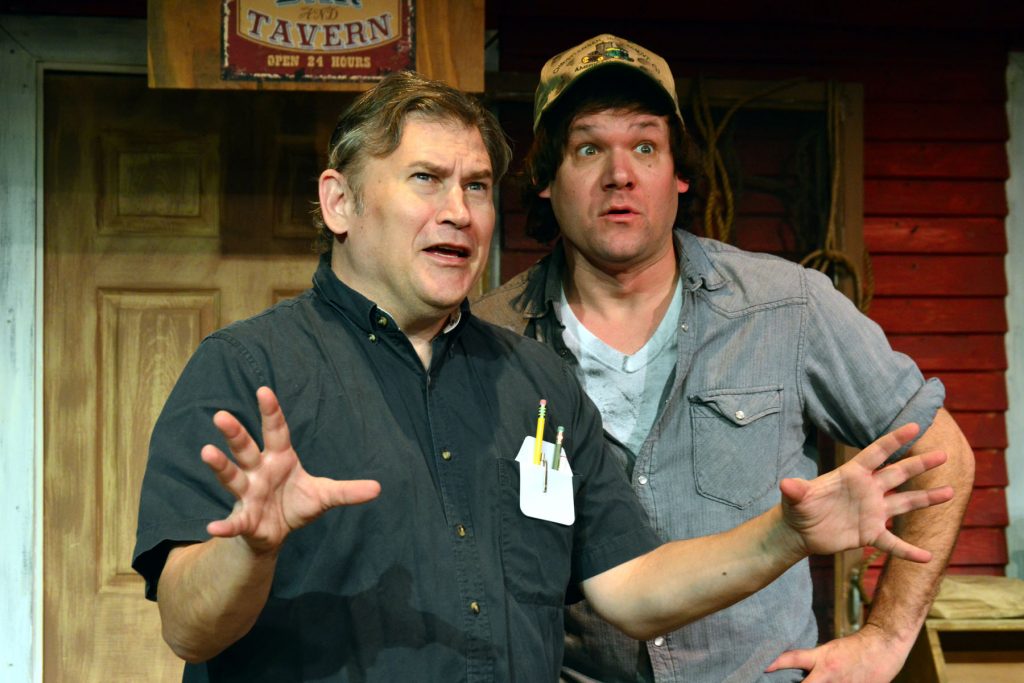 LAUNDRY AND BOURBON/LONE STAR is a cute and funny show which rounds out hints mentioned in the first play with facts clarified in the second. McLure has a clever handle on the good ol' days in 70's Texas: what happened on the surface – and beneath too. Congratulations to the cast on managing a Texas/southern accent which seemed pretty authentic (even if later, during the talk-back, they admitted that the accent was more generalized than McLure may have had in mind).
LAUNDRY AND BOURBON/LONE STAR runs through March 3, 2019, with performances at 8 p.m. on Fridays and Saturdays and at 2 p.m. on Sundays. The Lonny Chapman Theatre is located at 10900 Burbank Blvd., North Hollywood, CA 91601. Tickets are $25 (students/seniors, $20; groups 10+, $15). For information and reservations, call 818-763-5990 or go online.